HIGHER crop yield and fewer weeds naturally flow from increased crop competition, but the costs involved in changing machinery and farming systems can be a barrier to achieving these benefits.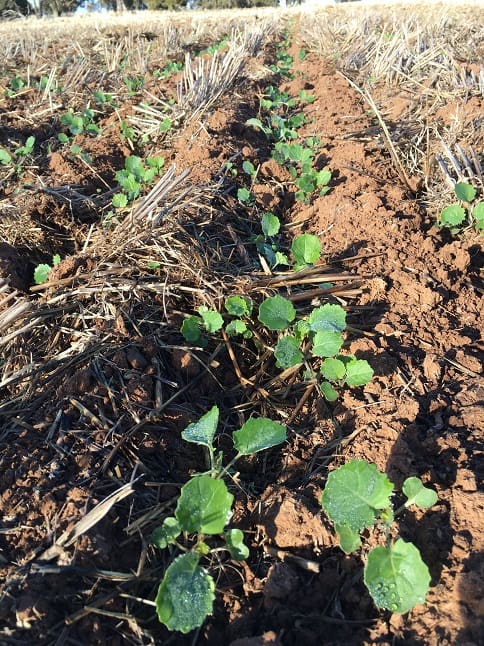 Narrowing row spacing, while maintaining the same seeding rate, is generally accepted as the simplest way to increase crop competition, but growers who are not ready to change over their machinery can gain much of the weed suppression benefit using paired-row sowing systems.
If this is coupled with east-west sowing the benefits are even greater.
WeedSmart western extension agronomist Peter Newman said paired-row systems such as the Stiletto Boot, which is popular in West Australian sandy soils, were a cheap way to increase crop density and achieve earlier canopy closure.
"Generally, there is not a yield response over single row seeding but yield is maintained in weedy situations, taking some pressure off in-crop herbicides without adding significantly to the weed seed bank," he said.
"Paired-row systems reduce the 'auto allelopathy' effect that suppresses plant growth when the seeds of crops like wheat are planted very close along the row. Spreading the seed out, essentially in a slightly wider band, gives each crop seed more room to germinate and grow without impacting on the growth of neighbouring crop plants."
In southern Australian farming systems there has been steady adoption of paired-row systems, such as Rootboot and Groundhog, to improve seedbed utilisation (SBU), which is a measure of the seed and fertiliser spread relative to the row spacing.
Southern WeedSmart extension agronomist Greg Condon said the paired-row systems helped avoid the problems with fertiliser toxicity that could occur in single wide row systems.
"Older paired-row setups moved too much soil and left the seedbed very rough," he said.
"They also had poor stubble handling capacity, used more fuel, achieved poor seed-soil contact and growers had problems with pre-emergent herbicide safety in some situations.
"Most of these constraints have been fixed with the newer configurations now available on the market. Growers who might have had bad experiences before will probably find that paired-row boots now move less soil, have narrower openers and fit better with a wider press-wheel setup."
Mr Condon said that although paired-row systems were a good interim option, the best long-term solution was to change to narrow single-row spacing, no wider than 250 millimetres for tynes or 190mm for disc planters.
Paired-row system technology options
University of South Australia senior agricultural research engineer Jack Desbiolles has undertaken extensive trials investigating the benefits of increasing the space between seeds in the seedbed.
Paired-row sowing is one way to effectively achieve this and can deliver both increased yield and useful suppression of weeds.
"When it comes to paired-row seeding systems, the technology can be categorised into either split or integrated designs," Dr Desbiolles said.
"The split designs use a Y-splitter tail located further behind the opener, which delivers seeds into a furrow backfill. While seed spread can be more limited, seed placement can be accurate, but seed is often exposed to diluted furrow moisture and contamination from residue and pre-emergence herbicide, all of which can reduce the rate of crop establishment."
While these Y-splitter design solutions represent easy and low-cost upgrades for compatible single row seeding systems, the newer, integrated paired-row designs are becoming more mainstream.
"The integrated designs are compact and streamlined, sitting closely behind the opener and are designed to deliver seeds onto an undisturbed ledge on each side of the trench that the opener creates," he said.
"The accuracy of seed placement depends mostly on the primary furrow shape not affecting the integrity of side ledges. These paired-row configurations are more expensive but often achieve good seed-soil contact without diluting soil moisture or allowing residue or herbicide contamination."
One grower's experience
Farming at Annuello in north-west Victoria, Peter Aikman started using a Rootboot paired-row system in 2014 as part of their strategy to increase sowing efficiency after buying additional land and doubling their cropped area.
Mr Aikman's Horwood Bagshaw seeder had been set up on 30-centimetre, single row spacing for cropping wheat, barley and legumes in rotation.
To cover more area per day at seeding he changed to 35cm row spacing but did not want to lose the crop competition benefits that he had seen at 30cm spacing.
"Widening the tyne spacing allowed us to increase sowing speed and add two more tynes to increase the seeder width. Together these changes increased our seeding efficiency from 12 hectares/hour to 16ha/h, which means we save seven days at seeding time and can finish planting the whole area on time," he said.
"To keep the crop competition benefits we turned the row direction to east-west where practical, and use the Rootboot opener to seed 10cm paired-rows on 35cm tyne spacing."
Mr Aikman has found that this paired-row system moves some soil around, but in some instances this can be a good thing as it helps to fix any small areas left bare after a legume crop or slightly eroded after using the self-propelled sprayer on sand hills.
"Brome grass is one of our major weeds and we are trying to reduce its germination and seed set by using the combination of the paired-row system and east-west sowing, together with other strategies such as robust crop and herbicide rotation, monitoring for weeds, acting early to prevent weed blow-outs and using harvest weed seed control."
Source: WeedSmart
For more information about paired-row sowing and crop competition, visit the Weedsmart website: www.weedsmart.org.au 
In August, WeedSmart Week will be held in two locations – Emerald, Queensland, and Horsham, Victoria – shining the light on integrated weed management tactics, including crop competition, that growers can use to stave off herbicide resistance in weeds. Register on the WeedSmart website.