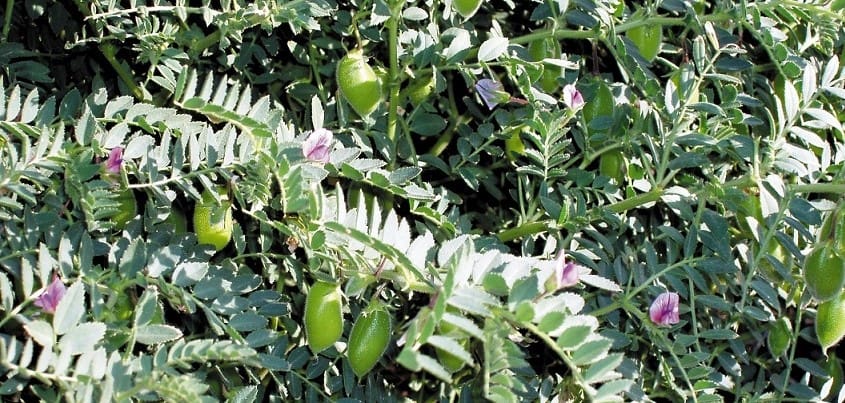 CHICKPEAS have the most potential for expansion in Western Australia where the push is on to elevate the role pulses play in the state's crop production system, according to Grains Research and Development Corporation managing director, Steve Jefferies.
Compared to other states where pulses, such as chickpeas, faba beans, lupins and lentils, play an integral part in winter cropping rotations alongside wheat, barley and canola, pulse options in WA have been limited by soil constraints and adaptation issues.
WA farmers rely largely on lupins for the pulse phase in the rotation due to their better tolerance of acidic soils.
In the 2018/19 cropping season, WA produced only 570,000 tonnes of lupins and 33,000t of other pulses, making up only a fraction of the state's overall winter crop production of nearly 18 million tonnes.
The main constraint to pulse production in WA is the state's prevalence of acid soils which are more limiting to chickpeas than wheat, barley or canola.
There are also impacts from disease and a lack of WA-specific breeding lines.
Speaking at the GRDC Research Update in Perth this week, Mr Jefferies said the GRDC had entered into a global partnership with 29 institutions, led by the University of California, in over 12 countries to source more diverse chickpea genetics from around the world.
"To add impact to the expansion of chickpeas in WA we need to be able to identify genetics and tools we can use to overcome the constraints," he said.
"Over the 120 years of wheat breeding in Australia, the wild relatives of wheat have contributed enormously to the productivity and reliability of the crop. We believe we can do the same with chickpeas.
"We have set up a national collaboration of investors across six institutions to bring germplasm into Australia and mine for the benefit of Australian grain growers."
Production constraints
Mr Jefferies said acid soil was a big constraint to chickpea production.
"If the pH is below about 4.5 aluminium becomes solublised and releases irons that become toxic to plants. It is this that causes the problem with chickpeas," he said.
"As part of the international partnership we look at where chickpeas grow successful on acid soils in the world – and that is Ethiopia.
"We are in the process of negotiating an agreement between the University of California and a partner in Ethiopia to bring chickpeas with acid soil adaptation and tolerance into Western Australia."
Mr Jefferies said chilling tolerance was another important trait that was needed in chickpeas.
"The chickpea plant during spring will flower, abort, flower again, abort, flower again, until it gets ideal temperatures, usually above an average day temperature above 12 degrees, where it will switch into podding," he said.
"That is a significant constraint to the expansion of chickpeas not only in WA, but everywhere in Australia."
Mr Jefferies said disease was another constraint limiting the expansion of chickpea production in WA, so a focus on developing disease resistant lines was needed.
"Not just for ascochyta but also sclerotinia and others.
"We are working in partnership with Curtin University's Centre for Crop and Disease Management.
"Those who dabbled in chickpeas in WA about 10 years ago will know it was Ascochyta that blew it away. We think we can do better by accessing global germplasm."
Mr Jefferies said the drivers of the rates of genetic gain in plant production were:
Genetic diversity – "We are bringing in wild germplasm and landraces."
Plant population size – "We are scaling up breeding programs."
Breeding cycles – "We are introducing fast-track breeding where we are growing five generations in a year."
Capturing market growth
Pulse Australia chairman, Ron Storey, said developing a stronger supply base of pulses out of WA was key to Australia participating in the plant protein story in global markets
"Pulse Australia is working with industry partners like GRDC to ensure that as the world's expanding middle classes adopt healthier diets with more plant protein, Australia's pulse industry is positioned with the right investments to capture this growth", Mr Storey said.
"The evidence is compelling. Plant protein will play a much greater role in healthier bodies, a healthier planet and at lower food costs; it's a great story."
"To fully participate in this diet trend, we want to see a solid human consumption supply base develop in WA. WA's exports of feed pulse protein (lupins) averages around 300,000 tonnes per annum, while east coast exports of food grade pulses (mainly chick pea, lentils, faba and mung beans) is about 1.5 – 2 million tonnes."
"A larger and profitable WA supply line of food grade pulses would sit right next to the dynamic pulse demand of the Indian sub-continent markets of India, Pakistan, Sri Lanka and Bangladesh, as well as reduce the supply risk of east coast seasonality."
Grain Central: Get our free cropping news straight to your inbox – Click here