AUSTRALIA'S chickpea exports in February at 50,832 tonnes were down 13 per cent from a downwardly revised 58,190t in January, according to the latest export figures released by the Australian Bureau of Statistics.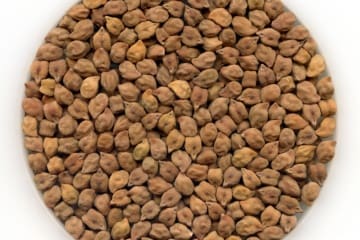 Notable in the February data is the absence of India, traditionally Australia's biggest chickpea customer.
Its ratcheting up of tariffs, and the harvest of its own chickpea crop, have killed the market for now.
Bolstering export sales have been the increasingly important secondary markets of Bangladesh and Pakistan, but traders report that Bangladeshi demand has dwindled.
"They don't like our quality this year, and they can buy from India," Australian Grain Export pulse trader, Will Alexander, said.
Sales to Pakistan are ticking along, and the container market for chickpeas processed into chana dahl has continued to absorb some tonnage.
Trade sources said reports of the Indian Government banning chickpea imports were unsubstantiated, and would make no difference to the market in its current state of suspended animation.
Limited selling interest from growers has helped to support Australian values, with the market trading at around $550 per tonne, and closer to $600/t in places, to southern Queensland packers.
………………………………………………………………………………………………………
Table 1: Data released by the Australian Bureau of Statistics showing Australian chickpea export data for February 2018, revised January 2018 figures and December 2017 figures.
| | | | | |
| --- | --- | --- | --- | --- |
| Destination | Dec | Jan | Feb | Total tonnes |
| Afghanistan | 0 | 121 | 0 | 121 |
| Bahrain | 24 | 0 | 0 | 24 |
| Bangladesh | 19935 | 19035 | 26304 | 65274 |
| Bhutan | 40 | 0 | 0 | 40 |
| Canada | 401 | 527 | 750 | 1678 |
| Egypt | 834 | 377 | 1172 | 2383 |
| Germany | 0 | 47 | 24 | 71 |
| India | 20999 | 675 | 0 | 21674 |
| Iran | 3113 | 1989 | 1211 | 6313 |
| Israel | 25 | 0 | 529 | 554 |
| Italy | 297 | 169 | 146 | 612 |
| Japan | 34 | 24 | 24 | 82 |
| Jordan | 0 | 939 | 325 | 1264 |
| Lebanon | 0 | 0 | 138 | 138 |
| Malaysia | 121 | 98 | 245 | 464 |
| Mauritius | 120 | 170 | 122 | 412 |
| Nepal | 3859 | 1701 | 360 | 5920 |
| Netherlands | 0 | 48 | 48 | 96 |
| New Zealand | 0 | 7 | 46 | 53 |
| Oman | 0 | 68 | 0 | 68 |
| Pakistan | 4154 | 24792 | 13066 | 42012 |
| Papua New Guinea | 1 | 1 | 6 | 8 |
| Portugal | 0 | 0 | 46 | 46 |
| Qatar | 120 | 0 | 0 | 120 |
| Saudi Arabia | 878 | 126 | 950 | 1954 |
| Singapore | 24 | 25 | 24 | 73 |
| South Africa | 74 | 73 | 48 | 195 |
| South Korea | 0 | 0 | 42 | 42 |
| Spain | 0 | 0 | 25 | 25 |
| Sri Lanka | 173 | 48 | 126 | 347 |
| Thailand | 1 | 26 | 7 | 34 |
| Turkey | 0 | 1000 | 0 | 1000 |
| UAE | 9964 | 4015 | 2159 | 16138 |
| UK | 1417 | 1811 | 1309 | 4537 |
| US | 799 | 278 | 1511 | 2588 |
| Yemen | 0 | 0 | 69 | 69 |
| TOTAL | 67407 | 58190 | 50832 | 176429 |