AUSTRALIAN chickpea and lentils marketers face an uncertain period managing the fallout from tariffs applied by the Indian government last month.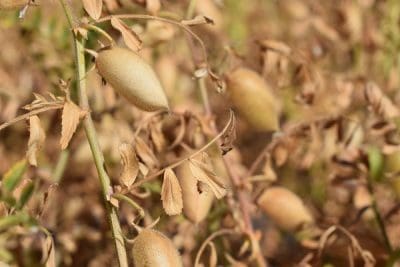 While some said the tariffs were likely to reduce the area planted to both pulses in autumn, in the prime chickpea growing region of northern New South Wales, long-time Narrabri-based, Priag Marketing, principal, Kevin Schwager, said chickpeas served a useful function as a disease cycle break crop and growers could wait and see what market and moisture conditions were like at planting time before making final decisions about planting chickpeas.
"There's murmur among agronomists about a swing away from chickpea because of the tariff, but choice of crop here is more influenced by moisture," he said.
Mr Schwager said harvest of India's chickpea and lentil crops would start in the country's south in coming weeks and progress north during March, and its crop size would be better known prior to Australian growers needing to make 2018 planting decisions.
"As a rule of thumb growers plant chickpeas after wheat has gone in, which means the final decision may not be made until end-June, early-July."
Tariff impact on India
Some serious losses were incurred when the Indian Government imposed a 30 per cent import duty on chickpeas and lentils on 21 December, eight weeks after a 50pc tariff was slapped on field peas.
Indian traders would face a loss on their 2017 purchases of chickpea.  A transaction concluded at say US$700/tonne candf (cost and freight) would now attract a tariff around $200/t added to the importer's cost.  Say the market early this week around $550/t candf would result in a loss-making position to the trader of around $350/t.
Some traders say the impost could have been softened by a slower, transitional implementation of perhaps 10pc per month to give the market time to clear existing commitment, and to absorb the heavy impact on consumers in India of a sudden price rise.
Price inflator
Pulse Australia chairman, Ron Storey, said the organisation was seeking representation with Indian policy-makers through the Australian and Indian governments to highlight the impact of the tariff on the supplier up the chain, and on the consumer, on whom the inflated price ultimately falls.
"This is a duty imposed on the importer in India, however the commercial reality is it has a disruptive effect up the supply chain, the reverberations causing the trade here to just stop.
"The Indian Government should provide an exemption for Indian importers for product contracted and shipped prior to the new tariff being announced.
"Indian buyers and Australia sellers have contracted in good faith, and the prior conditions should apply to permit smooth execution of those contracts.
Australian Grain Export trader, Will Alexander, said the tariff was partly about grower price support in India, the government's reaction to Indian growers this year expecting good yields.
India's rabi, or winter, crop presently in the ground is the country's main source of desi chickpea and lentil and has helped rebuild supplies after the shortages during recent drought years.
Impact in Australia
Traders said Australian cash prices for chickpeas had dropped to around A$600/t delivered packer since the tariff was imposed, and grower activity in both chickpea and lentil had seen little liquidity in recent weeks.
Around 50pc of Australia's 2017 desi chickpea crop had been sold by growers, much of which had already been exported in containers from Brisbane and Sydney, and in bulk from Gladstone in Central Queensland, clearing customs in India before the tariff was imposed.
Choices for diverting cargo to another destination are seldom simple, because government-to-government phytosanitary regulations differ.
Mr Alexander said there had been reports of fresh demand generated by trade to smaller markets.
"Nepal recently was able to book up some product, and in a fortunate turn for the trade Pakistan emerged with a bit of a weather issue."
Special One Grain export trader, Jacky Sung, was not as optimistic.
The pulse supply from this year's rabi crop combined with trade estimate of 2.2Mt carryover in India was close to satisfying the pulse nutrition needs of India's population at around 26Mt per annum.
"They could be pretty much self-sufficient," Mr Sung said.
Government dialogue
India's imposition of pulse tariffs adds this issue to already-planned high-level government dialogue in India between the Australian and Indian governments.
Incoming Federal Minister for Agriculture, David Littleproud, has recently scheduled travel to India this Sunday to discuss the issue.  Deputy Prime Minister, Barnaby Joyce will also be involved in talks in India.
Traders said the Indian tariff was a mechanism used by the government to temporarily influence the cost of imports.
An example of the mechanism had been in the wheat trade with India, when the tariff removal during India's recent drought helped facilitate non-tariff import of wheat needed by consumers in India in 2016/17.   About 6.7Mt wheat was imported that year, resulting significantly in about 3Mt trade each from Australia and Ukraine.  The tariff was re-applied at 10pc late last year.
Cheaper food to consumers and higher returns to growers are parallel objectives of Indian government policy.
Agronomic upside
Walgett-based agronomist, Greg Rummery, said a reduction in chickpea plantings might have some agronomic benefits.
"People have really pushed chickpeas driving the profit goal over the past three to five years, leading to a build-up of certain weeds and nematodes," Mr Rummery said.
"Taking the pressure off chickpea plantings might help the cropping system."
Read the text of Pulse Australia statement Indian tariff unhelpful to pulse trade here
Grain Central: Get our free daily cropping news straight to your inbox – Click here