CHICKPEA plantings are set to top the 1.1-million-hectare mark this season as the final crops go in, with yield expectations tempered by high disease pressure and low rainfall in some areas.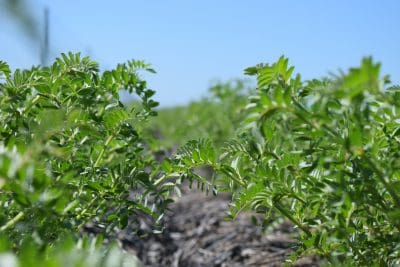 Pulse Australia CEO Nick Goddard said this season's estimated plantings eclipsed last year's area of just over 1 million hectares, but he didn't expect this year's yields to match last year's tonnages which were "out of the box".
"The general consensus is the area is up on last year, but the yield last year was exceptional and we expect that to come back this year to more typical average yields for chickpeas. If there is an average yield, we are looking at a national crop of 1.5 million tonnes," he said.
Mr Goddard said while there were still some late crops going in, he didn't expect any change in the estimate of just over 1.1 million hectares.
"This time last year there was a strong second plant because the rain started about now which enabled people, particularly in Central Queensland, to have a second plant. That is less likely to happen this year because we are running out of time and moisture," he said.
"Pretty much what is in the ground now will be what will go in.
"Subject to rainfall over the next couple of months, hopefully what is in the ground will stay there. Some other commodity crops around the country, particularly canola, have not come to fruition from what was sown and have been resown with wheat or barley or left fallow. Hopefully the chickpeas will come through."
The chickpea area in Queensland is up from 541,000ha last year to 556,000ha this year, but yield estimates have been dropped back from last year's high of 2.0 tonnes/ha to a more typical 1.5t/ha.
The NSW area is also up from 440,000ha last year to around 460,000ha this year, but again the yield will be back in NSW.
Victoria's chickpea area is up about 10,000ha off a much smaller base, and there are areas of chickpeas that have gone in in South Australia and Western Australia.
Low cereal prices
Mr Goddard said the substantial chickpea planting was largely driven by poor cereal prices at sowing time, although cereal prices had improved since then.
"A lot of growers did very well out of chickpeas over the last couple of years and they have built chickpeas into their rotations moreso than in the past. There is a greater level of confidence and knowledge," he said.
"When cereal prices were so low in March and April when people were making sowing decisions, growers had a choice in the north of chickpeas or canola as an alternative crop of high value."
Mr Goddard said growers needed to be aware that demand for chickpeas had softened in recent weeks due to improved production conditions in India.
"The thing to note is that in the past we have benefitted from a shortage of chickpeas in India with failed monsoons that has supported the Australian price and driven the plantings. But, this year the Indian chickpea crop is up around typical levels, so the demand isn't as strong as it has been in previous years," he said.
Going gangbusters on the Downs
A big area of chickpeas has gone in on Queensland's western Downs this year, according to GoFarm agronomist at Roma, Craig Miller.
"This is our biggest planting of chickpeas. Last year was the biggest we had had, and this year was even bigger," he said.
"It is looking pretty good at the moment. That crop (chickpeas) doesn't use a lot of moisture early on, so it is okay, but they will all need a decent rain, even just to achieve that average yield. In a month's time we would really be stretching out for it then."
On the eastern Downs, Elders agronomist at Dalby, Jordan McDonald, said recent rain had boosted planting activity on the Downs on what is set to be a record planting – maybe one-third up on last year's record.
"They are still planting chickpeas on the Downs and inner Downs and are going hard on the wheat and barley, only because they didn't have the opportunity earlier," he said.
"Later planting from having to wait for last week's rain will mean a 20pc sacrifice in yield. We're going to be definitely down in yield by going late. We have probably done 20pc in potential yield, planting chickpeas and wheat now, but it is part of their rotation so they're going to do it anyway.
"Chickpea plantings are up. It depends where you go, but we're servicing about 30pc more than last year, and last year was our record year for chickpeas, so we're up 30pc.
"It didn't look like it was all going to get in, but now with this recent rain, I'd say 90pc of our forecast peas will be in, so it will be somewhere between 20pc and 30pc up on last year."
Disease pressure
After last year's big chickpea planting across Australia, there have been heightened reports of diseases, particularly Ascochyta blight, in crops this season.
NSW DPI senior plant pathologist, Dr Kevin Moore, Tamworth, said the season started with really high levels of inoculum carried over from the big crop in 2016, which meant all chickpea crops, irrespective of variety, were going to be at risk 0f disease.
"That is why in February/March I recommended that every chickpea crop got an early fungicide spray before the first post-emergent rainfall event," he said.
"The people who did that don't have a problem with Ascochyta. The people who didn't do it, particularly those who planted chickpeas-on-chickpeas, have Ascochyta in their crops.
"Some of these people chose to grow the variety, Seamer, because they presumed its resistance rating meant it wasn't going to get infected. That resistant rating is a misnomer. While Seamer has excellent, improved resistance to Ascochyta, it is not immune and does get infected.
"So now we have Seamer crops infected with Ascochyta, and that puts the variety at risk and it puts the resistance genes in that variety at risk."
Dr Moore said the earliest detection of Ascochyta this season was in the third week of May on the western Darling Downs where the disease struck a chickpea-on-chickpea crop.
He said there had been subsequent outbreaks throughout the growing regions, particularly in the last two weeks in areas east of the Newell Highway north from Narrabri.
"And there were a number of reports from the Darling Downs where there are crops so full of Ascochyta that people are looking at spraying them out. There are crops that people are thinking about abandoning," he said.
Dr Moore said the other chickpea disease growers were worried about this year was Botrytis Grey Mould (BGM), but the risk was relatively low.
"Most of the crops I have seen around the Darling Downs, because of the way the season developed, were planted relatively early or on wider rows, and won't be at risk of BGM," he said.
"The early sown crops in the Moree area, I looked at one crop on July 8 and it was flowering. 22 nodes. Had a fair bit of Ascochyta in it. It is at risk of Botrytis Grey Mould."
Grain Central: Get our free daily cropping news straight to your inbox – Click here