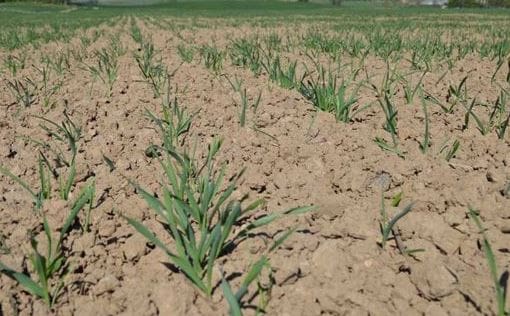 WINTER sowing programs in Queensland are stuck on hold as dry conditions stifle planting opportunities after what was a promising start to the season.
There have been no substantial follow up rains since widespread falls in late January/early February revived soil moisture levels and even brought flooding to some parts of the Darling Downs.
Early-sown crops are now looking for a drink, while farmers still with the bulk of their planned crops to go in are pinning their hopes on late rains arriving before the sowing window closes in a few weeks' time.
The dry conditions have prompted some growers to turn to deep sowing techniques, especially for chickpeas, chasing soil moisture down to depths of 20 centimetres.
Agforce grains president, Brendan Taylor, said Queensland's cropping regions needed a widespread rainfall event of 20 to 40 millimetres to get things going.
"We are at the beginning of June. To be planting in the 'optimal' planting window we have three to four weeks left. Once you get to July the yield potential starts slipping," he said.
"We are half way through what you would call the normal planting window. There is some crop in and some of it looks okay and some of it doesn't, with some very patchy establishments."
Dry months
Mr Taylor said there had been no substantial rainfall in the district where he farms near Warra on the western Darling Downs in the four months since the summer flood rains. It was a similar story in many other areas of Queensland.
"Since then we've had only 10mm from rain 10 days ago. Generally, across the state it was mostly 5-10mm," he said.
"We punted (on sowing some crop) in front of that rain and the 10mm has brought up only half of it which is not ideal. If we'd had 20mm we would have been in the game.
"15mm would have been useful for some, but if it was less than that I don't think it has done much good to anyone.
"There is a bit of crop in and up around here that was deep sown three or four weeks ago, but it is just sitting there now doing nothing and needs a good fall of rain to establish a root system."
With the top layers of soil dry but moisture deeper down in the profile, Mr Taylor said there had been significant areas of chickpeas sown with moisture seeking techniques down to 20 centimetres below the original soil surface.
"Chickpeas will come up from that depth. You can't plant cereals at that depth as they won't emerge, although people with the right gear have planted (cereals) that deep. They push all the soil out of the road and the seed then only has to come through maybe 40 to 50 millimetres of soil. It is effectively down 6 or 8 inches (15-20cm) from what was the surface.
"But it is very patchy with one place going okay and next door not, depending on what equipment they have and whether they have jagged a shower the neighbour didn't get."
Still time
Mr Taylor encouraged growers to remain positive, citing the 2016 season where it was dry up until June 20 when the first substantial rain fell and the late-sown crop ended up producing one of the biggest harvests ever.
"The season started off just like this one with a few little showers, but nothing to get excited about. Then we strung a few good falls together through July, August and then September which was detrimental to some crops which got too wet," he said.
"And we had a really mild spring when the cool weather went right through to almost October which let everything mature properly. It turned out to be a substantial harvest. Looking back, that is the last big harvest we had.
"So, who knows what's ahead. We can only hope the wet winter the Bureau of Meteorology is talking about might eventuate. We are the eternal optimists. For everybody's sake we hope that is what happens."
Barley tariff
Mr Taylor said the recent decision by China to slap an 80 per cent tariff on Australian barley imports had not prompted farmers to dramatically change their winter sowing plans.
"Given that last year was our driest recorded rainfall ever, there is very little summer crop in – mungbeans are off and the sorghum is yet to be harvested and the current estimate for sorghum is 200,000-250,000 tonnes in total which is very small," he said.
"From a Queensland perspective, most people would be happy to grow anything at the moment, whether it be wheat, barley or chickpeas, just so they have something to sell at the end of the year because there has been a lot of 'nothing' for a while."
Grain Central: Get our free daily cropping news straight to your inbox – Click here