QUEENSLAND Minister for Natural Resources and Mines, Anthony Lynham, has announced that the Queensland Government will conduct an independent review into rural water metering.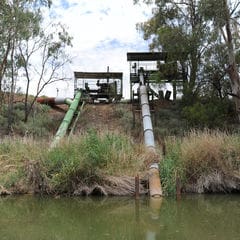 In welcoming the news, Queensland Farmers' Federation (QFF) president Stuart Armitage said it was important for the Queensland Government to take these steps to ensure an adequate framework was in place to manage the regulatory system for irrigation water in the Queensland Murray-Darling, and the state as a whole.
The independent review will also provide input to the ongoing Australian Government inquiry into the allegations of illegal water taking and maladministration in the NSW Barwon-Darling river system recently aired on the ABC's Four Corners program.
"QFF recognises the importance of accurate and effective metering in all irrigation areas across the state. You must be able to accurately measure water take to effectively manage compliance," Mr Armitage said.
"Irrigators depend and rely on robust and transparent regulation to help them manage their use of water.
"As water metering continues to be applied in new regions, it is essential that high standards of transparency exist to ensure the system continues to have the confidence of those already within and those joining a water sharing arrangement.
"A functional and productive water metering system relies on the combined confidence from irrigators, government and local communities. Without this, issues can arise that undermine the integrity of the system that is designed to mutually benefit all stakeholders.
"QFF will continue to work closely with government throughout the implementation of this review to ensure irrigators are adequately represented."
The Queensland Department of Natural Resources and Mines will be conducting an audit of existing water for irrigation take in the Queensland Murray-Darling catchments to ensure that entitlement holders are not exceeding their licence(s).
The independent review into rural water metering will provide its initial findings by November 2017, and will work with the national inquiry.
Source: QFF