CONSTRUCTION of the cutting-edge Roseworthy Plant Breeding Centre in South Australia is well underway, providing a new hub for plant breeding company, Australian Grain Technologies (AGT) to deliver superior genetics for Australian farmers.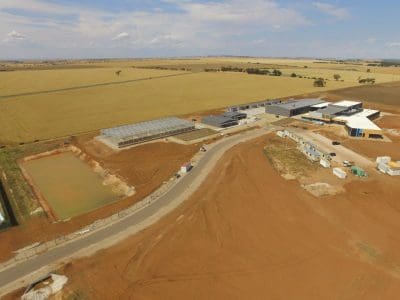 Home to state-of-the-art greenhouse, breeding and lab facilities, office and meeting rooms, the Roseworthy Plant Breeding Centre will increase the capacity of AGT to expand breeding programs across a range of crop types.
"Great breeding requires good germplasm, access to cutting edge technology and a team of skilled people to pull it all together," AGT executive officer, Haydn Kuchel, said.
"We have been amazingly blessed at AGT to have a world class team working for Australian farmers and our new Roseworthy based Southern Crop Breeding Centre will give us the ability to enhance our existing plant breeding efforts, providing even greater benefit to farmers into the future.
"Farmers support us by paying royalties on the varieties that they grow, and we are committed to investing back into developing improved varieties for them."
With the continual growth of the business, AGT has outgrown its current home at Roseworthy Campus, University of Adelaide, and now requires greater space and enhanced facilities.
Although the new site will be located off-campus, AGT will continue to maintain strong links to the University through joint research, education and Roseworthy campus-based plant breeding trials.
Kennett Construction commenced building the Ashley Halliday Architect designed precinct in November 2016 using local contractors such as LAKA Earthmovers.
The new Roseworthy Plant Breeding Centre is due to be completed in the first quarter of 2018 and will be the result of more than $15 million of investment by AGT.
This investment follows other strategic infrastructure improvements made recently by AGT at their three other plant breeding centres nationally, in Northam, WA, Wagga Wagga, NSW, and Narrabri, NSW.
Source: AGT