Grain Central's State-by-State analysis of winter crop planting continues today, with the focus on South Australia:
………………………………………………………………………………………………………………………………………………..
ALL eyes will be on the weather in South Australia this week where the prospect of a rain front delivering much-needed falls to the state's farming areas will consolidate winter crop plantings after what has been a patchy start to this year's sowing program.
The Bureau of Meteorology is forecasting falls of up to 10 and 20 millimetres for much of SA's cropping zones over the next few days.
The Department of Primary Industries and Regions South Australia (PIRSA) grains account manager, Dave Lewis, said if the predicted widespread rain eventuated it would "help farmers fill in the gaps".
"We are hoping the rain coming this week will make a difference because the first rains in April weren't consistent across the state. Some areas got a good start and seeding is well underway; other areas only got a little bit of rain that was insufficient to call it the opening of the season, so they started dry seeding," he said.
Mr Lewis said crop establishment had been particularly patchy on the Eyre Peninsula which had been drier than elsewhere in the state.
Conditions had generally been better in the eastern part of the state which received more of the earlier rains.
GrainGrowers South Australia regional co-ordinator, David Evans, said the forecast rain won't come a moment too soon for many growers.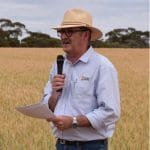 "The last month has been dry and a lot of grain growers have been starting to anxiously look at the sky," he said.
"There is plenty of seeding going on. We had good rains through early autumn, so people no-tilling with good stubble cover on their country managed to conserve a lot of moisture. They started planting in mid-April and just kept going."
Mr Evans said the bulk of the SA crop would be in within a fortnight, which meant most would have been planted in the optimum sowing window.
"Across the Mallee, the well organised no-tilling guys will be within a week of being finished through to some people who are just thinking of starting," he said.
"Most of the canola is in the ground along with legumes like lentils, lupins, field peas and chickpeas. Growers are moving on to wheat and barley."
Mr Evans said there had been a big swing to pulses and canola in SA this year.
"It has been happening with pulses over the past couple of years. We grew a record lentil crop last year. With the fall in wheat and barley prices and the fact you can lock canola in at $500/tonne plus, it is a no-brainer for most people," he said.
"There has been a big swing to them in areas like the Mallee and Eyre Peninsula that haven't traditionally been big canola and pulse growing areas."
Grain Central: Get our free daily cropping news straight to your inbox – Click here