THREE decades of service to the plant breeding and seed supply sector have seen Pacific Seeds territory manager for the central and southern Darling Downs, Bill Smith, become a household name in the northern farming zone.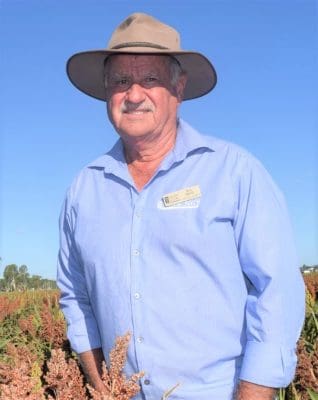 With 30 years in the business, Mr Smith has seen many changes since the Goondiwindi farm boy began his career with Pacific Seeds in 1987 as a marketing representative covering an area from Eidsvold in Queensland's North Burnett to Dungog in the NSW Hunter Region.
"The biggest change has been in IT, the ability to go to a mobile phone and put 2000 contacts in it and have everyone on speed dial. In the early years it was a matter of having to ring people at night," he said.
"I can still remember doing crop reports for the radio station in the lunch hour where I had to find a phone box and do it live, pushing coins in as I went.
"And once upon a time it was all about how you find where everyone lives and works. But now, GPS can take you straight there. It is so different."
Pointing to another area of change, Mr Smith said the focus in the plant breeding industry nowadays was on hybrid seed.
"The main summer crops in the modern era would be grain sorghum, corn, summer forage and some sunflower. In the winter, the two crops are wheat and oats," he said.
"In 1987 it was all about sunflowers. They were exported around the world. It was big and basically employed everyone.
"Today, the amount of sunflower oil crops is very small. Sorghum has become huge. It is the bread and butter product. The demand this year is quite a bit stronger than last summer. I think, given rain, it will be a big crop this summer."
Mr Smith said that, following the hot and dry extremes of last summer, the plant breeding industry recognised the biggest need now was to have hybrids that could adapt to drought and stress.
"I see a role now for quicker maturing grain sorghums that can handle a lot of stress. We are getting drier periods and more drought stress. It's an area we need to follow up on, especially in corn," he said.
Mr Smith said while there had been a lot of change in the industry, a key element of his work was still done the same way it was 30 years ago – "and that's about building relationships and trust".
"I take a lot of photos when I see my customers, often capturing the beauty of the landscape they work in," he said.
"When I go and meet with customers, I also like to take them a coffee or a chocolate cake. Everyone likes to have something brought to them, it's a wonderful way to start a meeting.
"I'm in the business of relationship building. I look after 2000 farmers and I know the value of every one of them. It's about respect and trust – that's the way I do it."
Mr Smith said he had had the opportunity to work with a lot of dedicated people and he was particularly encouraged by the enthusiasm of the young people joining the industry.
"I think a lot of people are only as good as their support team. I have been blessed to have a very, very good team around me. That is a key thing," he said.
"I think there is a big role for undergraduates and graduates in agriculture. It is a big change to see young ladies coming through and being very successful in rural industries.
"Thirty years ago there was only one female, now they are involved everywhere. It is good to see them there. I think they do exceptionally well in the trade. All they need is to be given the opportunity to develop."
Mr Smith will be honoured with an award at a ceremony at Pacific Seeds on 21 September, but he is adamant it won't be construed as a farewell party.
"I'm not retiring yet. I've just got a brand new Kluger and I intend to wear it out," he said.