PLANTING of the early Queensland sorghum crop has started in the state's south following two weeks which have brought up to 120 millimetres of rain in storm and showers.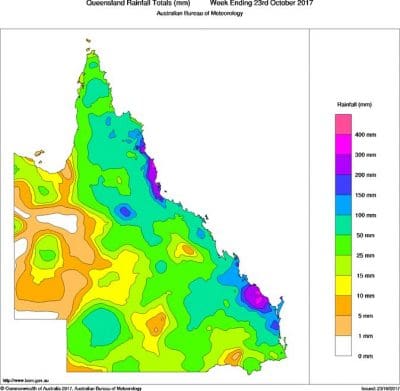 Pacific Seeds territory manager for the central and southern Darling Downs, Bill Smith, said while some growers have only had 50mm and needed more before they could start planting, others had had sufficient rain to make a good start on their summer-cropping program.
"It's a very positive thing, there's no doubt about that; the only downside is there are pockets were people have missed out," Mr Smith said.
Mr Smith said some growers in localities including Brookstead had managed to get a reasonable area planted between the rain events.
"They'll plant quicker than you think; some people have already had three days on the tractor"
Less cotton likely
Dalby Rural Supplies head agronomist, Andrew Johnston, said most of the growers he had spoken with had received 50-120mm of rain in the past 10 days to put an end to an unseasonably dry growing season for the winter crop.
"Off the back of the weekend just gone and the weekend prior to that, it's too wet for a lot of people to be planting just yet, but a couple of good sunny days and we'll be into it," Mr Johnston said.
"It's a good thing, that's for sure."
While high prices for cotton relative to sorghum saw a swing last spring into the fibre crop, a dry and fiercely hot season brought low yields and quality issues to many cotton crops.
"I think we'll see the cotton area back off a little bit from last year because the more traditional growers that had a go at cotton will swing back to sorghum."
"Some people that grew cotton last year hadn't grown it for 10 or 15 years, and with prices for sorghum better than where they were, they'll go back to it."
Opening rains in CQ
To avoid flowering in the hottest part of the year, the bulk of the Central Queensland (CQ) sorghum crop is planted in summer, but Pacific Seeds CQ territory manager, Craig Wade, said some early plantings were likely this year.
"There's some interest in the Dingo, Duaringa and Rolleston areas in early sorghum after this rain, and the domestic market will certainly soak that up when it comes off," Mr Wade said.
Winter crop suffers
Mr Wade said around 90 per cent of the Central Highlands wheat and chickpeas had been harvested, and what was left in the paddock would suffer badly because of the rain.
"Some of those crops have had 180mm of rain on them, which is great if you're talking about soil-moisture profiles for sorghum, but terrible if you've still got crops to harvest."
Mr Wade said the rain had been patchy, and some parts of CQ had only had 40mm to date.
"We are normally sweating on an Australia Day change to get the crop planted, so this rain now is good to have, but most growers will need another 200mm to get them planting."
On the Darling Downs, Mr Johnston said some winter crops planted in July at the tail end of the planting window could benefit in terms of grain fill from the recent rains.
Prices for new-crop sorghum delivered Darling Downs in March-April have fallen to around $230-per tonne, back from around $300 prior to the rain.
In CQ, chickpeas for prompt delivery are quoted at around $865/t delivered Gladstone.
Drier in NSW
Heavy falls have largely eluded sorghum-growing regions in the Queensland-NSW border, and on the north-west plains of NSW.
Following a very dry winter and early spring, most NSW growing regions are looking for another 25-50mm of rain at least before they will plant a sorghum crop.