THE South Australian harvest has kicked off with Viterra receiving its first load of new season grain yesterday.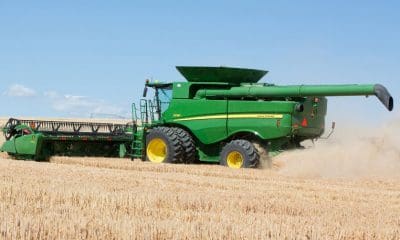 The first load for the 2017/18 season was a load of barley into Port Pirie by Mambray Creek grower, Ben Bussenschutt.
Viterra group operations manager, Michael Hill, said the company had been working closely with growers in the lead up to harvest to ensure sites could meet their needs this year.
"We are well-prepared for harvest with the arrival of yesterday's first load, which is two weeks earlier than last year," Mr Hillsaid.
"We are employing 1300 additional people for the harvest period, mostly in regional areas, to ensure we can provide growers, exporters and domestic customers with a high level of service.
"Our network has the flexibility to receive the large range of commodities and grades produced each year. Our many segregations and new declaration process will help meet the quality requirements of customers in over 25 different destination markets."
While receiving the grain at harvest is critically important for Viterra, Mr Hill said efficiently exporting the grain was equally as important.
"About 5.5 million tonnes of export capacity has already been booked for 2017/18 by 13 different exporters, providing a hugely competitive environment for growers delivering into the Viterra system.
"We continually promote the benefits of sourcing grain from South Australia to international end-use customers on behalf of growers."
Source: Viterra