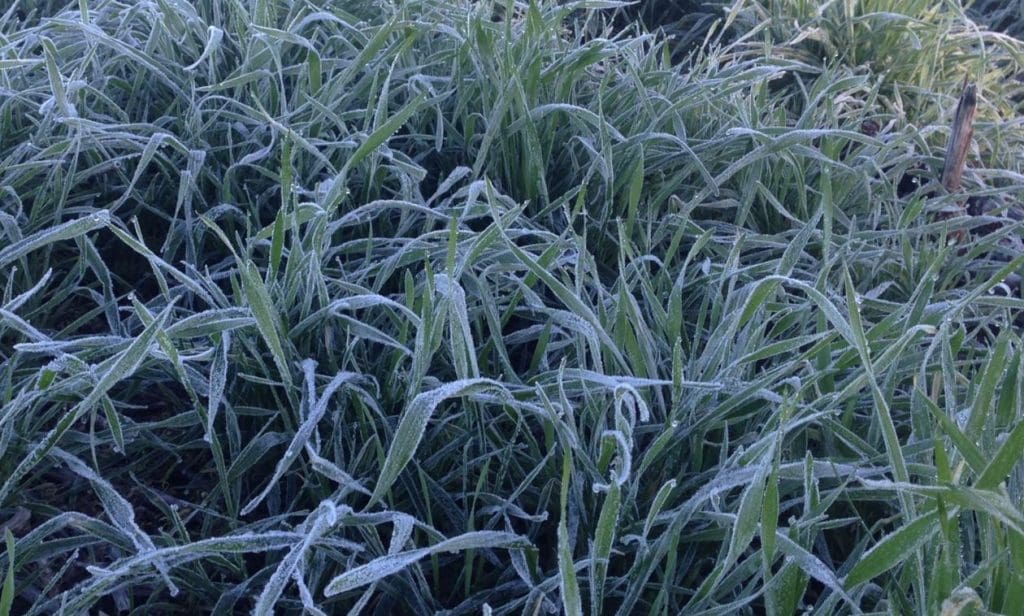 PLANTING date is still one of the most cost-effective tools to help Queensland and New South Wales grain growers bolster crop yield potential by better managing both frost and heat stress during the grain-fill period.
Research conducted by AMPS under a Grains Research and Development Corporation (GRDC) investment has reaffirmed the benefits of early planting from a production and economic point of view but additionally, has assessed the effect of elevation on frost risk and implications for sowing strategies.
AMPS Agribusiness research manager Matt Gardner said the trial work found there were drastic changes in frost risk with only small changes in elevation (20-50 metres) which presented significant opportunities to push planting dates forward without necessarily increasing frost risk.
"Over the years there've been plenty of trials establishing the benefits of early sowing. But if I stand in a room of growers, typically every person could name a year where they've been badly frosted but very few could probably quantify how much yield they've lost to heat stress over those years," Mr Gardner said.
"So, growers generally take a conservative approach to planting date because the fear of frost damage influences their decisions to a greater extent than the often intangible yield loss from heat stress during grain fill.
"However, of all the major agronomic management levers that can be manipulated to achieve yield potentials, planting date can have the greatest impact and is one of the few management tools that can be changed with negligible additional costs to the grower."
Protecting crop yield
The trial work demonstrated the value of elevation in protecting crop yield, highlighting opportunities to plant earlier in higher parts of the landscape without necessarily increasing frost risk.
For example, on the Liverpool Plains of northern New South Wales, a late April planting date created an additional $425/hectare and $1155/ha net return compared with mid-May and early June planting dates respectively at the top of the slope over a three-year period. This was calculated on a wheat price of $250/tonne.
Even in 2016 when spring conditions were ideal, there was still a 1.34t/ha yield penalty for delaying planting dates from late April to early June.
At the same time, the work found that the risk of heat stress during grain fill remained relatively consistent with temperatures being similar for top and bottom slope sites, narrowing the window for optimum conditions for flowering crops.
Impact of elevation
The other significant part of the trial work has been focused on the impact of higher and lower elevations on crop development.
Mr Gardner said it found that lower points in the landscape had more frost events with greater duration compared to higher elevations.
"Lower minimum temperatures and a greater number of frost events in lower parts of the landscape reduce the accumulation of growing degree days and hence delay crop development," he said.
"But despite the delayed development, there is still a need to adjust planting date to achieve an acceptable level of frost and heat risk during grain fill.
"There are huge differences in frost risk across the landscape and this needs to be exploited. There are very few single management changes that will deliver these type of returns."
Planting strategy
The challenge for growers and agronomists lies in accurately determining frost risk and therefore a planting strategy when data and models rely on weather stations that can be located some distance away from individual paddocks or farms.
"Growers and agronomists rely heavily on previous experience, local weather station data, sowing guides and predictive models such as CliMate or APSIM to determine planting dates but it can be challenging when the nearest weather station is located some distance away from paddocks or farms," Mr Gardner said.
"Data from the trial work could be used in models to assist growers to better predict frost risk and planting dates across the landscape rather than simply near the closest weather station.
"Temperature loggers have been used in our trials and we've found growers are using them on an individual farm and regionalised level to help with decision making on variety selection and sowing date."
Temperature data
Liverpool Plains grower Tom Simson is one of many who has adopted the trial work on a commercial level.
Since seeing the trial work Mr Simson has started collecting temperature data across his farm near Premer and now has over five years' worth of information.
"Being able to record on farm temperature has meant we have been able to refine that optimum sowing window," Mr Simson said.
"With the help of Matt and the research trial work I have been able to confidently bring my sowing date forward by as much as six weeks.
"With the change in sowing date and variety choice I can confidently say we are seeing an average yield increase of 1.2t/ha.
"In 2018 I was able to make a commercial decision regarding planting dryland Lancer. I was only able to make that decision because of the trials and data sets that had been presented to me by AMPS Research.
"Thanks to that I planted dryland Lancer on May 10 which yielded 3.3t/ha. Historically we would have missed that sowing opportunity as we would have thought it was too early."
Source: GRDC
GRDC Grains Research Update paper 'Can we refine planting dates further?'