RAIN across the southern farming regions of Victoria and South Australia this week has come at a crucial time for winter cropping programs.
Compared to the ongoing dry in the northern farming zone, conditions have been more favourable in southern regions where most of the intended plantings have already gone in.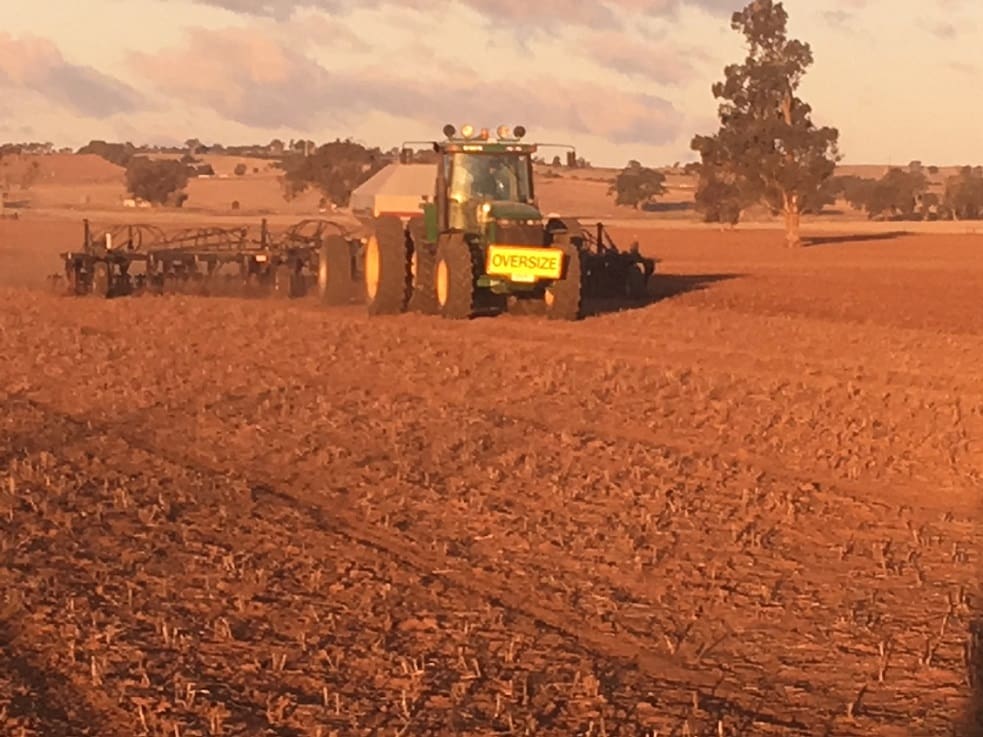 Victorian Farmers Federation Grains Group president and Wimmera farmer, Ross Johns, said the majority of the Victorian winter crop was sown and had benefitted from widespread rain in the past week.
"I'd say 80 to 90 per cent is in, but very little of it would be out of the ground. Maybe only 10pc has emerged at this point," he said.
"It was very dry for most of Victoria through May, but in the last week there has been widespread rain that will get the crop out of the ground."
Some of the higher rainfall totals in Victoria for the past week include Beulah 16mm, Donald 26mm, St Arnaud 21mm, Wedderburn 23mm, Dunolly 37mm and Ararat 22mm.
Mr Johns said there had been about 20 millimetres in the last week around Warracknabeal and Dimboola where he farms.
He said it was difficult to say what the crop breakup would be in Victoria, but he suggested there was likely to be more barley but less canola this year.
Handy falls in South Australia
In South Australia, Grain Producers South Australia (GPSA) director and lower south east farmer, David Malpas, said there had been falls of around 12 millimetres in his area this week, but conditions were drier to the north east of Naracoorte and Bordertown.
"We have had good moisture. Sowing conditions have been close to perfect," he said.
"Some people are close to finished planting, but there are still a few cereals and beans to go in. It is progressing well.
"People may change away from beans this year. The market was quite weak last year and there could be a little bit of a swing away."
In SA's Mid North, GPSA director and farmer, Stephen Ball, said the area had had a total of around 40-50 millimetres in three significant rainfall events throughout the growing season, with 4mm falling in his district in the last few days, and some areas receiving quite a lot more.
"Sowing started on time. We dry sowed feed and beans, then moved onto the rest of the program. We have finished what we needed to do 10 days ago and today we are just seeding some chickpeas," he said.
"In this area about 90pc of the crop is in. Germination has been good, particularly with cereals that have come out of the ground very well.
"But we will be relying on rainfall. There is some very deep moisture left over from the last couple of years, but nothing can access that at the moment. We are looking for the next rain front."
Mr Ball said growers in his region had maintained their full rotation this season.
"They haven't dropped anything off around here. In the slightly drier areas they have certainly dropped out canola and some legumes. The signals have been there for feed-grain barley with good pricing, so there has been a bit of extra barley go in this year," he said.
Indicative rainfall registrations in South Australia for the past week include Clare 13mm, Keith 11mm, Paruna 15mm, Bordertown 11mm and Mount Gambier 26mm.
Drier on Eyre Peninsula
On SA's Eyre Peninsula, T-Port director and Lock farmer, Andrew Polkinghorne, said much of the peninsula remained dry.
"The southern parts of the Eyre Peninsula around Yeelanna and Cummins are going okay. The crops are in and up quite well.
"From around Locke north and west, a lot of the crop is sown and there is quite a bit of it to emerge. A fair bit of it will take rain to make it emerge.
"The season hasn't broken properly on the upper Eyre Peninsula yet. Sheep feed is non-existent."
Mr Polkinghorne estimated at least 80pc of the crop had been sown in the region.
"Most people are finishing up their planting, but we need rain straight away," he said.
"There has been a shift to barley, and less canola in the central and upper areas. The wheat area is similar. Barley has replaced some of the pulse area."
Grain Central: Get our free daily cropping news straight to your inbox – Click here