A SUITE of innovative software tools to support farmers undertake Agricultural Risk Management (ARM) activities and enable better planning and decision making in the industry has become available.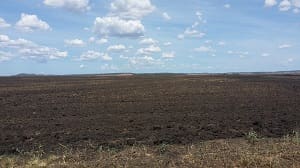 Queensland Department of Agriculture and Fisheries (DAF) senior agronomist, Howard Cox, said the new web-based interactive support tools would help farmers, farm advisors, policy makers and researchers in the agriculture industry.
"Farmers endure widely varying rainfall conditions whilst needing to make critical management decisions prior to every cropping season," Mr Cox said.
Crop producers and advisors will now be able to go online or use their phone or tablet devices and examine the full range of possible outcomes given that a hundred years of rainfall data drives these programs.
The new website (www.armonline.com.au) uses advanced climate and crop models to allow users to produce hypothetical scenarios regarding the financial effect of different levels of inputs, such as fertiliser, or resources such as water and nitrogen in the soil.
The site hosts five tools: CropARM, FallowARM, NitrogenARM, ClimateARM and the Deep P Calculator.
ARM had previously been developed by the Department of Agriculture and Fisheries with investment from the Grains Research and Development Corporation.
The ARM tools have been revamped by the University of Southern Queensland (USQ) under the Broad Acre Grains Partnership with the Department of Agriculture and Fisheries, while CSIRO contributed to the development of one of the tools – the Deep-P Calculator.
USQ Senior lecturer Dr Keith Pembleton said the Agricultural Systems Modelling Research Group at the university had been asked by DAF to remodel and add functionality to the ARM online tools.
"This is a worthwhile project in our area of expertise. The USQ team takes the analytical power of agricultural research models and puts them directly into the hands of farmers and their advisors through user friendly tools and apps," Dr Pembleton said.
Each tool has a specific purpose such as CropARM which uses 100 years of rainfall records to predict year-to-year yield and gross margin outcomes for farmers making critical management decisions prior to each cropping season.
There is also NitrogenARM which calculates the required nitrogen fertiliser application rate based on the difference between the demand and supply of nitrogen for cereal crops.
FallowARM calculates the possible range of soil water and soil nitrogen that is likely to accumulate over selectable lengths of fallow at selectable starting times of the fallow.
ClimateARM is the new online tool that has components contained in the Rainman program. It provides the ability to analyse rainfall and other climate variables at individual locations taking into account seasonal patterns and forecasts.
The Deep P Calculator aims to determine the optimum rate of phosphorus to be applied at depth and the economic outcomes for multi-season crop rotation.
Source: QDAF