VARIABLE rate technology (VRT) and enterprise diversification underpin the risk management strategy employed by north-west Tasmanian farmer, Michael Nichols.
Mr Nichols and his family run a 375-hectare, multi-faceted farming operation on Redbank Farming near Sisters Creek, growing 162ha of irrigated crops that include wheat, onions, pyrethrum, potatoes, mustard, peas and buckwheat.
They also run beef cattle; lease grassland to a dairy farmer; run a poultry enterprise hatching 65,000 chicks a week; and operate a cold press for canola oil, pressing 220 tonnes of seed a year.
The business has an annual turnover of more than $1.1 million, with substantial outlays on fertiliser ($120,000), chemicals ($140,000), land rental ($150,000) and wages ($200,000).
Speaking at this week's Innovation Generation conference in Wagga Wagga, NSW, Mr Nichols said he took the first steps into VRT 18 months ago when he realised he already had the essential ingredients – a fertiliser spreader that was load-cell ready and his yield-mapping harvester that generated prescription maps for variable rate spreading.
"I had been using the yield maps as my reference point, but I wanted a bit more accuracy than that, especially when growing our vegetable crops which are high users of fertiliser. I knew I could make a big difference quickly," he said.
And what a difference it has made. Mr Nichols said the adoption of VRT had immediately led to big savings in fertiliser costs.
"Last year we ended up saving around $40,000 in fertiliser costs out of a $120,000 budgeted bill while still maintaining, if not increasing, my yields. So, it is not only a saving, but has also led to yield benefits," he said.
"And it's all done on small areas. Everyone (on mainland Australia) talks in 100-hectare paddocks whereas my average-sized paddocks are 10-12 hectares. If I can get those savings over such a small area of ground and with one soil type, imagine what other people could get with variable soil types and bigger areas."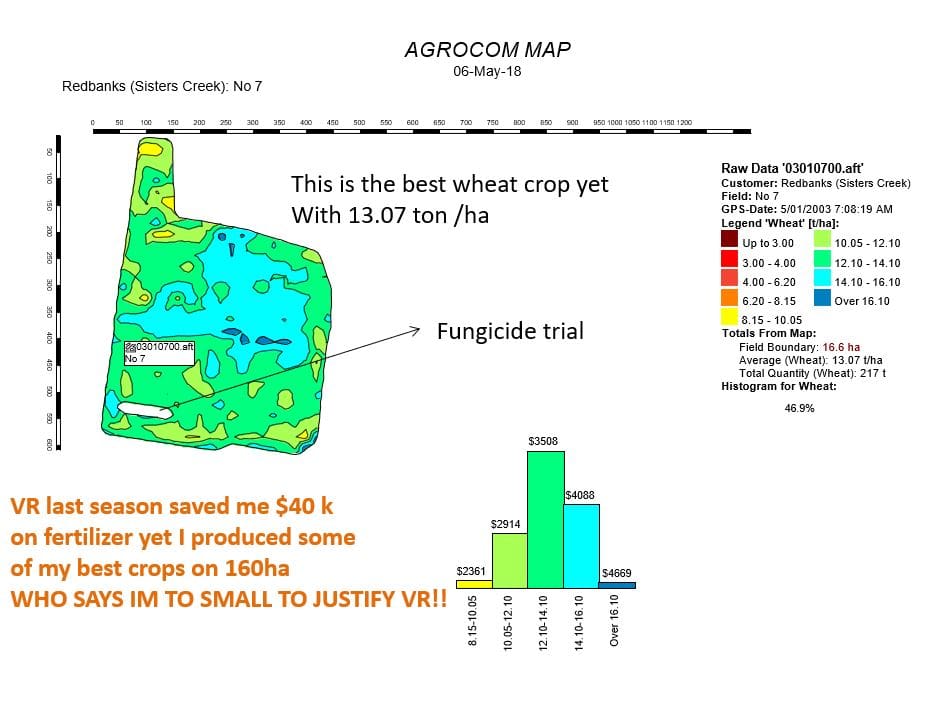 Mr Nichols said to initiate his move into VRT he engaged the firm, Precision Ag, who did soil sample grid samples of the farm testing pH, calcium, magnesium, phosphorus and potash.
"They are the five main things we can change quite quickly by putting on single brews of either lime or dolomite or single superphosphate or potash," he said.
"When the maps came back, we realised there was a significant variance. When I do an EM (electro magnetic) map over the whole area it comes back as one colour, but when I do a nutrient map it comes back with different areas."
Mr Nichols said the mapping showed he had been "breaking the records for high phosphorus" with Olsen P tests showing massive variation with some areas of a paddock up around the toxic level of 170, while in the same paddock there were areas down to 25.
He also undertook conventional soil tests zig-zagging across the paddocks.
Enterprise diversification
The other key facet of the Nichols' operation is the wide diversity of enterprises they run.
Mr Nichols said Tasmanians had the opportunity to diversify because they had the conditions to grow a combination of grain and vegetable crops.
"It looks like a big list of crops that I grow, but it is actually not hard to manage as you might think. We all get contracts for producing a certain tonnage or volume; we have a price secured in that. All we have to do is try to get an average yield by following the advice of the agronomists who are provided. It is not as daunting as people think it is," he said.
"There is only a handful of crops you have to put the extra effort into. Those crops are more the marginal ones, like wheat, canola, peas and buckwheat."
Grain Central: Get our free daily cropping news straight to your inbox – Click here