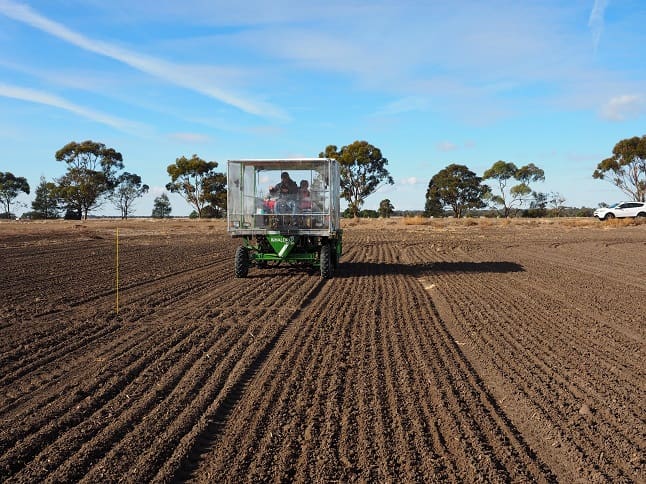 THE biggest ever number of varieties and breeding lines screened for disease resistance has been planted at Horsham in Victoria's Wimmera this season.
Agriculture Victoria's cereal pathology team at the Grains Innovation Park is testing 55,000 wheat, barley, oat and triticale varieties to determine their susceptibility or resistance to 10 different foliar diseases.
The end result will be published as disease ratings for commonly grown commercial varieties in the annual Cereal Disease Guide, due for release in February next year.
For Agriculture Victoria junior scientist and PhD candidate, Melissa Cook, the work is exciting and relevant.
"As well as doing great research, providing our disease screening service is something I am most proud of," Ms Cook said.
"Each year, the ratings we produce allow farmers to make informed decisions about the varieties they plant based on the variety's disease ratings."
Ms Cook has a particular interest in one of those foliar diseases – yellow spot on wheat – for two reasons.
There has been a high incidence of the foliar disease in the past two seasons, brought on by a very wet spring in 2016.
It is also the focus of her PhD work.
"My studies have shown that yellow spot can cause yield losses of up to 25 per cent in very wet years," Ms Cook said.
"Farmers are looking for varieties that are resistant to foliar diseases so they can minimise foliar fungicide applications.
"Growing resistant varieties means growers can minimise their spraying costs, as they are always looking for ways to lower their management costs."
While some of the varieties being tested are new, well known and established varieties are also tested each year as resistance can break down.
"Over time, varieties which were previously resistant to foliar diseases can become more susceptible, through resistance breakdown or if a new pathotype of the disease develops," Ms Cook said.
"Our nurseries not only test the resistance of the varieties but can also pick up changes in the disease population itself."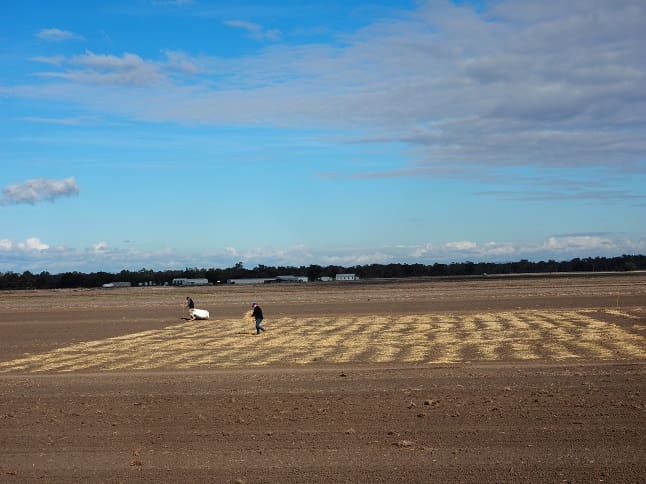 Dr Grant Hollaway, who heads up the cereal pathology team for Agriculture Victoria, said Horsham's reputation for producing rigorous disease data in a timely manner was growing.
"Thanks to a purpose-built, precision plot seeder capable of planting more varieties across fewer hectares, Agriculture Victoria is well positioned to rapidly screen wheat and barley lines," Dr Hollaway said.
"The seeder plants 3000 individual rows an hour, which helps us run a very efficient program.
"Our precision seeder allows us to plant different varieties in each row within a plot, compared with traditional field trial methodology which involves larger plots being sown to a single variety.
"This not only allows us to sow more lines over fewer hectares but we can include experimental lines in our screening nursery when only a small amount of seed is available."
The trial's results are also not impacted by low rainfall. A flood irrigation system allows the six hectares used for the trial to receive ideal conditions for foliar diseases to occur and puts the greatest disease pressure possible on the varieties being tested.
The sowing program is also geared, Ms Cook said, to promoting epidemics of specific foliar diseases. Nurseries looking at diseases such as stem rust of wheat and leaf rust of barley and wheat, will be sown in early August to allow warmer weather to play its part in establishing the disease epidemic.
Right now, Dr Hollaway and Ms Cook and the cereal pathology team are looking after their 55,000 plant "babies" in the nursery.
Some of the work may seem tedious – like manually injecting the stem of wheat plants with stem rust – but Ms Cook said she never lost sight of the value of what they were achieving.
"The work we are doing is very practical and relevant to farmers," she said.
"Each year our disease nurseries are expanding and including more lines for screening."
"It means that when farmers select their varieties each year, they can factor in disease resistance into their choice, alongside yield and environmental traits like tolerance to drier conditions.
"Being able to provide information on current disease resistance to inform growers choices is really important."
Grain Central: Get our free daily cropping news straight to your inbox – Click here