A SENTINEL program in Victorian grain silos aims to stop the spread of exotic pests, and Agriculture Victoria is looking for more silos to be a part of this monitoring program.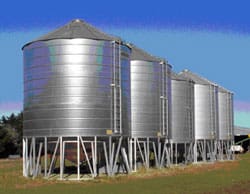 Agriculture Victoria grains biosecurity officer Jim Moran introduced an enhanced surveillance program 12 months ago via the sentinel silo program.
There are currently eight silo locations involved in the program around Victoria and, to further strengthen this program, Mr Moran is looking for seven more.
"Each location has two or three pheromone traps which have been monitored every six weeks for nearly 12 months," he said.
"One of the target pests is the exotic Khapra beetle (Trogoderma granarium) which ranks as one of the top 10 priority pests for Victorian plant industries. Khapra beetles feed on dried plant and animal products with a preference for grain and stored products."
A recent incursion into South Australia has been contained and strong biosecurity measures are in place to guard against any possible spread of the beetle. No beetles or larvae have been detected beyond the original affected premises in SA. There have been no incursions into Victoria.
There is no change to Australia's trade status and Australian grain remains free of Khapra beetle.
Khapra beetle is difficult to distinguish from some native Australian Trogoderma species that are not considered serious pests.
The pheromone traps are designed to attract any Trogoderma species present. All samples are then sent to the diagnostic team at the Centre for AgriBioscience for positive identification of Khapra beetles.
Mr Moran is keen to hear from any growers interested in participating in the sentinel silo program.
Any mixed farms that have a grain storage bin, bunker or silo are likely to be a good candidate for the program, including livestock producers, mixed grain and livestock farmers, intensive chicken producers and duck or pig farmers.
"With the bumper harvest and increased storage this season, our ability to detect this pest early is vital."
The location of all sites will be kept confidential and participating farmers will be doing agriculture and the grains industry a huge service as well as getting information on improving their own grain storage systems.
"If you or a grower group are interested, biosecurity information and training to improve hygiene and biosecurity at these sites will be provided," Mr Moran said.
For further information please contact Jim Moran at Agriculture Victoria Epsom, Bendigo, on (03) 5430 4479.
Source: Agriculture Victoria. www.agriculture.vic.gov.au