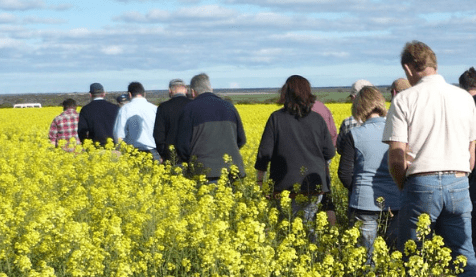 A NEW collaboration agreement between Western Australia's Grower Group Alliance Inc (GGA) and the WA Department of Primary Industries and Regional Development (DPIRD) will see an increase in farmer driven, demand led research and innovation in WA.
The agreement, which provides a State Government investment of $4.38 million over four years, provides core funding to the GGA to deliver current services and support from DPIRD in the form of a prominent office location as well as staff and resources to be managed by GGA.
GGA chief executive officer, Annabelle Bushell, said the new initiative provided long term stability to the GGA to provide valued training, connection and capacity building services, while also lifting investment to drive innovation and industry change in WA agriculture.
"DPIRD has and continues to be a strong supporter of GGA and the WA grower group network and this new agreement reflects the value that the grower groups deliver to members, the industry and regional economies in WA," Ms Bushell said.
"The agreement provides financial stability to the GGA to allow the organisation to continue to support grower groups in current activities while also lifting the investment to increase farmer driven, demand led research and innovation collaborations."
The agreement focuses on three key areas – network wide collaboration, benchmarking and building and technology and innovation:
Network project collaboration: working with grower groups to design grower driven, network scale projects and attract investment from strategic partners to drive research and innovation in WA agriculture
Benchmarking and Building: supporting groups to be fit, strong and sustainable by delivering training and development in a systematic, strategic way
Technology and innovation: facilitating opportunities for groups by linking grower groups with innovators and the agtech industry to ensure emerging innovations are relevant to WA farmers
Ms Bushell said the collaboration with DPIRD would provide a number of benefits for the grower group network and industry and help develop a vibrant, innovation ecosystem in WA.
"There will be increased relevance in applied and on-farm research capacity so more research is
getting to growers through the groups, while also providing a crucial 'feedback loop' on research to ensure it continues to hit the mark with farmers," she said.
"It also increases the opportunities for farmers and groups to connect with innovators and the ag- tech industry, providing a vital link in between farmers and those developing agtech.
"Finally, network wide, farmer led collaborations developed by the network will attract research and innovation investment to WA, which will give strength and stability to groups to benefit their members and regional communities."
Source: GGA
The GGA is a grower group and farmer led network established in 2002 to provide capacity building, networking and research and innovations connections to WA grower groups and their members.