WESTERN Australia's winter-crop area is forecast at 8.893million hectares (Mha), down 70,000ha from the 8.963Mha forecast in June, according to the latest Grains Industry of WA (GIWA) crop report released today.
The unprecedented warm conditions in June have pushed crops along to be at growth stages well ahead of where they would normally be at this time of the year.
Crops generally look better than last year in many of the southern regions due to the advanced development.
They are in very good shape in the southern regions although the northern regions are getting desperate for a drink and rainfall in the next week will be crucial in maintaining current grain yield potential.
The wheat estimate accounts for most of change in estimated crop area with the total 4.89Mha for June revised down by 80,000ha to 4.81Mha.
The canola crop area has been increased to 1.86Mha from 1.83Mha in June, and oats have lost 20,000ha since last month's report.
Kwinana port zone saw a total drop in the forecast crop area of 40,000ha between both reports, driven by reductions in estimated wheat, oat and canola plantings.
The Geraldton port zone also declined 60,000ha, off the back of lower wheat and barley figures and Esperance dropped 10,000ha.
Albany had a rise in forecast crop area of 20,000ha, with wheat plantings responsible for this uptick.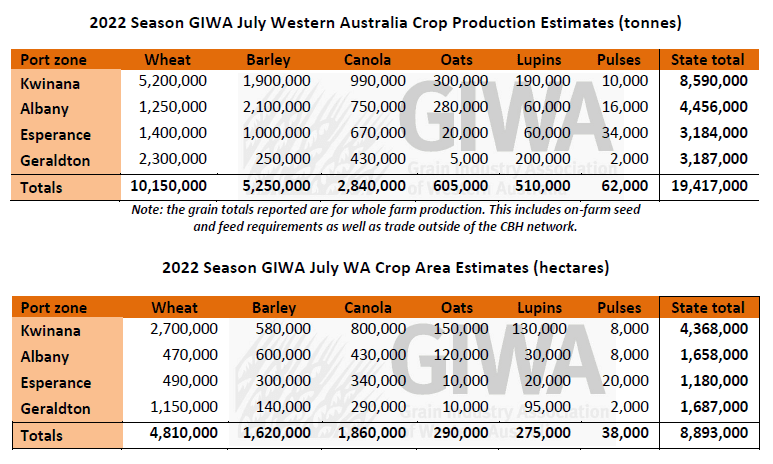 The report also forecast that WA will produce 19.417 million tonnes (Mt) of winter crop this year, which would be one of the state's largest seasons.
Although the variance could be much wider than previous years due to the risk of low rainfall in the north and frost in the south.
If crops in the north receive top-up rain in July and August, and the southern regions escape the frost, current potential tonnage estimates could hold up.
Drier winter, spring
Climate models have suggested for a while the 2022 winter and spring in Western Australia will be drier than average and this is still the case.
June 2022 was one of the warmest Junes for many grain growing regions in the last 30 years and accumulated day degrees, which is the measure for winter crop development in Western Australia, for the same time period was nearly 8 per cent higher this year than last year.
Most regions are sitting on very low deciles for soil moisture, in part due to the rapid crop development but also due to below average growing season rainfall.
The areas that were dry last month are still dry, although the majority of crops currently have average or above average grain yield potential.
Most growers are well into their post sowing management operations, and many will be finished in a couple of weeks except for late insect and fungicide operations.
This includes areas in the southern grain growing regions which is very much earlier than normal.
The recent grain price fluctuations and dryer predictions for spring have many growers on edge, particularly north of the Great Eastern Highway where sub-soil moisture reserves are running low.
A lot has been invested in maximising potential yield across the state and whilst the current condition of the WA crop has many positives, there are plenty of red flags as well.
The warm conditions have bulked up crops and this "top" is running the moisture reserves down at a time when we need them to be building up for the inevitable warm temperatures to come.
On the other hand, the advanced development stages of most crops mean there will be less spring rain needed to finish grain-fill.
The looming risk is of course frost, and many crops are going to be exposed to a greater period of frost risk than normal.
Source: GIWA