WHILE a swing to barley is on the cards, there is not expected to be much change to this year's winter cropping mix in Western Australia compared to what growers grew last year.
As seeding time approaches, WA growers are set to hold firm with planting intentions on the back of a season last year that saw the WA crop hit by dry growing conditions, particularly in the north and east, but benefit from late-season rain to stage an unexpected comeback in many areas by harvest.
This season, the WA Department of Primary Industries and Regional Development (DPIRD) is predicting an above average chance of rainfall exceeding median levels in autumn for the majority of the grainbelt.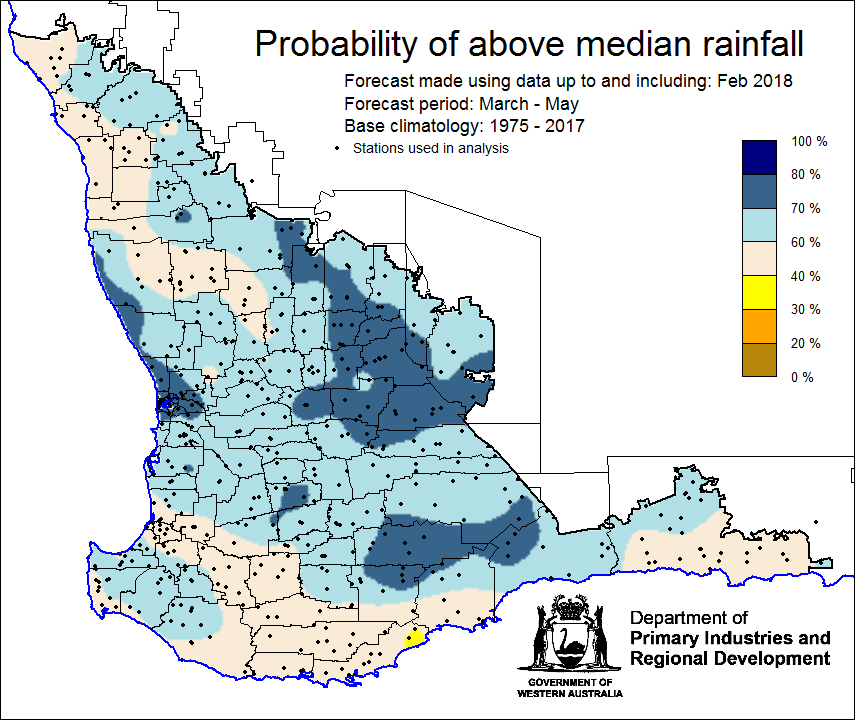 GrainGrowers WA regional co-ordinator, Alan Meldrum, said it would be a "case of little change' in planting intentions for WA this season.
"There might be a contraction in the enthusiasm for lentils in the south east because of where the market is going, but it is early days. Canola is still the bright light for profitability for early planting," he said.
"On the west coast there is some good soil moisture at depth, so there is confidence there. On the south coast and south east there has been some good rain. The Esperance area is a bit waterlogged in places, so they will be looking for an early sowing opportunity and won't need much to get them going.
"The rest of the farming area is dry. In the north and east where it was a tough season last year they will be looking closely at their programs to try to produce as cheap a crop as possible."
Mr Meldrum said with barley prices up, there could be an increase in barley plantings at the expense of wheat, particularly through the southern regions.
With hot weather prevailing in WA this week and no rain forecast in the near future, he said there was unlikely to be much winter planting activity for a few weeks yet.
"Even the guys who are keen to go dry sowing are saying they'll hold back until mid-April, if not the traditional Anzac Day, and play it by ear from there," he said.
Southern prospects hold firm
In the south around Esperance, which had a particularly good year last year, Farm and General consultant, Greg Warren, said there was unlikely to be any significant change to the area and types of crops growers put in last year.
"We are having a very similar start to last year, so it won't take much more rain to have people start sowing. There has been good rain and good subsoil moisture. It is all set up. But we have had these starts before and it hasn't rained until June, so you can't get the crop going," he said.
"The area to legumes is going up but it won't be a massive increase by any means. In the Mallee area there will be more field peas go in again. People are trying lentils on a wider scale. The whole issue with India and its import tariffs has taken the cream off the top, but the overall benefits of the rotation are overriding the current price for the grain.
"For the farmers who grow legumes, they know the benefits and are sick of growing a high input crop like canola."
Mr Warren said canola would start to go in in the first week of April and was likely to be a similar area to last year.
"The wheat area is unknown as to how much will go wheat or barley. We have disease issues in both. Powdery mildew in wheat is the main issue on the sandplain. Barley net blotch is a big issue. In most cases, farmers will retain their current rotation," he said.
Consult Ag consultant at Kulin in the Great Southern, Ben Whisson, said his client base was unlikely to significantly change the area they put into crop this year.
"There has been quite a bit of talk about the barley area increasing, purely based on pricing. But, through the Great Southern area, people who are good at growing barley have been sneaking the area up and up each year. They are probably reaching the level where they don't need any more barley," he said.
"I don't think there will be a huge change through the Great Southern. There possibly will be in the northern and central Wheatbelt that are not normally large barley-growing areas, maybe the price might entice them to swing a few more paddocks in."
Mr Whisson said in his farming area, where about one-third would go to wheat, 20 per cent to barley, 10pc to canola and the remainder to lupins, oats and peas, the first crops would probably go in in the next couple of weeks, depending on rain.
"If we have 30 millimetres around the end of the month, that will be a trigger for people to get stuck into it. Whenever we get a decent rain it will kick start the process.
Mr Whisson said last year was a particularly good cropping season in the region, with some people having their best, if not their second best, year ever.
"There was a terribly dry start. But with subsoil moisture and late rain it is amazing what we can do with our crops. We had some very handsome yields. With reasonable grain pricing, quite good yields and very good livestock and wool pricing, it was a profitable year," he said.
North/east looks to brighter year
It was a different story in the northern growing regions of WA where Agrarian Management consultant at Geraldton, Craig Topham, said last year was a tough season for winter crops and "everyone was pretty wounded".
"Towards the coast it wasn't quite as bad. We got out of the season a lot better than we thought we would. But, the north eastern area got absolutely caned. Some worse than 2006," he said.
Mr Topham said farmers were busy deep ripping in the lead up to this year's winter sowing and the first crops would be going in in a week or so.
"People will start sowing canola in the first week of April. It will be in the medium to low rainfall areas where there might be moisture at depth, but dry on top. It will be put on the top and wait for it to rain. The wheat will start in mid-April," he said.
"The general consensus is the medium to low rainfall areas will be low risk, cereal dominant. There will be opportunistic canola on the renovated soils. We don't grow anything bar wheat on non-renovated soils nowadays because it is too risky.
"In the good lupin belt, the lupin area has been slowly increasing over the last few years and it will continue to increase. It is not back to the levels of the early 2000s."
Promising rainfall outlook
The outlook for rain in WA is promising with the Department of Primary Industries and Regional Development's (DPIRD) Statistical Seasonal Forecast (SSF) system indicating a 60-80pc chance of exceeding median rainfall in autumn for the majority of the grainbelt.
The SSF is indicating a 60-80pc chance of exceeding median rainfall for the majority of the South West Land Division (SWLD) from March to May.
The most probable decile range map indicates decile 8-10 rainfall is most likely.
The predictive skill based on February conditions is poor to good (50-70pc consistent).
However, the long-term trend has been for drier autumn and early winter periods for the WA grainbelt and this outlook should be treated with caution.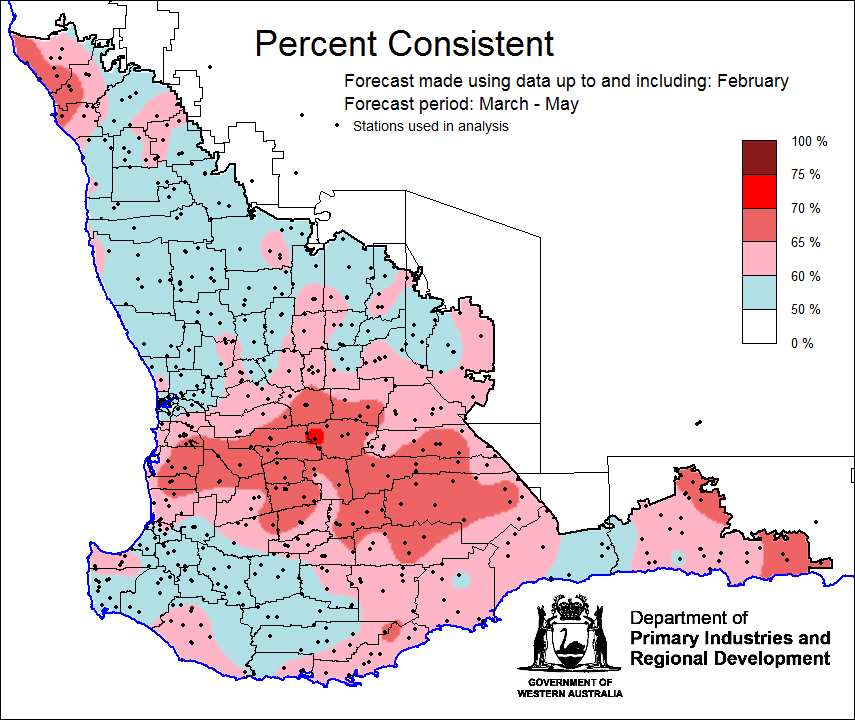 Grain Central: Get our free daily cropping news straight to your inbox – Click here