CROP production estimates have been lifted across the board in Western Australia on the back of September rain and cooler conditions that have been ideal for grain fill.
At the same time, frost has not had the same impact on crops this year as it did last year except for some areas of the great southern region.
In its October crop report, the Grain Industry Association of Western Australia (GIWA) has increased production estimates across all crops by more than 5 per cent from last month, with estimates for the state's overall winter crop production up 12.4pc to 11.53 million tonnes (Mt).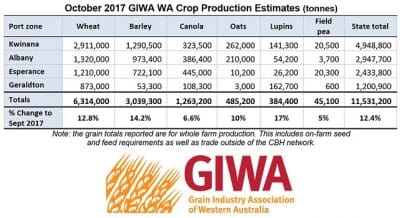 GIWA oilseeds chair and report author, Michael Lamond, said the combination of rain in September and cool conditions with no heat shock had been ideal for grain fill.
"Even though the crops are later, this year we will get a fair contribution to yield and grain size from late tillers. So, whilst the wheat was thin early on, it has filled out now," he said.
Mr Lamond said while grain size and weight was likely to be very good due to the mild conditions over spring and with minimal impact from frost, cereal grain protein would be lower than normal due to the unexpected soft finish to the season.
"There is a question over protein. Most growers were fertilising for a below-average or average year but it kicked on. So, there will be dilution of protein," he said.
Yield potential remains low in WA's north-eastern cropping areas and higher across southern parts and the South Coast.
Mr Lamond said crops in the western and southern regions were looking particularly good, and there was still potential for the state winter crop figure to edge up over 12Mt before harvest was finished.
"There is still some upward potential, particularly in the Esperance, Albany and Kwinana," he said.
Mr Lamond said wheat and barley tonnages were now predicted to achieve closer to historical levels resulting in a significant turnaround from just a few months ago.
Canola tonnage is going to be close to historical levels, however average grain yields are likely to be lower than normal due mainly to the poor start carrying through to the end of the season.
Oil percentages for canola are likely to be good due to cooler temperatures during the grain fill period.
Lupin tonnages will be down and it is expected much of the production will be kept on farm.
Oat production for grain and hay will be down this year with much of the oats for grain expected to be retained on farm.
Field peas have not been impacted by frost as has been the case in the last few years and there is noticeably more alternative grain legumes being trialled across the state, although tonnages are low at present.
Seasonal outlook
Meanwhile, WA Department of Primary Industries and Regional Development research officer, Ian Foster, said rainfall projections for October to November from climate models were showing either neutral probabilities or a weak preference towards drier than normal conditions.
"The probabilities for below average seasonal are not as strong as early in the growing season," he said.
"There is little agreement among the models for seasonal temperatures, as regional climate indicators such as El Nino / Southern Oscillation (ENSO) and Indian Ocean Dipole (IOD) are neutral.
"There is some chance of weak La Nina conditions developing late in 2017, but this is expected to be of short duration."
GIWA crop report: http://www.giwa.org.au/2017