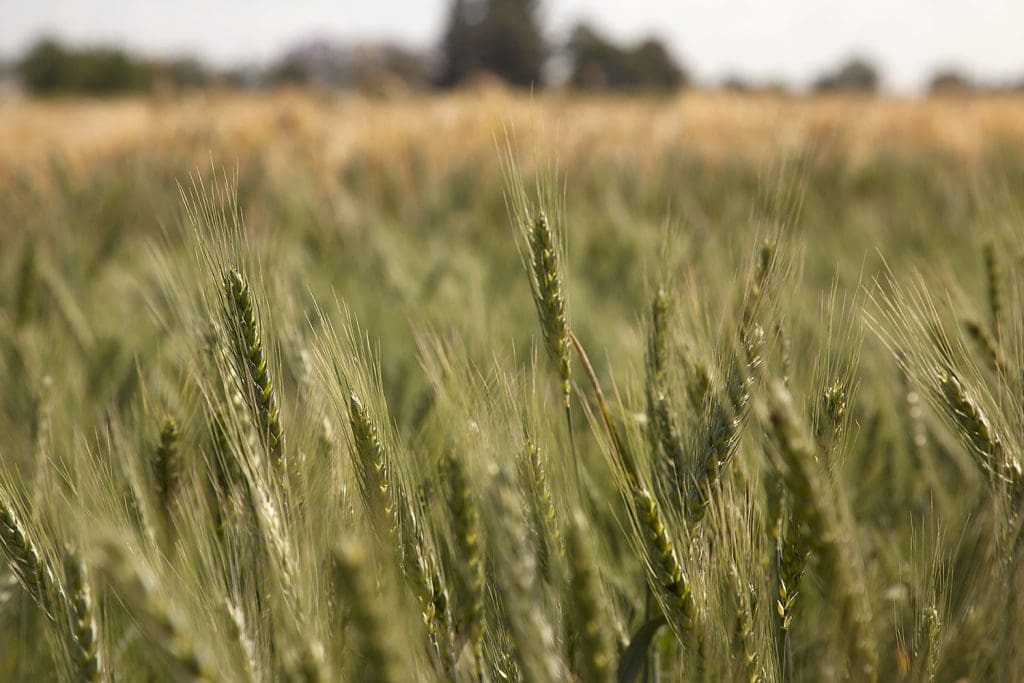 WHEAT will continue to be the dominant crop grown on Australian farms for the foreseeable future, while pulses and oilseeds are set to consolidate their place in the cropping mix over the next decade, according to industry analysts.
In its 'State of the Australian Grains Industry' report released this week, GrainGrowers highlighted how wheat accounts for roughly half the grains grown in Australia.
GrainGrowers chair Brett Hosking said that was likely to continue with wheat remaining the key crop for at least the next decade and beyond.
"I can't see a time when wheat won't be our main crop given our market opportunities and our proximity to Asia," he said.
"There is always an enormous appetite for Australian wheat because it is clean, safe and good quality. It is something that is really suited to Australian growing conditions."
Barley holds second place
Mr Hosking said despite the imposition of tariffs on barley by China last year which effectively closed that market, barley would remain the second staple and an important part of the Australian cropping landscape.
Barley production in Australia rose by about 20 per cent over the past five years when compared to the previous five.
"We have a really strong livestock industry from dairy cows in south eastern Australia to feedlot beef in northern parts of Australia. On the west coast they are more export focussed, and have proximity to Asian markets like Vietnam. It just makes sense that we continue to produce significant amounts of barley," he said.
Oilseed optimism
Mr Hosking said oilseeds would remain a strong component of cropping rotations over the next decade.
There was a big swing towards canola this year, partly driven by China putting downward pressure on barley prices.
"But as much as anything it was on the back of huge opportunities for oilseeds. On the cusp of planting we saw oilseed prices continue to climb. That has continued throughout the growing season," he said.
"Even next year I think we will see barley lose a little ground to canola again. Canola is growing without a doubt. Our access to the European Union has been pivotal. We have proven we can not only grow good canola in Australia but we can do it in a low-emissions manner compared to a lot of our competitors."
Pulse Australia chief executive officer and Australian Oilseeds Federation executive director Nick Goddard said there was likely to be continued firmness and strength in the oilseed production sector over the next decade.
"Demand for biofuel generally is going to continue to grow over the next decade," he said.
"But, rapidly approaching on the horizon are electric vehicles. As the planet transitions from internal combustion engines to electric vehicles we will see demand for oil and biodiesel start to soften.
"As we move into the 2030s we may not have the same sort of buoyancy and strength behind oilseed that we will see for the rest of this decade.
"We have strong demand in Europe that is just getting stronger. We are seeing a turn away from palm oil as a renewable fuel, so that is an opportunity for canola. We are seeing the United States policies around renewable fuels really starting to get traction. Many states in the US have put in mandates on biofuels, and Canada is considering mandates on biodiesel.
"These things are putting down some good signals for demand for oilseeds for the rest of the decade."
Pulses on a roll
Mr Hosking said growers were "going to see some exciting things with pulses" over the next decade.
"We are seeing strength come into the lentil market once again with tariffs being removed in India. We haven't seen the level of tariff reduction we'd like to see in chickpeas, but here's hoping," he said.
"Countries like India are amongst the fastest growing populations in the world, so they are going to be reliant on imports of pulses into their diets. Combine that with changing dietary patterns for people all around the world.
"We have a diverse pulse cropping industry in Australia – chickpeas and mungbeans in the north, lentils, field peas, faba beans in the south. If you are a big business looking to choose a location to set up a pulse enterprise, Australia must look pretty inviting given the diversity we can bring to the table."
According to the state-of-the-industry report, over the past five years the average volume of pulses rose by about 20pc when compared to the previous five years, and the value of production increased by 70pc.
Mr Goddard said the global trend towards more plant protein-based diets augured well for the role of pulses.
He said Australian pulse production was well placed to help fulfil that demand.
"The medium to longer term outlook for supply into the sub-continent is also strong, but India is very determined to become self- sufficient in pulses," he said.
"If they continue with that strategy and achieve it then that market which has been so strong for Australia may not be so strong in the future.
"But, wanting to become self-sufficient and actually becoming self-sufficient are two different things in reality in an Indian context."
Mr Goddard the Indian sub-continent and the Middle East would remain Australia's major pulse markets for the foreseeable future.
He said the broader agronomic benefits of pulses would also continue to play a part in ensuring growers included pulses in their rotations.
"The nitrogen-fixing aspect of pulses in a context where the application of nitrogen is going to get more scrutiny because of environmental and greenhouse gas emissions will see pulses having a strong role in providing the nutrient returns in a rotation as there is more pressure associated with the application of nitrogen fertilisers," he said.
He said the ongoing expansion of the pulse processing sector indicated ongoing confidence in Australia's pulse production industry.
"We are seeing increasing investment in Australia in pulse fractionation. When you see that sort of investment it's a good sign," he said.
"It also provides growers with alternate options. The benefit of those processing plants is that if the grains are broken or damaged it doesn't affect the protein. They may not get the premium in the food market they might want, but they are just as effective in terms of processing (for) the protein."
Adapting to climate
Mr Hosking said growers over the next decade would continue to adapt to changes in the climate and the vagaries of the seasons.
"When the season looks like producing a good crop as it did this year, growers took advantage of that and loaded up on inputs such as extra nitrogen and fungicides to make sure that when they got to the finish line they had the best crop they could have possibly produced," he said.
"Likewise when things get tighter, growers are good at adapting. Growers are certainly building their skill in that area."
Mr Hosking said he still thought there should be a role for multi-peril crop insurance to take the risk factor away from growers when they are weighing up the decision around loading the crop for maximum potential or keeping some in reserve.
"Multi-peril crop insurance gives growers confidence to push the limits of what the crop can produce in the paddock and make sure the inputs match the maximum potential of the crop with the security of knowing that if the season lets them down they are not failing completely," he said.
"I think we should be continuing discussions around multi-peril crop insurance if we really want to meet our potential."
Technology era
Mr Hosking said in a decade's time technology would be playing a much greater role in the management of farms in Australia.
"It is already commonplace for on-farm weather stations that can be remotely accessed. Soil moisture probes are quite commonplace," he said.
"I'm hearing that things like SwarmFarm robots are starting to get to a price and capability point where growers are contemplating having a robot working continuously across the farm as an alternative to them spending summer nights on a boomspray.
"More and more growers are starting to look at that technology as something real and practical for their businesses which suggest we are probably not far away from seeing a relatively big movement in that direction."
Grain Central: Get our free cropping news straight to your inbox – Click here