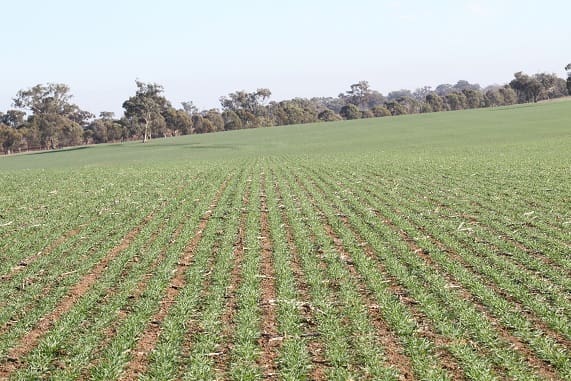 THE 2019 winter crop outlook is a mixed bag, with a solid, late break in Western Australia, Victoria and South Australia driving strong plantings, while New South Wales and Queensland continue to face very tough conditions.
The National Australia Bank's (NAB) latest Rural Commodities Wrap reports a national winter wheat crop outlook of 20.4 million tonnes (Mt), slightly lower than the ABARES June outlook of 21.2Mt.
NAB Agribusiness economist, Phin Ziebell, said the bank's assessment of the winter crop outlook was optimistic for Victoria, SA and WA, but substantially more subdued for NSW.
"Our concern at this stage is that the Bureau of Meteorology is forecasting a drier than average winter and start to spring, which would keep production low in the already dry eastern regions," Mr Ziebell said.
Farm input prices are mixed, with fertiliser trending lower on the back of softer urea and US natural gas prices, while feed has risen.
"Domestic feed prices rose 2.5 per cent in June, the first rise since December 2018. Overall, the NAB weighted feed grain index is at $290/t for June, having peaked at $386/t in October 2018," Mr Ziebell said.
"Challenging seasonal conditions in NSW and Queensland, combined with high lamb prices justifying higher supplementary feeding levels, will likely see eastern Australia import WA or international feed grain, driving higher cash prices."
On a state-by-state basis, higher grain prices saw WA, South Australia and NSW jump 3.2, 1.8 and 1.4pc respectively in June. Lower Global Dairy Trade auction results drove Victoria and Tasmania down 1.1 and 3.8pc respectively. Queensland was almost unchanged in June, up 0.2pc.
The NAB Rural Commodities Index rose 0.5 per cent in June, with record lamb prices and a slight upward trend in the Eastern Young Cattle Indicator (EYCI) both contributing factors.
"Lamb prices are well into record territory, surging beyond 900c/kg amid strong demand and a drought induced supply shortage. The ability of prices to remain at these levels through the spring flush remains uncertain though," Mr Ziebell said.
"Wool is lower, with the Eastern Market Indicator below $18/kg. While still a strong price, there is cause for caution should the trade dispute between China and the United States continue."
The premium for finished and southern cattle continues, reflecting strong demand for beef and younger animals in regions able to support a growth in numbers.
"Ultimately, tough northern conditions continue to put a brake on prices, and we don't see a major upside to the EYCI unless NSW and Queensland receive good rain," Mr Ziebell said.
Global dairy trade auctions have been negative for four auctions in a row in USD terms, while opening prices for 2019-20 are generally very strong with Saputo opening at $6.80/kgms and Fonterra at $6.60/kgms.
Source: NAB