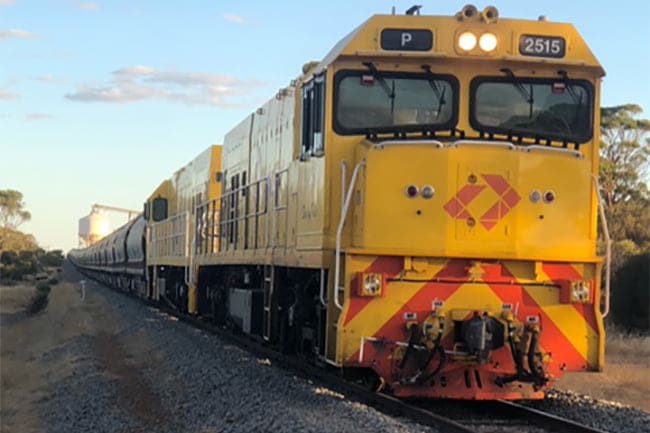 A COMPANY built on coal haulage has becoming the biggest shifter of grain in Australia, announcing that it moved 12.5 million tonnes of grain in 2022.
While small bikkies in comparison to the 194Mt of coal it carried in the year to 30 June 2022, the tonnage proves Aurizon is keen to dilute its reliance on coal hauled in New South Wales and Queensland, and expand its presence in other states.
In a LinkedIn post last week, Aurizon group executive bulk Clayton McDonald described the magnitude of the task.
"Across four states, the Aurizon Bulk Business delivered an unprecedented 12.5Mt of export grain by rail into seven ports for six customers.
"We needed all 1900 staff from live run, maintenance, operations, supply chain, HR, finance, engineering, SHE, procurement, IT, property, legal, below rail and our commercial teams to prepare, dispatch and manage 4892 services throughout the year.
"The 2023 harvest is almost complete and will be even bigger."
Aurizon was borne out of Queensland Rail, but is now a national presence.
It has for some years run trains for CHS Broadbent and Cargill in eastern Australia, and Thallon Grain on the NSW-Queensland border, as well as GrainCorp, although Pacific National does the bulk of GrainCorp business.
Aurizon's 2021 purchase of One Rail Australia (ORA) means it is now hauling for Viterra on the South Australian network which feeds into Port Adelaide, and its work with Western Australia's CBH Group is rapidly expanding to help handle ever-increasing WA crops.
In a statement released on January 4, CBH Group said it had posted six consecutive months of breaking rail records, culminating in more than 1Mt being moved in December.
"Congratulations to our rail service provider Aurizon for the improved rail performance which has seen rail continue to break monthly records consecutively from July to December," CBH chief operations officer Mick Daw said in the statement.
Labour, margins limiters
Aurizon's share price hit $6.05 in August 2019, and fell to a low of $3.33 in December 2021; it has since been trading mostly between $3.50 and $4.
Aurizon carries around half of Australia's exported coal, and its share price has at times mirrored moves in that of the fossil fuel.
Sources with the links to the grain-on-rail sector said the company was looking to diversify away from coal to improve its appeal to investors looking for environmental and social license in stocks.
"They're trying to get as much non coal on board to get their share price up," one source said.
That includes more intermodal work for Linfox.
The source said limited availability of trained labour could restrict how quickly Aurizon can diversify beyond coal in the short term.
"They need train crew."
Another source said while Aurizon's steps to expand its business beyond coal might be appealing for shareholders, the bottom line might take a hit based on grain's lower margins compared with coal.
"They're going to get a rude shock in terms of the difference."
ECR sells
In December, Magnetic Rail Group (MRG) was announced as the buyer of Aurizon's East Coast Rail (ECR) business it acquired as part of the ORA purchase.
ECR is the ORA coal-haulage business with operations in NSW and Queensland.
ECR has been sold by Aurizon because of ACCC concerns that Aurizon would have too much coal-haulage business after its purchase of ORA, and also because of Aurizon wanting to dilute its reliance on coal in order to boost shareholder appeal.
MRG is owned by a joint venture between Brisbane-based M Infrastructure Group Pty Ltd and Indonesia's PT Asian Bulk Logistics (ABL).
The latter said in a LinkedIn post last month that the NSW business provided "a profound financial performance backed up with long-term contracts", while the Queensland operation has "lots of business potential growth in the future".
An industry source said the ECR sale result was a good one for Aurizon, and MRG will benefit through vertical integration tied to MIG's involvement with Queensland coal miner Stanmore Resources.
The ORA bulk and general freight assets have been integrated into the Aurizon business and are now referred to as Aurizon Bulk Central.
These assets include the 2200km Tarcoola-to-Darwin rail infrastructure, South Australian regional infrastructure, five rail yards, 68 active locomotives, more than 1000 active wagons and approximately 400 employees.
"The sale provides the best outcome for Aurizon and its shareholders, delivering a strong sale price and certainty in completing the divestment," Aurizon managing director and CEO Andrew Harding said.
"We are pleased to have secured the sale of the ECR business and look forward to the transaction completing in early 2023."