THE Australian Livestock and Rural Transporters Association (ALRTA) has called for GrainCorp to extend access to amenities including shower facilities for heavy vehicle drivers at GrainCorp sites.
ALRTA members have reported that drivers have been denied access to shower facilities at some GrainCorp sites due to COVID-19 risks.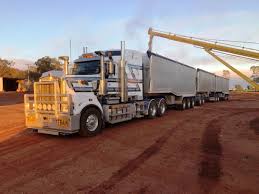 The association says truck drivers provide an essential service for GrainCorp operations.
"At some point in the supply chain most grain has been on board a truck.  Road freight has been recognised as an essential service by Australian governments within their COVID-19 response plans, which include exemptions for border crossings and exemptions for businesses operating truck driver facilities.
"The chain of responsibility provisions of the Heavy Vehicle National Law (HVNL) require all named parties to identify and control safety risks. This extends to instructions, actions, inactions or demands that may cause or contribute to an offence under the HVNL.
"It is likely that most GrainCorp sites using road transport services would fall into one or more of the named categories of prime contractor, consignor, consignee, loader/unloader or loading manager.
"Among other things, the chain of responsibility provisions extend liability in respect of fatigue offences."
GrainCorp sites are often located some distance from other amenity options.
Inbound/outbound truck drivers may have been on the road for many hours with many hours still to travel. Providing reasonable access to amenities including shower facilities is one of the most basic ways to manage fatigue risk.
ALRTA has advised GrainCorp about Australian Government protocols that detail how access to truck driver facilities can be provided safely.
"We have recommended that GrainCorp consider legal obligations under the HVNL in conjunction with the published government protocols, and work towards providing safe access to amenities for drivers, including showers where available.
"During the COVID-19 pandemic it is important for the rural supply chain to work together to deal with increased demand while continuing to operate in a manner that best protects the safety of all workers."
Source: ALRTA