AUSTRALIA could soon have the ability to source most of its urea requirements for fertiliser locally after a major new plant was given the green light for a loan under the Federal Government's Northern Australian Infrastructure Facility late last week.
On Friday the NAIF committed $255 million for critical infrastructure supporting the Perdaman Urea Project north-west of Karratha in Western Australia, a $4.3 billion project that will convert Australian gas into approximately two million tonnes of urea per year.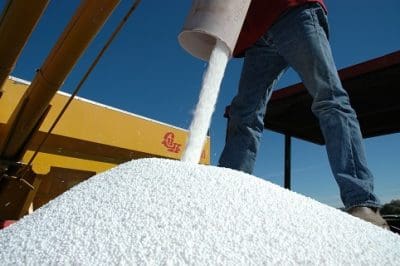 "Australia currently imports around 2.4 million tonnes a year of urea for agricultural use, and the Perdaman project will have the capacity to meet 96 per cent of that volume," Minister for Agriculture and Northern Australia, David Littleproud said.
Commenting on Sky News, Mr Littleproud said the project will give Australia its own sovereign capability in relation to urea supply for the first time.
"So this gives confidence to farmers. They can go out and plant their crops knowing that they're going to have urea because of this partnership.
"And this isn't a grant – this is actually a loan – and we're getting a rate of return for the Australian taxpayer, but what we've done is just de-risk this project for these people to make this investment in Western Australia, but also agriculture, and we're getting a return and we're meeting that sovereign capability.
"We've seen some of the sovereign risks we've had around relying on foreign states in bringing in some of our agricultural inputs, and this will go to address that, as well as create nearly 2,500 jobs. So this is just a smart use of Australian taxpayers' money that will get a return and actually make sure that we can give confidence to farmers around the country in making sure they have fertiliser year in, year out."
The NAIF commitment is being delivered through two separate loans:
$160 million to the Pilbara Ports Authority for a new multi-user wharf and facilities at the Port of Dampier to facilitate exports, and
$95 million to the Western Australia Water Corporation for the expansion of the Burrup seawater supply and brine disposal scheme that will also service the operation of Perdaman Urea Plant.
The Perdaman Urea Plant has also been awarded Major Project Status by both the Australian and Western Australian governments.
National Farmers Federation chief executive Tony Mahar said the green light for the major fertiliser manufacturing plant was "hugely positive news" that would help to propel Australia's self-sufficiency when it comes to critical inputs.
"During COVID, supply chains almost ground to a complete halt and exposed Australia's reliance on the import of key inputs including urea.
"Many Australians would be shocked to learn the nation imports 90 percent of its urea, the most commonly used fertiliser in agriculture. Without urea, crop production would fall 30-40pc.
"Positive seasonal conditions meant many farmers were setting up for a bumper cereal crop but faced the worrying prospect they wouldn't be able to get the fertiliser they needed to realise their crop's potential.
"Similarly, we almost lost the ability to put groceries on our shelves due to disruptions to the supply of AdBlue, a diesel additive that is derived from urea."