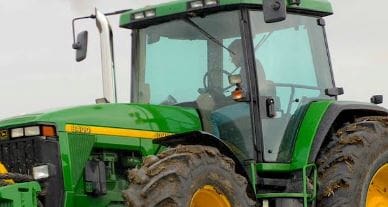 AUSTRALIA is scrambling to secure an alternative source of AdBlue, the essential anti-pollution additive required to run heavy vehicles and machinery, as the main supplier, China, ceases production of the high-purity urea used to make it.
AdBlue neutralises the nitrogen oxide output from diesel engine exhaust gases and is integral to the running of newer Euro Six-compliant heavy vehicles and agricultural machinery manufactured after 2015.
"It's early days yet, but clearly there is concern that if the supply of AdBlue dries up the use of many machines will come to a halt," Tractor and Machinery Association executive director, Gary Northover, said.
"The equipment nowadays won't operate if there is no AdBlue in the system. So, it is not just a matter of running them dirty, the machines are set up to comply with European standards and won't work if the AdBlue isn't present."
Mr Northover said the shortage affected machines with Tier 3, 4 and 5 engines, mainly from the European manufacturers moreso than the Americans.
"That could be half the number of machines out there which include trucks, tractors, harvesters and construction equipment," he said.
"It seems that the Chinese, who are the suppliers of the urea that goes to producing AdBlue, have ceased production as they no longer use it domestically.
"There are other suppliers around the world. We have been seeking to participate in any government conversations that might be had about securing alternative supplies."
Federal Taskforce needed
The Victorian Farmers Federation (VFF) has called on the Federal Government to urgently form a taskforce to address potential AdBlue shortages.
The VFF's Infrastructure and Transport Committee chair Ryan Milgate said the essential ingredient played a key role in keeping Australia's supply chains moving.
"Modern machinery and truck motors are designed to keep emissions within legal requirements. Without sufficient AdBlue, some engines are programmed to stop working, rending them unable to operate."
"The agricultural supply chain is already under huge strain with truck driver shortages and global supply chain disruptions, and we can't afford to put the supply chain under any more pressure."
Mr Milgate said the shortage was a stark reminder of Australia's over-reliance on international supplies.
"This needs to be a big wake-up call about the risks of relying on concentrated international supply chains," he said.
"We need to increase our domestic manufacturing capacity to increase Australia's resilience to international supply chain shocks.
"It's critical the AdBlue supply chain including manufacturers, the fertiliser industry, transport operators and government work together to address the shortages."
Grain Central: Get our free cropping news straight to your inbox – Click here