CASE IH's Autonomous Concept Vehicle (ACV) is coming to Australia for the first time with the AgQuip field days in northern NSW preparing to host the machine when it opens its gates at Gunnedah from August 22 to 24.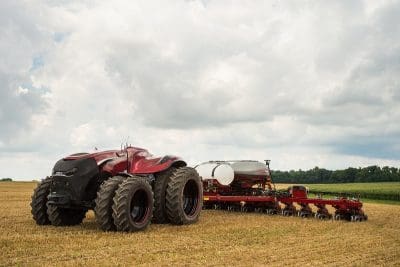 The driverless concept vehicle, a cabless tractor that can operate autonomously with a wide range of field implements, made its debut at the United States' biggest agricultural event, Farm Progress, last year.
"The ACV is a glimpse into the future for agriculture and proof of the impact technology is having on our industry," Case IH Australia New Zealand marketing manager Pete McCann said.
"No one could have imagined a driverless tractor 10 years ago, but the ACV shows us that one day they could be a reality. It's the perfect example of the possibilities before us and the fact the next big revolution in agriculture could be just around the corner.
"To be able to bring the ACV to Australia and show it to AgQuip visitors is very exciting for all of the Case IH team."
Initially created to demonstrate the available technology and initiate customer feedback on the need for future autonomous products, the ACV's Australian visit tops off a huge year for Case IH.
Case's global product manager for advanced farming systems (AFS), Rob Zemenchik, said autonomous tractor operations potentially offered producers more control, monitoring capabilities and cost savings through greater efficiencies with tasks like tillage, planting, spraying and harvesting.
Mr Zemenchik said an operator could potentially supervise the activities of multiple machines via a tablet or desktop computer while completing other tasks, and a number of autonomous tractors could work together on the one task or on multiple tasks simultaneously.
The ACV's onboard system automatically accounts for implement widths and plots the most efficient paths depending on terrain, obstructions and other machines in the vicinity.
The ACV will reach Australian shores next week and make its way by road to Gunnedah, providing the chance for people to see it along the way.
While the ACV will be the focal point for Case IH's AgQuip site this year, the brand will also take the opportunity to celebrate its 175th anniversary with AgQuip visitors.
It will mark the anniversaries of a number of its flagship machines, including the Patriot sprayer (25 years), the Steiger Quadtrac (20 years) and the Axial-Flow combine (40 years).
Source: Case IH