CASE IH has launched the new Farmall M series tractors onto the Australian and New Zealand markets, debuting the new range in Australia at the FarmFest field days at Toowoomba.
Case IH product manager for compact and mid-sized tractors, Seamus McCarthy, said the utility tractor range combined many of the best Farmall features such as the Farmall U's SPS transmission, hydraulics and Electronic Draft Control (EDC) and Farmall JX's superior engine and front axle design.
"It has come about from the amalgamation of our phased out Farmall U model and the existing Farmall JX. We have brought together some of the features of both models to form the newly-released Farmall M," he said.
"The feature we are most excited about is the 16 X 16 semi power shift transmission which is the legacy of the Farmall U. That means you can utilise the transmission control buttons to seamlessly transfer between eight gear ranges.
"It has hydro-electronic power shift shuttle which means there is need to use the clutch, just transfer between gears. You use the clutch to go between the high and low ranges.
"It also has the Farmall U heavy duty brake system.
"You can also get a creeper option that gets speed down to 260 metres/hour."
The Farmall is available in 66kW (88hp), 73.5kW (98hp) and 82.5kW (110hp) models.
Mr McCarthy said it was a utility tractor with the horsepower and hydraulic flow to be an all-purpose tractor on farm.
"The three-point linkage capacity is 5.2 tonnes. The hydraulic flow is 64 litres with a separate 36-litre steering cylinder. It is designed for a lot of front-end-loader work," he said.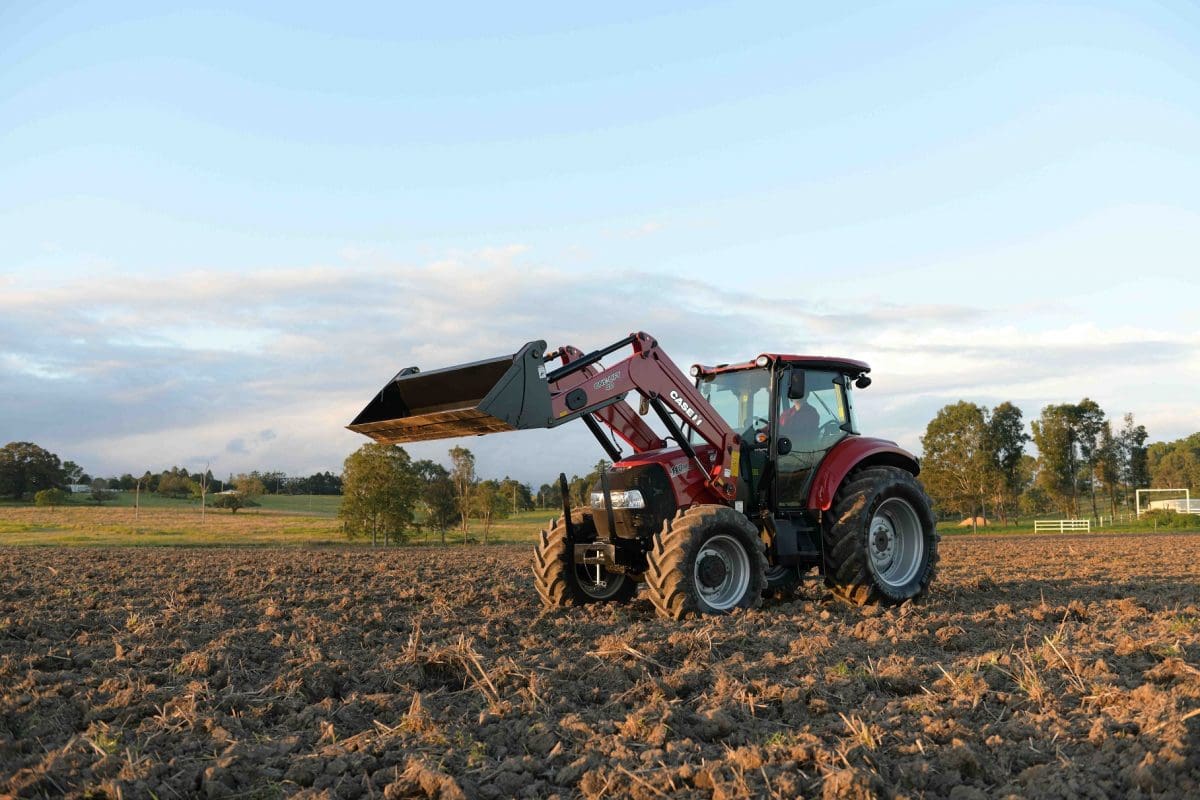 The Farmall M range has a powerful S8000 engine, standard in all models, with Tier 3 emission level, four cylinders, 3908 cm3 cylinder volume, Turbo-Intercooler and high torque values.
The tractors also have:
– Electro-hydraulic components to ensure peak efficiency when working with a variety of agricultural attachments;
– A hydraulic lift capacity of 5400 kilograms, six hydraulic outlets, fender-mounted hydraulic controls, and hydraulic top link.
– A standard electronic hitch control system ensures high precision especially during subsoil work by making it easy to control heavy agricultural attachments.
– Electro-hydraulic power take-off (PTO) clutch, three different PTO speeds (540, 540E and 1000 rpm), and automatic PTO function. This system is combined with automatic 4WD and differential lock ensuring easy row-end manoeuvres.
– A spacious cab with air-conditioning, ergonomic control levers, air-suspension seat and sunroof.
– Next-generation design and styling that includes enhanced visibility for the operator and improved accessibility for required maintenance.
"The Farmall range represents our smaller horsepower tractors, but these tractors have always been big on performance and features. The Farmall M is a perfect refection of this and represents customer expectations that our increasingly sophisticated technology isn't reserved only for our larger tractors, but that it's also incorporated at the lower end of our tractor line-up," Mr McCarthy said.