What's the latest in the farm machinery world?
Case restructures NSW-Qld dealer network
Tractor finance surge reflects sales boom
JD expands Machine Sync application
……………………………………………………………………………………………………………………………………………………
Case restructures NSW-Qld dealer network
CASE IH has announced a widespread restructuring of its dealership network in Queensland and New South Wales with six dealerships previously operated by Wideland Ag reallocated to a number of existing Case IH dealers
The expansion comes about due to Wideland Ag leaving the Case IH dealership network.
Wideland Ag has been part of the Case IH network since 2010, with six dealerships in Tamworth, Gunnedah, Narromine and Gilgandra in NSW, and Toowoomba and Dalby in Queensland.
Three Rivers Machinery is now operating the Case IH dealerships in Narromine and Gilgandra, in addition to its Warren branch.
Kenway & Clark – with dealerships in Moree, Inverell, Wee Waa and Goondiwindi – has taken on the existing Case IH dealership in Gunnedah and will open a new Tamworth Case IH branch early in 2021.
STAG Machinery Group is poised to assume responsibility for the Case IH dealerships at Toowoomba and Dalby previously operated by Wideland Ag in southern Queensland.
The new business is the result of a partnership between Craig Brimblecombe of St George Machinery Centre, and Noel Baines, owner of Ag Requirements in Gatton, both long-standing Case IH dealerships.
STAG Machinery Group will operate from new locations in Toowoomba and Dalby and is in the final stages of preparing the branches for opening by December. Both St George Machinery Centre and Ag Requirements will continue operating as usual.
……………………………
Machinery finance surge reflects sales boom
FAVOURABLE weather conditions across many parts of Australia have seen a 50 per cent increase in financing for agricultural machinery as farmers fast track expansion plans, according to Commonwealth Bank's Regional and Agribusiness division.
Commonwealth Bank's executive general manager regional and agribusiness, Grant Cairns, said New South Wales had led the growth, with lending up more than 100pc in the state, compared to the same time last year.
"For many of Australia's farmers, this year has been a rebound from drought with favourable growing conditions, a successful winter crop in many regions and strong optimism about yields and quality of harvest," Mr Cairns said.
"Over the past few months we've seen financing in the sector increase dramatically – largely driven by farmers purchasing agricultural machinery for this year's crop season.
"We've seen asset finance for ag machinery, particularly tractors and harvesters, increase significantly. Across the country, new asset financing for tractors is up 119pc – the highest volumes with seen in the past three years, and financing for harvesters is up 108pc."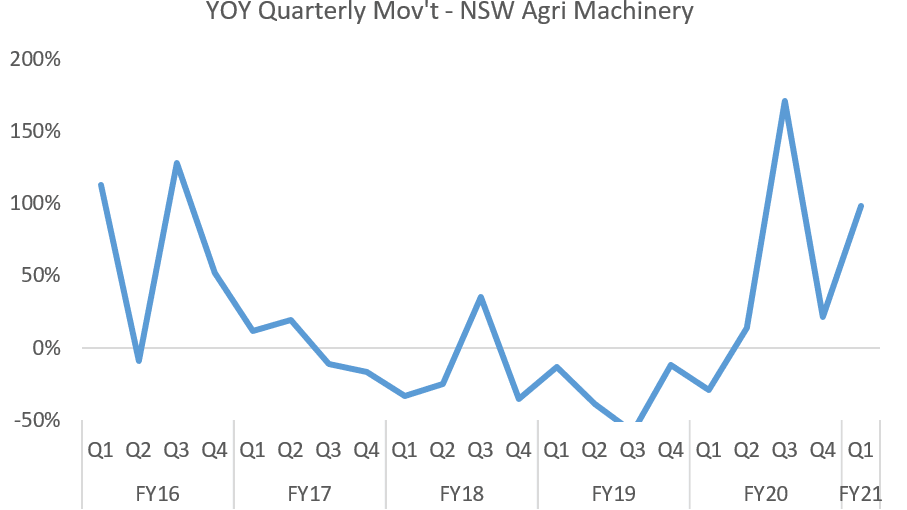 Mr Cairns said the Federal Government's expansion of the instant asset finance write off scheme was providing further incentive for farming businesses looking to take advantage of the positive outlook and expand for the future.
"Agriculture confidence is at an all-time high for a number of reasons – nationally, farm values are up, commodity prices are holding firm, interest rates are at record lows, seasonal conditions have been good, there is strong consumer and retail demand for fresh produce, and there's Government incentives like the instant asset write off scheme.
"The trends we've been seeing signals a higher confidence across the farming sector, and that's good for everyone – for the regional towns where the farms are located, for the whole supply chains that support our food and fibre, for the markets they sell to, and for all of us who enjoy fresh Australian produce."
The Tractor and Machinery Association said tractor sales for October were up 25pc on the same month last year, and Australia is on track to exceed an annual sales figure of 13,000 units for the first time since the 1980s (see Grain Central story).
……………………………
JD expands Machine Sync application
JOHN Deere has expanded the compatibility of Machine Sync – the technology that allows a harvester to control the speed and guidance of the chaser bin working beside it – to a wider range of machinery.
The update is available across the John Deere Digital Ecosystem, including Operations CenterTM, MyOperationsTM and JDLink MobileTM apps, as well as the Gen 4 line of displays, and provides new features, broadened compatibility and new products.
Machine Sync was first introduced to the grains industry in 2013 and enables harvesters to control the speed and guidance of the chaser bin working beside it on the go, to provide a safer and more accurate unloading experience.
With the latest update, Machine Sync will become available to horticulture and forage producers as it is rolled out across self-propelled forage harvesters and tractor-to-tractor applications specific to the industry.
……………………………………………………………………………………………………………………………………………………………………………………………………