What's the latest in the farm machinery world?
Machinery industry gains 'essential service' status
ACCC looks into after-sales service
Amazone releases front hopper
Case updates Patriot sprayers
New series JCB telehandlers
New JD AutoTrac Controller
………………………………
Machinery industry gains 'essential service' status
THE Tractor and Machinery Association (TMA) has received a positive response from the Federal Minister for Agriculture, David Littleproud, to its request, under the COVID-19 restrictions, for agricultural machinery, parts and service providers to be specifically included in the definition of essential services.
In a message to members, TMA president, Gary Northover, said it was heartening to all in the farm machinery industry that the position had been clarified.
He highlighted the relevant extract in the Minister's response: "As of 31 March 2020, facilities such as farms, food markets, food processing, saleyards, wool auctions; freight and logistics supply businesses; and ancillary and associated services such as agricultural machinery providers are considered essential."
In his earlier submission to the Minister, Mr Northover wrote:
"Australian farmers are reliant on timely and efficient support from a network of agricultural machinery dealerships across the nation.  As an example, our machinery importers, local manufacturers, dealerships and their farming customers wish to avoid any disruption which may impact the seeding program over the next three to four months. This program is vital to ensuring adequate stocks of grain will be available to the nation later in the year.
"As part of providing this service it is also essential to protect the interstate, intrastate and international freight network required for efficient delivery of parts and equipment into and from all states and territories."
…………………………….
ACCC looks into after-sales service
THE Australian Competition and Consumer Commission (ACCC) has released a discussion paper, 'Agriculture Machinery: After-sales markets', that identifies a number of concerns about machinery manufacturer warranties and the servicing and repair of agricultural machinery.
The ACCC has also launched an online survey seeking farmers' feedback about their experiences.
GrainGrowers is encouraging growers to share their experiences about purchasing new agricultural machinery and equipment by completing the survey.
Agricultural machinery is frequently not covered by the Australian Consumer Law guarantees because it goes over the $40,000 threshold for consumer goods. Some warranty terms can also be problematic due to usage patterns of this type of equipment.
"I am asking all growers to take 10 minutes to complete this really important survey," GrainGrowers chairman, Brett Hosking, said.
"One of the problems that has been flagged with me is that warranties and back up services don't always reflect the investments made. For example, if you purchase a piece of machinery that doesn't get used in the following twelve months because of seasonal conditions, you might then have warranty complications when the equipment does get used.
"As farmers, we can spend a lot of money on machinery and have less warranty and consumer protections than we have for cheaper tools in our sheds. Your feedback will help ensure any design of government policy going forward takes into account the inequity currently faced by farm businesses."
The survey, which closes on the 22 April 2020, can be completed online via the ACCC website.
………………………………
Amazone releases front hopper
AMAZONE has released a new front-mounted seed/fertiliser hopper that significantly boosts the operating capacity of its drills.
Available in 2200 or 1600 litre capacities, the FTender hopper features a 2.2 x 1.1 metre opening for filling and a sleek profile for good visibility during operation or transport.
It is fitted with a roll-over cover as standard or an optional pressurised, lockable lid.
CLAAS Harvest Centre head of product – Australia, Paul Birbeck, said seed or fertiliser is transferred to the drill via an electrically-driven metering unit.
"The metering unit is easy to reach, enabling the operator to quickly change the metering rollers to suit different seeds or fertilisers," he said.
"The steep walls ensure optimal flow of seed or fertiliser, while the emptying device rapidly and completely empties any residual seed or fertiliser.
"Alternatively, the electric metering system can be set to 'empty', whereby any remaining seed or fertiliser is cleared via the metering system."
Seed and fertiliser application rates, including section or variable control, can be controlled via any ISOBUS terminal in the tractor cab.
Likewise, calibration can be carried out using the machine-mounted calibration button, the mySeeder app or TwinTerminal controller.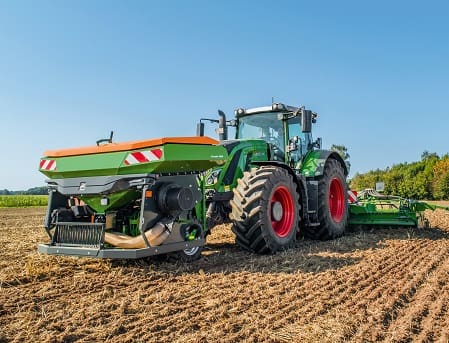 AMAZONE has released a new front-mounted seed/fertiliser hopper.…………………………………..
Case updates Patriot sprayers
CASE IH Australia/New Zealand has announced two key updates to MY2020 Patriot sprayers in the form of a new boom option and an upgrade to their automatic boom height management system.
Patriot 4430s will now come with the option of a larger 41.148-metre boom, offering increased productivity and better compatibility with a Controlled Traffic Farming (CTF) scheme, among other benefits.
The automatic boom height upgrade applies to Patriot 3330s and 4330s and is known as AutoBoom XRT, the latest version of Raven's AutoBoom boom height control suite of products.
The most notable difference from the previous AutoBoom system is radar sensor technology replacing ultrasonic technology, and where previously there was no chassis sensing, now the XRT system offers chassis pitch and roll sensing.
Case IH Australia/New Zealand product manager for Patriot sprayers, Alyx Selsmeyer, said the new AutoBoom XRT meant greater levels of boom control and protection, with other features including simultaneous ground and canopy detection; lighter and smaller sensors; and smoother movement and quicker reaction time.
These most recent changes follow the launch of a 6000L product tank for the 4430 in 2019, and in 2020 this larger stainless-steel tank will be shipping from the United States as standard.
Patriot sprayers are constructed in the US at Benson, Minnesota, where the first Patriots were designed, tested and built more than 25 years ago.
……………………………………..
New series JCB telehandlers
JCB has launched a new range of agricultural Loadall telescopic handlers featuring increased lift performance, improved safety and driver comfort, and a new Command Plus cab.
The new cab, which is 50 per cent quieter, is roomier, has a neater control layout and provides more dedicated storage space.
Visibility to the front wheels and beyond has been transformed by the low-set dash panel and by 14pc upwards to a raised bucket or fork by uninterrupted glazing that sweeps up and over the operator's head.
………………………………………..
New JD AutoTrac Controller
JOHN Deere's new AutoTrac Conroller 300 expands automated steering to more ag machines, offering customisable precision guidance for wide variety of new and older machines, different platforms and brands.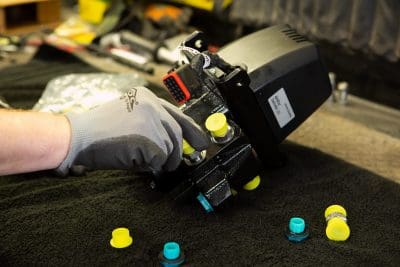 The new universal after-market steering kit reduces skips and overlaps resulting in lower input costs.
John Deere precision ag marketing manager, John Mishler, said the AutoTrac Controller 300 system was customisable to different types, ages and brands of ag machines that had hydraulic steering from a single source and at least four wheels.
"We know that not all farmers operate new John Deere machines factory equipped with AutoTrac," Mishler said.
"This solution is compatible with many newer Deere vehicles not already equipped with AutoTrac, as well as older machines and other equipment brands. It integrates with a John Deere precision ag display and StarFire receiver for a complete guidance system and a consistent John Deere Precision Ag experience across the entire fleet."
………………………………………
Sources: TMA, Amazone, Case IH, JCB, John Deere.
Grain Central: Get our free daily cropping news straight to your inbox – Click here