What's the latest in the farm machinery world?
…………………………………………………………………………
Tillage and planting companies to merge
DARLING Downs manufacturers, Ground Breaker Precision Agriculture and Tilco Ag Systems, have announced they will merge to broaden their range of tillage and planting equipment.
Tilco, which was founded in 2000 by Barry McFarlane and his family, manufactures a range of equipment including deep rippers, chisel ploughs, fertiliser bins and cultivators.
Mr McFarlane said the merger was an opportunity for two Toowoomba-based manufacturing companies to streamline production and broaden and advance their combined product range.
"The Tilco tillage products are an ideal integration into the Ground Breaker range," he said.
Ground Breaker Precision Agriculture and the manufacturing body, Toowoomba Engineering, have over 30 years' experience in metal manufacturing and design.
They manufacture a range of precision planters designed for Australian farming conditions and leveraging the latest in precision planting technologies and variable rate controls.
Ground Breaker Precision Agriculture managing director, Scott Farquharson, said with the merger, the company entered a new level of manufacturing, offering a broad range of tillage and planting products for farmers.
"We can now offer a multitude of farming solutions to the Australian market and plan to broaden our product range to include deep zonal tillage systems," he said.
"Tilco is well known for product quality and customer service, and together with Ground Breaker Precision Agriculture, share common values and goals.  The level of service that our customers enjoy will remain the same, as will general operations.  What will change is our ability to offer a greater range of products and solutions to improve outcomes for farmers."
……………………………………………………………………………………….
John Deere introduces 2430 Chisel Plow
JOHN Deere is bringing greater precision and productivity to primary tillage and nutrient applications with the introduction of the 2430 Chisel Plow.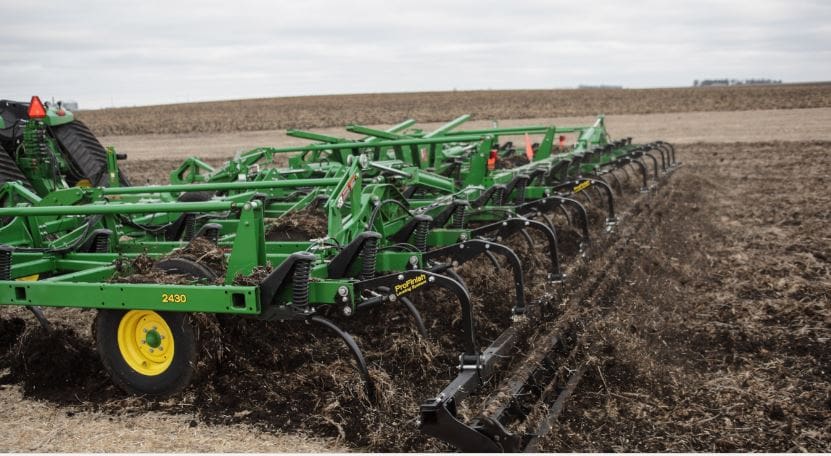 The 2430 Chisel Plow now includes the TruSet precision depth control system, radial tyres and rear hitch, differentiating it from the 2410 model it replaces.
John Deere tillage equipment producgt marketing manager, Jarred Karnei, said in tough soils or heavy residue, the new plow provided operators with more control of tillage depth and seedbed finish.
"The new 2430 Chisel Plow builds on many important features of the 2410 Chisel Plow," he said.
"This includes the addition of John Deere's exclusive TruSet depth and down pressure control system on base equipment and a wide choice of ground-engaging points, spacings and attachments that allow customers to configure the implement to best fit their paddock-specific soil and residue conditions."
In addition to single-point depth adjustments, the TruSet system gives operators on-the-go, in-cab shank depth control in .254 mm (1/10-inch) increments across the entire width of the plow as it works across the paddock.
In addition, TruSet provides up to 6205 kPa (900 psi) down-pressure control of rolling baskets as soil conditions change.
There are up to four settings that can be customised for common paddock conditions.
The machine comes with hardened-steel, knife-edge rolling baskets to handle rocky paddocks and internal basket scrapers that prevent baskets from plugging under wet conditions.
The rear hitch has been designed on both the chisel plow and nutrient applicator to enable operators to utilise additional tow-behind attachments, including anhydrous ammonia tanks.
……………………………………………………………………..
Case Quadtrac debuts on WA farm
A WESTERN Australian farmer is the first in the nation to take delivery of the new Case IH Steiger 500 CVT Quadtrac.
George Hulm farms 4000 hectares across a number of properties in the Esperance region of WA, producing wheat, barley, canola and peas.
The new addition to his fleet of Case IH equipment came from his local dealership, Farmers Centre WA, and will immediately be put to work.
Case IH's Steiger 500 CVT Quadtrac is the world's first articulated tractor with Continuously Variable Transmission (CVT).
The tractor was officially unveiled in Australia at last year's AgQuip field days near Gunnedah in north west NSW in August.
As well as targeting fuel efficiency and operator fatigue, the CVT transmission provides faster acceleration to field or road speed, full power availability at low ground speeds for special applications and implements, and full hydraulic flow availability at low ground speeds, for the likes of drilling and planting. The result is increased productivity with faster cycle times and maximum fuel efficiency.
The transmission incorporates a kick-down feature which ensures maximum acceleration, and 40 kilometres/hour is achieved at just 1640rpm.
It features four mechanical ranges with automated range-changing, and the first time 100 per cent mechanical power transfer takes place is below 10km/h, matching heavy draft application requirements.
The Steiger CVT transmission was specifically designed for applications requiring 400 horsepower and above.
……………………………..
Sources: Ground Breaker, Tilco, John Deere, Case IH.
Grain Central: Get our free daily cropping news straight to your inbox – Click here