What's the latest in the farm machinery world?
Claas harvester establishes maize record
Tractor sales fall 4.1pc in 2018
Steiger's Hall of Fame
JD/Hitachi end distribution arrangement
GrainKing expands to Qld/NSW
Hardi Twin cuts chemical use/drift
Miller launches Nitro 7000 Series
…………………………………………….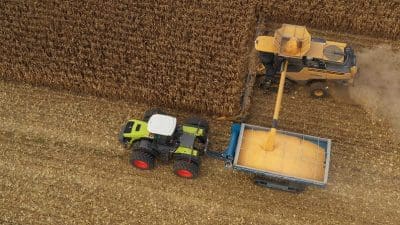 A Claas Lexion 760 Terra Trac combine harvester equipped with a 16-row corn front has set records harvesting 1111 tonnes of maize in eight hours and then 1620 t in 12 hours
Claas harvester establishes maize record
A UNITED States farming family has set two new Guinness World Records by harvesting 1111 tonnes of maize in eight hours and then 1620 t in 12 hours using a Claas Lexion 760 Terra Trac combine harvester equipped with a 16-row corn front.
In doing so, the team at Stewart Farms Partnership from Yorkville, Illinois, easily cruised past the 1300t, 10-hour record they established eight years ago.
The feat represents a throughput of almost 135t per hour or one truckload every 12 minutes.
Harvesting commenced at 9am in less than ideal conditions, with 12 millimetres of rain falling the previous day.
The grain bin was emptied at precisely eight, 10 and 12 hours.
The 1379 t recorded at the 10-hour mark represents a six per cent improvement on the 2010 record, which was attributed to ongoing improvements to the Lexion platform.
Compared to its 2010 counterpart, today's Lexion 760 features significantly higher power, a more efficient cooling system, a larger grain tank and several operator assistance systems.
……………………………………………
Tractor sales fall 4.1pc in 2018
ROW CROP tractor sales increased five per cent in 2018, but overall agricultural tractor sales were down 4.1 per cent on the previous year in what was a challenging 12 months for suppliers and dealers, particularly in the eastern states, according to the Tractor and Machinery Association (TMA).
TMA executive director, Gary Northover, said there were numerous factors driving the sales results but it was largely the drought, combined with many farmers taking a more conservative approach to purchasing that had the greatest effect.
"After five continuous years of growth, 2018 has seen machine sales take a breather and we expect this trend to continue in 2019," he said.
"The ongoing impact of the drought in the eastern States will be felt for some time but in general, farmers are expected to view purchases a little more conservatively in the period ahead.
"Not unlike investors of in other fields of the broader economy, the tightening of lending by the banks and reductions in the exchange rate, whilst good for commodity exports, will also impact."
Taking a look at the year in full, Mr Northover said there were 12,158 tractors reported sold, which was by any measure a very strong year.
It was notable that December sales were down across the board due partly to a short month restricting deliveries.
The smaller under 30kW (40hp) category was down 10pc on last year having dropped a further 22pc in December.
This category is dominated by the leisure sector which is experiencing some pullback in demand from customers.
The 30kw to 75kw (40hp-100hp) group was down also, 6pc behind last year with a December drop of 13pc.
The best performing category for the year continued to be the 75kW to 150kw (100hp-200hp) segment emphasising the strength of the "row cropping" market.  Whilst December was down 15pc for the month the year finished 5pc ahead of last year.
The larger over 150kw (over 200hp) broadacre tractors were down a further 22pc in December finishing the year 8pc behind 2017.
Around the nation it was, not surprisingly, NSW that was hardest hit being 11pc behind last year with December being a further 25pc down. Queensland finished the year 6pc down with the December month being 16pc off.
Victorian sales struggled along through the year finishing 3pc behind, elsewhere, all other states reported increased sales.
Western Australia had a stellar year finishing 8.3pc ahead of last year.
South Australia was up 2.5pc, Tasmania finished 9pc ahead and sales to the Northern Territory were up 7pc.
Harvester sales for the year finished well down on 2017. There was a total of 676 unit sold which was around 200 down on last year.
"The conditions surrounding this market are well known and with the ordering windows now open, dealers are faced with the challenge of what to order. Needless to say, conditions are suited to savvy buyers able to take advantage of the available stock," Mr Northover said.
Baler sales had a year of recovery, up 14pc on the previous year as many turned to hay production in the face of dwindling crop yields.
Sales of out-front mowers had a down year, 15pc behind 2017.
…………………………………………
Steiger's Hall of Fame
THE Steiger family, who built the first Steiger articulated four-wheel-drive tractor more than 60 years ago, have been inducted into the North American Association of Equipment Manufacturers' Hall of Fame.
The recognition comes as celebrations begin to mark 50 years since manufacturing of Steiger tractors began in Fargo, North Dakota, the city where production remains today.
The business became part of Case IH in 1986, and since 1996 Quadtrac tracked articulated variants have been produced in Fargo alongside Steiger wheeled models.
The first Steiger tractor was built during the winter of 1957-58, when John Steiger and sons Maurice and Douglass sought to improve the timeliness of operations by raising workrates when performing key field tasks on their farm in Thief River Falls, Minnesota.
While most high-end tractors of the time were two-wheel drive and offered less than 100hp, the Steiger family decided to create a machine offering more than double that output, incorporating more robust components, four-wheel drive with equal-sized wheels and articulated steering for good manoeuvrability.
Nicknamed 'Barney', the first Steiger tractor, painted a distinctive lime-green, had a power output of 179.5kW (238hp).
When neighbouring farmers began to notice the machine at work, they asked the Steiger family to build them something similar, and after designing an additional 88kW (118hp) model a full series of 112.5-225kw (150-300hp) Steiger tractors was put into production in converted farm buildings.
Outside investment in the business saw manufacturing move in 1969 to full factory premises in Fargo where the first of the famous 'cat-named' models, the Wildcat, began production.
This facility was soon outgrown, and in 1975 work was completed on a new factory, also in Fargo, where Steiger production remains.
…………………………………………..
JD/Hitachi end distribution arrangement
JOHN Deere Construction & Forestry and Hitachi Construction Machinery (Australia) Pty Ltd (HCA) have agreed to end a 29-year distribution arrangement of Deere branded and manufactured construction, forestry, and compact machinery in Australia.
As the joint businesses expanded over the years, so have each company's priorities in various markets around the globe.
As of May 1, 2019, RDO Equipment Pty Ltd (RDO Equipment) will be appointed the authorised John Deere Construction & Forestry Dealer for John Deere Limited in New South Wales, Victoria, Queensland, South Australia, Tasmania, and the Northern Territory.
AFGRI Equipment Pty Ltd. (AFGRI) will be appointed the authorised John Deere Construction & Forestry dealer for John Deere Limited in Western Australia.
The changes have no impact on Deere and Hitachi's partnerships or distribution arrangements outside of Australia.
………………………………………………
GrainKing expands to Qld/NSW
WESTERN Australian agricultural machinery manufacturer GrainKing is set to expand into NSW and Queensland.
In a new partnership between Chesterfield Australia and Grainking, both companies are now in a position to be able to service the NSW and Queensland farming community with GrainKing – Nyrex chaser bins, Maximus field bins and seed and super bins.
Chesterfield Australia will sell the GrainKing Nyrex range of bins through its network of 14 branches in south east Queensland, northern and central NSW.
GrainKing has now established a full time business development and technical support service manager based in NSW to support the expansion.
……………………………………………
Hardi Twin cuts chemical use/drift
NEW tests have shown that Hardi Twin sprayers reduce chemical use by up to 30 per cent and lower drift by more than 80pc using the same nozzles, speed, dosage and under the same wind conditions as conventional spraying.
The tests were carried out at Flakkebjerg/Aarhus University in Denmark over a two-year period from 2017 and 2018.
Spray deposition and spray drift from applications at two wind speeds were tested at 8 and 12 kilometres/hour with conventional technique and at 8, 12 and 16km/h with TWIN air-assistance.
A 24-metre trailed Hardi Twin sprayer equipped with LD-025 nozzles at three bar pressure was used in the test.
……………………………………………..
Miller launches Nitro 7000 Series
THE latest addition to the popular Miller sprayer family was officially launched this week, with features including a more powerful, fuel-efficient engine and a new cabin.
The new Miller Nitro 7000 Series of front-mounted, self-propelled sprayers was unveiled by national distributor, McIntosh Distribution, at a recent dealer event in Perth.
Two new Nitro 7000 Series models will be introduced to the Australian market in 2019, advancing on the 6333 and 6365 models.
They offer significant increases in both horsepower and torque, along with the benefit of better fuel efficiency.
The 6333 will be replaced with the 7380 model, at 287kw (383hp) with 1459 newton metres (NM) of torque, and the 6365 will be replaced with the 7420 model, at 325.5kW (434hp) with 1629NM of torque.
The new series has a large tank size of 6100 litres and a wide range of boom options.
……………………………………………..
Sources: TMA, Case IH, GrainKing, Hardi, McIntosh, Claas.
Grain Central: Get our free daily cropping news straight to your inbox – Click here