What's the latest in the farm machinery world?
Tractor sales turn corner
New Case IH harvesters
Agrifac to launch camera spraying
Claas introduces new satellite signals
Morris chiefs visit Australia
Tempo keeps the beat
Amazone's record sales turnover
Deere launches new family of rotary cutters
………………………………………………………………………………………………………………………………………………………

Tractor sales turn corner
SALES of agricultural tractors have begun to show signs of steadying across the nation, driven by a healthy level of sales activity in Western Australia in particular, while the market continues to be subdued in the drought affected regions of New South Wales, northern Victoria and southern Queensland.
Tractor and Machinery Association (TMA) executive director, Gary Northover, said tractor sales Australia-wide for the month were down 13 per cent against the same month last year and were down 13pc on a year to date basis.
"As a result, a forecast sales level of around 10,500 tractors is anticipated this year, down from the 12,500-unit levels of the past few years," he said.
Mr Northover said there was a slight improvement in the large over 150 kilowatt (200 horsepower) range in the month, leaving the year to date number down 9pc.
The 75-150kw (100–200hp) range fell away considerably, down 22pc for the month and now 18pc behind for the year.
At the lower end, the 30-75kW (40–100hp) range sits 11pc behind last year following a 19pc decline in March and the under 30kW (40hp) market has started the year slowly, off another 20pc in March and now 13pc behind for the year.
Around the nation, the NSW market continues to struggle with March sales down 20pc on last year, now 25pc behind for the year.
Victorian sales were again down, this time 16pc for the month, 11pc year to date and Queensland saw another dip, this time 10pc for the month leaving that state 6pc behind for the year.
Elsewhere, WA had a booming month, sales up 23pc for the month now sitting 6pc ahead of last year.
South Australia dipped a further 26pc, Tasmania now sits 14pc ahead of last year and sales to the Northern Territory are 21pc up.
Harvester sales continue to struggle with advice from many dealers that the forward ordering of new machines has been less than promising.
Baler sales continue to boom after a quiet 2018, now 120pc up on the same time last year.
Sales of out-front mowers were down for the month, now sitting around 19pc down on a yearly basis.
This year's annual TMA Conference will be held on Tuesday July 16 at Hyatt Place Melbourne at Essendon Fields. www.tma.asn.au
………………………………………
New Case IH harvesters
CASE IH has released its new generation of Case IH 50 series Axial-Flow combine harvesters to the Australian market.
Making their debut on the Australian market are the 7250, 8250 and 9250 models from the 250 series range, and the 7150 from the 150 Series.
"The upgrades in this latest 250 series focus on improving the productivity of the combine as well as the operator," Case IH ANZ product manager for hay and harvest, Tim Slater, said.
Enhancements include two-speed electric shift ground drive transmission, more simply adjustable rotor cage vanes, improved feeder house design and the optional AFS Harvest Command combine automation system.
Other features on the 250 series include:
Enclosed hydraulic powered disc brakes;
New front axle and final drives;
Scalable MFH speed control;
Improved AHHC control logic;
New Ground Speed Adaptive Sensitivity (GSAS) – automatically adjusts AHHC sensitivity with speed; and
New in-cab adjustable pre-sieve;
The 250 Series comes with a range of options as well, including new technology in the shape of AFS Harvest Command automation, which utilises 16 sensor inputs to continuously monitor the machine and adjusts seven different settings to maximise combine performance.
Mr Slater said the Axial-Flow had been part of the Case IH stable for more than 40 years and broke new ground when it was first introduced to the market.
"Today, the 250 Series continues this tradition of innovation while maintaining the qualities that have made the Axial-Flow a market-leading combine across the globe: performance, durability and dependability," he said.
…………………………………………
Agrifac to launch camera spraying
AGRIFAC will formally introduce its new AiCPlus camera spray technology to the Australian market next month at launch events at Tapscott's Farm, Pingrup, Western Australia on May 20, and Beefwood Farms near Moree, northern New South Wales on May 24.
Using an array of cameras at three-metre intervals along a boom and artificial intelligence that can recognise weed species, the AiCPlus spot sprays unwanted plants.
Algorithms factor in the distance from the camera to the weed, forward speed of the sprayer, boom height, etc, then calculate exactly which nozzles to open and when. The result is a small spray swath, contained within 500 millimetres of the offending weed.
AiCPlus works in conjunction with other Agrifac technologies – notably StrictHeightPlus boom height level control, and StrictSprayPlus nozzle control.
So far the system has been tested in its 'Green on Brown' phase – spraying green weeds in stubble, fallow fields and bare soil.
At speeds of up to 20 kilometres/hour, the system successfully targeted more than 90 per cent of weeds with a diameter greater than 30mm, and 95pc of weeds with a diameter greater than 50mm.
"The trials have revealed huge savings of water, chemical, time and money, plus significant productivity gains," Australia sales manager, Mark Bastian, said.
Mr Bastian said at Beefwood Farms, spraying 6199 hectares at 150 litres/hectare used to require 929,850 litres of water and 27,896 litres of chemical – or 223 refills of the 8000-litre Condor Endurance sprayer.
With AiCPlus, that reduced to just 60,440 litres of water and 1814 litres of chemical with 12 refills.
Reducing the refill delays from 116 hours to 6 hours meant 1,000 hectares could be treated in a 12 to 13-hour day.
………………………………………………..
Claas introduces new satellite signals
CLAAS has introduced two new satellite correction signals for use in its steering guidance systems.
Transmitted by geostationary satellites and available worldwide, the signal supports both GPS and Glonass and is compatible with the European Galileo system.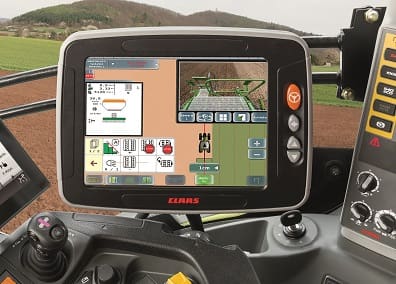 Claas Harvest Centre product manager – Claas Jaguar and Greenline, Luke Wheeler, said the two signals were suitable for a wide range of agricultural applications.
"Satcor 5 provides an accuracy of five centimetres, which is suitable for precision work such as drilling," he said.
"Satcor 15 has an accuracy of 15 centimetres and is suitable for cultivating, fertilising, crop protection and harvesting applications.
"This is a very reliable alternative to freely-available correction signals that have only limited usability."
No additional receiver hardware is required.
"All Claas S10 or S7 terminals less than two years old can receive Satcor signals," Mr Wheeler said.
"Access to either signal is available as an annual licence."
……………………………………………….
Morris chiefs visit Australia
COMPANY executives of the North American manufacturer, Morris Industries, have been in Australia to highlight the features of the new Quantum air drill and meet with dealer technical staff and grower customers.
The new air drill features interlocking frame technology that has made it 154 per cent stronger than previous drills, providing for improved durability, productivity and agronomic performance.
Other attributes include its massive tyres, allowing excellent flotation and deeper tilling; improved shank spacing options; three-metre controlled traffic capability with metric spacings and 5.4m transport width; 75pc fewer parts and 60pc fewer weldments; a stronger front and rear hitch design; and an active hydraulic system with ability to control Morris auto-lift and auto-pack control.
McIntosh Distribution's Eliot Jones said the Morris Quantum air drill had been in high demand for the 2019 season, with strong sales.
He said the input control technology (ICT) with the latest Morris air carts was having stronger appeal with growers, with about 65pc of air cart sales incorporating the technology.
"There has been continued increase in the uptake of ICT, with growers seeking the input efficiencies that can be achieved with sectional control – and importantly, the systems have shown to be reliable and durable,'' Mr Eliot said.
"With the option of 'Xtend' on the Topcon X35 controller, growers also now have the ability to calibrate down at the air cart on the ground via WiFi using their tablet or smartphone. They can also test the system by turning sections on or off from the tablet or smartphone.''
…………………………………………………….
Tempo keeps the beat
VADERSTAD's new Tempo L drill, which in April 2017l set a world record by planting 502 hectares of maize in just 24 hours, has been designed for precision planting at very high operating speeds.
Landpower product manager – Väderstad, Joe Read, said the feat was impressive, not just in terms of its scale and speed, but also its accuracy.
"University researchers assessed plant spacing and seeding depth two months after planting and in a sample of 6800 plants, they identified just 16 skips and 24 doubles," he said.
The co-efficient of variation, calculated by dividing the standard deviation with the average plant spacing, was an impressive 24.3 per cent despite an average working speed of 20 to 22 kilometres/hour.
All models in the Väderstad Tempo range feature Väderstad 's patented PowerShoot technology, which controls the delivery of the seed all the way to its placement in the soil, eliminating the effects of gravity, vibrations and slopes.
An on-board 5000-litre or optional front-mounted 2200-litre fertiliser hopper with electric metering systems complements the Tempo's planting performance.
Recent improvements include the addition of optional hydraulic weight transfer and floating row cleaning systems.
"The ability to increase or reduce pressure row units enables the operator to precisely adjust the machine to field conditions, thereby ensuring an even seed depth and uniform crop emergence," Mr Read said.
"Likewise, the floating row cleaner adapts to suit field conditions."
…………………………………………………
Amazone's record sales turnover
EUROPEAN farm machinery manufacturer, Amazone, has announced a 5.3 per cent increase in sales in 2018 to achieve a record turnover of €481 million (A$768 million).
Highlights of the year included the acquisition of the Schmotzer range of cultivation equipment; the staging of Amatechnica, the company's biennial technology exhibition; and work begin on a new 24-hectare manufacturing facility at Bramsche in Germany.
Phase 1 of the manufacturing facility has seen the construction of a 16,000 square metre assembly and storage complex for large machinery and an administration building.
Amazone's WindControl system for its fertiliser spreaders was awarded a gold medal, while the Comfort-Pack Plus control system for its UX01 Super trailed sprayer was awarded a silver medal at the Russian Agrosalon Show.
Joint managing directors of the family-owned business, Christian Dreyer and Justus Dreyer, expect continued growth on the strength of the company's track record for innovation and product quality.
Established in 1883, Amazone manufactures a wide range of cultivation, spraying and spreading equipment.
The company employs 1900 people, including 130 apprentices and trainees, at seven manufacturing sites throughout Germany, France, Hungary and Russia.
More than 7 per cent of the company's turnover is invested in research and development. More than 80pc of the company's production is exported.
……………………………………………….
Deere launches new family of rotary cutters
JOHN Deere has launched a new lineup of rotary cutters that feature new deck designs, rear torsional suspension and a variety of working widths and configurations.
Marketing representative, Cristina Guzman, said the new cutting chamber had been designed from the ground up to control air flow under the deck.
"This improves cutting performance and cut material distribution from below the deck while reducing material accumulation on top of the cutter deck," she said.
Up front, a new suspended front mount improves machine stability by isolating the movement of the cutter deck relative to the tractor and vice versa.
"This helps reduce stress on the machine while delivering a comfortable ride for the driver," Ms Guzman said.
A new torsional rear suspension system is an option for the M Series and is included in the base package for the R-Series.
E-Series Cutters feature a 56kW (75hp) gearbox and Category 4 driveline. A 74.5kW (100hp) gearbox and Category 5 driveline are base equipment on the M-Series, with an option to upgrade to a higher-performing 93kW (125hp) gearbox with Category 6 driveline.
All R-Series Cutters feature a new 93kW (125hp) gearbox and Category 6 main driveline for more capacity, improved durability and performance.
…………………………………………………..
Tilco fertiliser rig for manure
TOOWOOMBA-BASED manufacturing company, Tilco, have released a 'first of its kind' Deep Placement Fertiliser Rig that is specially designed for manure application.
Typically, manure fertiliser is applied using a spreader and may be ploughed into the soil, only reaching the top soil layers.
Tilco manager, Sam McFarlane, said the unique design of the manure rig allowed manure fertiliser to reach a depth of 40 centimetres using a shank system.
The use of inclusion plates permits the soil furrow to be held open, allowing the fertiliser to reach sub soil depths.
"By placing manure at sub soil depths, you increase the carbon and organic matter content in the soil. This then increases the water-holding ability of the soil and improves soil quality over time," he said.