Rubicon sprayer's increased capacity
THE Hardi Rubicon 9000 self-propelled sprayers offers an increased tank capacity to meet the productivity demands of large scale farmers.
The extra capacity keeps the operator spraying for longer, by reducing travelling and filling down time.
A 48.5-metre boom width represents a 35 per cent increase in work rate over a comparable 36m boom. At 35 kilometres/hour it can deliver a work rate of 170 hectares/hr.
The machine utilises a fuel-efficient Cummins 8.9L QSL 9 Tier 3A engine to generate up to 276kW (370hp). It powers a 4WD hydrostatic transmission from Danfoss.
A revolutionary boom suspension system allows independent stiffness control settings on the springs and rams fixed to either side of the centre frame.  The boom remains stable under the harshest operating conditions.
Spring tension holds the centre frame in the middle position while the hydraulic damper absorbs energy from the boom movement. A hydraulic actuator operated from the cab exerts more or less pressure on the spring to change the resistance.
……………………………………………
Case IH Axial-Flow evolution
CASE IH has marked the 40th anniversary of the Axial-Flow combine and the single-rotor technology that revolutionised the industry.
Introduced in 1977, these combines were a departure from the traditional straw walker design, in that threshing and separation was now performed by a rotor.
The rotary design from International Harvester was the first of its kind to be mass-produced and represented a giant step forward for farmers, with an increase in capacity translating to a significant boost in productivity.
Case IH product manager Tim Slater said Axial-Flow technology had evolved since then, but the core design principles were still important today.
"The Axial-Flow has less drive components than anything else on the market, this 'simplicity in design' enhancing the machine's reliability in all conditions," he said.
Mr Slater pointed to improvements in harvesting efficiency over the years, with increases in horsepower from 121.5kW (170hp) in the original 1460 combine to a maximum of 469kW (625hp) in today's 9240.
He said the evolution of the Axial-Flow combine had also been marked by the inclusion of a feeder reverser in 1986 to a rotor reverser in 2003.
Cleaning systems had also evolved with a self-levelling cleaning system with hydraulic cleaning fan drive on the 240 Series, and a cross-flow cleaning system on the 140 Series, to maintain performance when the combines were harvesting on slopes.
The icing on the cake in its 40th anniversary year was the awarding of the Highest Retained Value Award to the Axial-Flow 140 Series combine by EquipmentWatch.
It identified the machine as "an excellent choice for demanding farming needs", citing features including the Case IH residue management system built to handle the tough residue associated with new crop genetics, an engine that produces up to 332kW (442hp) and a grain tank capacity of 10,570 litres.
The award recognises manufacturers in 28 heavy equipment categories for products that show the highest retained value over the last five years and is the only industry benchmark that relies on data-driven residual values to confirm and project an asset's value.
………………………………………….
Tempo sprayer ups the beat
VÄDERSTAD has upped the beat with the addition of several new features to its Tempo precision planting drill, including a new front-mounted fertiliser hopper and variable rate application technology.
Renowned for its precision and high operating speed, in April 2017 a Tempo set a new world record by planting 502 hectares of maize in just 24 hours.
Väderstad product manager, Joe Read, said the new FH 2200 front-mounted fertiliser hopper, which was equipped with twin Fenix III electric metering systems, could precisely deliver up to 250 kilograms/hectare fertiliser at speeds up to 15 kilometres/hour.
A high performance hydraulic fan blows the metered fertiliser back to the planter via a transport tube. Fertiliser is then fed into the Tempo V or R distributor head and distributed evenly to the fertiliser coulters.
Other improvements for 2018 include the addition of optional hydraulic weight transfer and floating row cleaning systems.
"The ability to increase or reduce pressure on each row unit enables the operator to precisely adjust the machine to field conditions, thereby ensuring an even seed depth and uniform crop emergence," Mr Read said.
"Likewise, the floating row cleaner adapts to suit field conditions."
All functions of the Tempo and any attached implements are controlled using the Väderstad E-Control iPad-based control system inside the tractor.
Tempo can also be equipped with the new Väderstad ISOBUS Task Controller, which enables GPS-controlled variable rate application and automatic section control.
……………………………………………
John Deere auto systems
JOHN Deere has introduced its latest advanced guidance and machine data sharing technology with the addition of three new AutoTrac applications and a new In-Field Data Sharing application for its Generation 4 Displays.
AutoTrac Turn Automation, AutoTrac Implement Guidance, AutoTrac Vision for Tractors, and In-Field Data Sharing applications are being sold as bundled activations for John Deere 4600 CommandCenter and as bundled subscriptions for 4640 Universal Displays.
"These new applications are machine-specific bundled activations with the 4600 CommandCenter and provide late-model John Deere machine owners with outstanding technology value," John Deere precision agriculture product marketing manager, John Mishler, said.
AutoTrac Turn Automation makes end turns smooth, consistent and comfortable for operators during tillage, planting, seeding or other pre-emerge applications when using straight track guidance modes.
Mr Mishler said the new application for tractors provided automation across the paddock rather than just between headlands.
When AutoTrac Turn Automation is activated, the machine functions previously required at the end of the paddock, when operating drawn implements, no longer require user input.
"For example, making end turns, raising and lowering the implement, PTO control, 3-point hitch functions and speed can be established in sequences from one setup page to become automated," Mr Mishler said.
AutoTrac Implement Guidance (passive) enables the tractor to move off the intended path or guidance line in order to achieve expected accuracy of the implement.
Mr Mishler said implement drift could diminish accuracy of the implement while the tractor was traveling on the guidance line.
"AutoTrac Implement Guidance helps operators improve pass to pass accuracy by placing the implement consistently on the guidance line, helping to reduce the impact of implement drift," he said.
AutoTrac Implement Guidance is ideal for first-pass tillage, planting, seeding, strip till or other applications with drawn implements when using straight- or curve-tracking modes and when operating on hillsides.
AutoTrac Vision Guidance was previously released for John Deere 30-Series and newer sprayers.
Now, Deere is expanding the application to include 7X30 large-frame, 8X30 and 8X30T, 7R and 8R/8RT tractors.
AutoTrac Vision can be utilised in post-season crop applications to detect the crop row and provide input to the machine's AutoTrac system to keep the tractor's wheels or tracks between the crop rows.
This level of precision can be beneficial when side-dressing fertiliser, post-emerge spraying and cultivating.
In-Field Data Sharing makes it easier for producers to coordinate multiple machines working in the same paddock. Operators can use the application to share coverage, application, yield and moisture maps along with straight tracks and circle tracks with up to six other machines.
……………………….
Latest model Miller sprayer
SOUTH Australian grower Greg Wheare and his cousin, Simon Wheare, previously operated a Miller Nitro 4135 sprayer followed by a 5333 front-mounted, self-propelled sprayer before they upgraded to the new generation 6333 model with 6100-litre tank.
The latest model, powered by an 8.3L, 333-horsepower Cummins Tier III engine, has introduced a number of significant enhancements, not to mention allowing a wider boom width for the Wheares from 36 metres with their 5333 to a 41.1m truss boom with the 6333 Nitro.
Leading the new features is an innovative drive train system that allows maximum power with minimum fuel consumption. It has shown up to a 30 per cent reduction in fuel use compared with equivalent-sized machines.
The drive train has been completely redesigned with variable displacement hydrostatic drive system and planetary torque hubs, providing for faster responses to speed changes through more efficient transfer of power to the ground, even at lower engine RPM.
A redesigned cooling system, with a reposition of cooling components, has also resulted in increased efficiency, as well as a reduction in operator and environmental noise.
New styling with the Miler Nitro 6333 has increased access to the engine bay, making servicing much easier, while inside the cab, a larger, full colour touch screen display monitors engine and spray system functions and includes an integrated rear facing camera with full-time rear vision during transport.
Other popular features of the Miller Nitro sprayers have been retained, such as the high underframe clearance, industry-awarded Hydralink suspension and the versatility of the Quick-Attach system.
………………………..
JCB telehandler milestone
JCB Construction Equipment Australia (CEA) sold its 10,000th JCB machine in Australia last month through its dealer, the Michaels Group.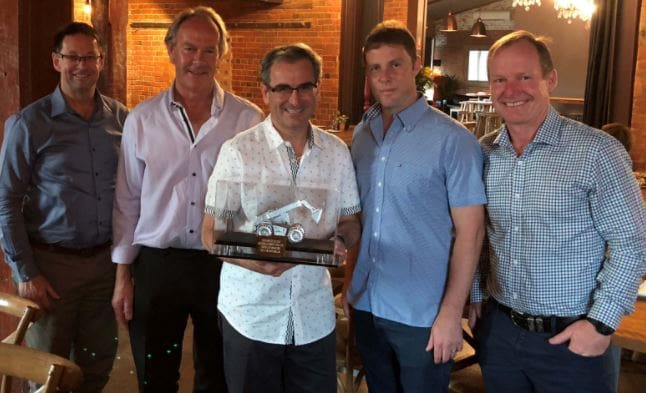 The milestone was celebrated with the presentation of a silver plated JCB telehandler from JCB CEA CEO Hylton Taylor, group executive chairman Philip Cardaci and general manager, dealer network Matt King. The presentation was made to Brad Michaels and Terry Michaels from Michaels Group, which started out as a small family business in Donald, Victoria.
……………………….
Kuhn's baler-wrapper combo
A NEW baler-wrapper combination machine, the FBP 3135 Bale Pack, is the latest innovation from farm machinery manufacturer KUHN.
KUHN's product manager, Michael Murer, said the machine was recently awarded Machine of the Year 2018 in the Forage Harvesting category at Agritechnica 2017 in Germany.
He said the FBP 3135 Bale Pack had been designed to meet the specific challenges facing farmers as they contend with factors like adverse weather conditions, as well as increasing labour and production costs.
The FBP 3135 Bale Pack has a film binding system with two film reels, as opposed to one big mantle film roll.
"This binds the cylindrical side of the bale, and offers several advantages compared to other film binding systems – not least the ability to use standard sized rolls (25µm, 1500m, 750mm), eliminating the need to order separate binding and wrapping film of different sizes. Furthermore, the film roll change is easier, as the rolls weigh only 27 kg, rather than 40 kg," Mr Murer said.
The two reels guarantee a secure binding start, regardless of rain or terrain – and the two strands of film ensure the binding material is effectively applied, without the necessity to feed extra material into the chamber.
The KUHN system also reduces film usage by up to 30 per cent, by pre-stretching it prior to application, and has quicker and easier roll loading thanks to a user-friendly system, which hydraulically folds the film reels into their loading/unloading position.
Further film savings come from the fact that the two film strands are much faster at full width compared to a conventional wide mantle film system.
The FBP 3135 Bale Pack can also be used with conventional net binding.
………………………..
Amazone's new generation sprayer
AMAZONE's new-release UX01 Super series of trailed sprayers feature a completely new operating concept and innovative boom guidance systems for even greater precision, capacity and comfort.
Initially offered with tank volumes of 6200, 5200 or 4200 litres and Super-L2 booms from 27 to 40 metres, all models feature a covered underbelly that allows plants to pass smoothly underneath the machine.
CLAAS Harvest Centre product manager – Amazone, Craig Hopkins, said all the spraying operations were controlled using a seven-way pressure tap.
"This allows each function to be easily selected without having to open or close separate circuits," he said.
"Once the desired function is selected, the relevant valve for the corresponding circuit opens.
"It also means the fresh water rinse tank can be topped up whilst the sprayer is being filled."
The 60-litre induction bowl is located directly underneath the control valves.
Its conical shape, centralised aperture and 200 L/minute suction capacity ensure quick, trouble-free filling and complete emptying.
An additional mixing nozzle positioned underneath the suction aperture prevents blockages when inducting powders or granular products.
The intensity of both the mixing nozzle and rinse ring can be adjusted.
The induction bowl can also be supplied with fresh water via the optional rinse water pump when pressure filling from a bowser.
The new canister cleaning nozzle, positioned to the right-hand side of the bowl, is activated by pushing down.
A second, smaller contact area allows effective cleaning of the canister neck.
The canister cleaning nozzle can also be used to clean the induction bowl when the lid is closed.
The sealed lid of the induction bowl swivels to the side by 180 degrees, allowing it to act as a shelf when it is opened.
The lid also has a measuring jug holder for easy operation and two run-off channels to allow canisters to be drained after rinsing.
The UX01 can also be equipped with the optional Comfort-Pack plus terminal, which provides fully automatic control of agitation intensity, fill stop function, boom rinsing, line cleaning, tank cleaning and tank-mix dilution.
………………………..
Sources: Hardi, Case IH, Vaderstad, John Deere, Miller, JCB, Kuhn, Claas.