JOHN Deere has introduced a new 4640 Universal Display for tractors that offers better data collection, increased functionality and greater choice for monitoring and managing tractor-driven operations.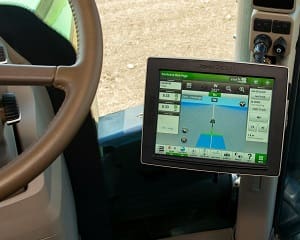 The new display enables operators to use the most common John Deere applications, including AutoTrac™, documentation, and Section Control, in a portable display that has the latest internal components, design and user interface.
"The new 4640 Universal Display provides a transportable, easy-to-operate solution for customers with the John Deere Generation 4 operating system," John Deere production and precision ag marketing manager, John Mishler, said.
"Some enhancements built into the display include more on-screen help and diagnostic information to keep operators running and informed of their display capabilities; simplified Work Setup app with page-by-page navigation; and greater user customisation of run pages."
The 4640 Universal Display provides improved documentation for high-speed planting and nutrient applications, coupled with the latest data syncing functionalities for increased on-board/off-board flexibility.
Additional enhancements include the ability to more accurately map and operate Section Control to precisely apply multiple products simultaneously with individual coverage maps and application points.
The display is designed to import new customer and product information without the risk of overwriting existing client/farm/field and guidance line information.
It also has an expanded suite of Precision Ag Core applications, including AutoTrac, Section Control and documentation, as well as wireless data transfer (WDT) with the "data sync" feature for automatic transmission of work documentation to the John Deere Operations Center.
The 4640 Universal Display is compatible with John Deere 30-Series to the latest 6R, 7R, 8R and 9R Series tractors, as well as AutoTrac Universal and AutoTrac Controller compatible competitive tractors.
Software update 17-2 is required for functionality. The Gen 4 Extended Monitor will be available mid-July 2017.
Precision ag application compatibility for implements and controllers, and for general applications, is limited to the latest Gen 4 OS software available.
Source: John Deere