RETURN on investment has traditionally been the measure many farmers use to determine machinery investment strategies, but this doesn't take into account a range of external factors that are often hard to quantify, according to Farm 360 consultant, Simon Craig.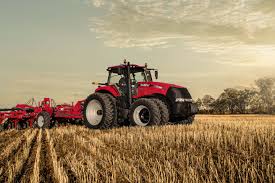 Speaking at the Birchip Cropping Group (BCG) Future Farmers Expo in Victoria, Mr Craig said producers trying to work out their best approach to machinery firstly needed to have a clear, long term vision for the farm and the changes that were likely to occur to the farming system.
"For instance, if a farmer is moving more to hay than grain they have to plan for what hay equipment they are going to need in the future. There is no point going to buy a header if you are going to cut your grain area back," he said.
Mr Craig said the next step was to determine what the current repayments for machinery investment currently were and the impact of putting more capital investment back onto that.
He said producers could be caught out by over or underinvesting in machinery if they didn't take a long-term approach.
"An example is a farmer who maintained a low level of investment for several years, then came across a big wet year last year and needed another header, needed to upgrade a boomspray and needed to buy a roller and spreader. He went and bought all that in one year," he said.
"The advantages of ownership are simple – once you've got it you've got it…."
"The impact of that over the next couple of years is quite significant. Along with a wish list of other things he needed, we identified he will be paying half a million dollars a year for the next eight years.
"What he should have done was, when he had low expenses, he should have been investing in certain pieces of equipment each year so the impact of a big purchase is not so large when it's needed."
Mr Craig said farmers should also work out, under different season scenarios, what would be the engine hours or the hectares covered for a particular type of machinery.
"Once they can identify that, they end up with a cost per hectare or hour for the machinery. So, separating operating costs from capital costs. They can then put a dollar figure on how the efficiencies might be captured," he said.
Mr Craig said farmers could be caught out by seeking potential fuel and labour savings by buying a piece of machinery that was bigger or better, but the benefits at a whole farm level might not be as great as perceived.
"An example is the stripper front that has been a fad at the moment for farmers. They go faster and save fuel because you don't have to run the machine so hard," he said.
"An analysis applied over a hypothetical farm showed the labour savings on an annual basis over a number of seasons would only possibly be about $1800 and the fuel savings only $2500. So, the net benefit was basically neutral. When you put the numbers together it is not as much as the farmer thought it would be."
Ownership
Mr Craig said farmers deciding to own machinery needed to ensure it was compatible with their current and future cropping program and that they had the expertise, or access to expertise, to operate and maintain it.
"The advantages of ownership are simple – once you've got it you've got it, you have accessibility and an asset at the end of the day," he said.
"The biggest issue is your increased capital costs. You have funds tied up in machinery you could be using on something else that would appreciate.
"The main advantage is the accessibility and it being used by a consistent user, not shared with a farmer who might not treat it like they love it."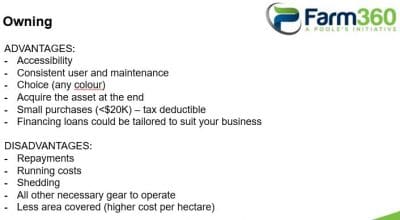 Co-ownership
Mr Craig said the most important thing for producers sharing equipment was to have clear documentation in place that covered access, repairs, maintenance, fuel, operations, insurance and storage.
"The biggest change in that space is that growers have to set up their own company and have to invoice it to the farmers at commercial rates. It is no longer "you and I buy a piece of machinery and we both us it" where the issue is that someone will use it more than another," he said.
"Now, should one of the farmers need to get a contractor in because the other farmer is taking longer then no-one is disadvantaged. He is still spending the same amount of money.
"That way the header might be running enough hours that they are getting a return on the investment and all the repairs and maintenance come out of the one account.
"So, the co-ownership dollars achieve all the efficiencies and benefits of ownership, except each person shares the capital outlay. It is probably easier to get financing for each party. The header is being run for more hours than what it would on one farm. And you can possibly get the best gear that has the best technology."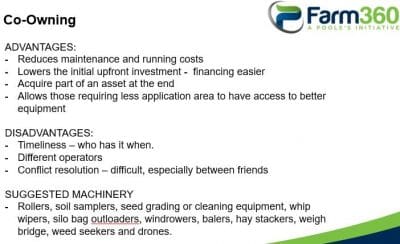 Hiring versus contracting
Mr Craig said farmers investigating contracting or leasing as an alternative to ownership needed to consider availability, reliability and expense as delays in operations could be costly.
"Reliability and accessibility is not always guaranteed. The cost is often inflated. In some cases, you still have to run fuel and labour to operate the equipment," he said.
……..
Simon Craig spoke at the BCG Future Farmers Expo at Birchip, Victoria, on Wednesday, July 15.
The session was support by the GRDC funded project: "Maintaining profitable farming systems with retained stubble in Victoria and Tasmania" Code BWD00024