FARMERS in Victoria will soon be able to claim up to $1200 in rebates on quad bike operator protection devices (OPDs) under the State's recently announced $6 million Quad Bike Safety Rebate Scheme.
Further details of the scheme, which will be administered by the Victorian Farmers Federation (VFF) and WorkSafe Victoria, have been announced this week.
Under the scheme, rebates of up to $1200 will be available on purchases of OPDs for quad bikes, side by sides and other alternate vehicles, made on and after September 1, with farmers able to lodge applications to claim the rebate from October 1.
Rebates of up to $600 can be claimed on the two eligible OPDs – the Quadbar and the ATV Lifeguard – as well as a $1200 rebate on alternate vehicles.
The scheme is expected to deliver rebates to more than 5000 farmers over the next two years.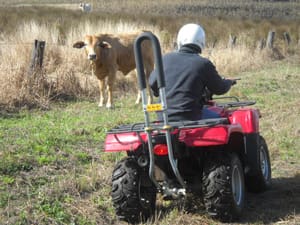 "Farmers should get in early and take this opportunity to protect their families, workers and of course themselves from the risks of using quad bikes," VFF vice-president Brett Hosking said.
"It's an undeniable fact that quad bikes are one of the most dangerous pieces of equipment on our farms, and we should all be doing what we can to make them safer or replace them with another vehicle."
What is an alternate vehicle? While there's been some debate on the issue, Mr Hosking said the VFF and WorkSafe had settled on defining an alternate vehicle as: "An agricultural side-by-side vehicle (SSV) or small utility vehicle, which differs from a quad bike in a number of ways. They typically can accommodate two-six occupants, have roll-over protection, have seat belts and a cargo box at the rear of the vehicle."
Ag vehicles only
To be eligible for the rebate an alternate vehicle must be designed for use in agriculture, and at point of sale have rollover protection and a fitted seatbelt.
Importantly, sport vehicles and small commercial vehicles, such as utes, are excluded.
"There's obviously a bit of cross-over here, but we're not going to be handing out rebates on vehicles that are obviously designed for sport not farming," Mr Hosking said.
"And you can't claim the rebate on purchasing second-hand vehicles."
All rebates will be available from October 1, 2016, for a period of two years or until the funds are exhausted – whichever occurs first.
Rebates will also be allocated on a first-in first-served basis to eligible applicants with complete applications.
Not for farm-built or second-hand
Mr Hosking said the rebate had been restricted to two types of OPD, as they had been designed and manufactured in accordance with approved engineering standards and independently tested to be eligible for the rebate.
"While many farmers are pretty damned good welders, I'm sorry to say you can't just bend up a bit of bar, bolt it on the bike and claim a $600 rebate," Mr Hosking said.
"I'm sure that as time goes on other OPD manufacturers might come along, but for now it's just the Quadbar and ATV Lifeguard."
The rebate is available to farmers who:
• live and operate a business in Victoria
• have no more than 19 full-time employees
• own a quad bike for work purposes
• have farming as their main source of income.
Farmers who are owner-operators with no employees are eligible to apply.
Rebates will not cover:
• the design or manufacturing of new items including items that you have designed and manufactured to your specifications,
• owner-built items,
• purchase of raw materials,
• purchase of second-hand items,
• service repairs or maintenance.
Rebates do not cover products or equipment for domestic, recreational or social activities.
Details on farmer eligibility for the scheme can be found at www.bequadsafe.com.au Further Details about quad bike safety can be found on the WorkSafe Victoria website: http://www.worksafe.vic.gov.au/safety-and-prevention/your-industry/farming
New South Wales offers rebates of up to $500
New South Wales has also recently announced a similar rebate program.
The Baird Government's $2 million Quad Bike Safety Improvement Program offers rebates of up to $500 for safety measures aimed at reducing quad bike tragedies and injuries on farms.
The $500 rebate can go towards the purchase of compliant helmets, Operator Protector Devices including rollover bars, the purchase of a safer vehicle such as a side-by-side vehicle, and training courses tailored to farmers.
NSW Minister for Innovation and Better Regulation, Victor Dominello, said there were around 200,000 quad bikes in operation across Australia in both a commercial and recreational capacity and the program was a step forward to reducing injuries and saving lives.
Minister for Primary Industries Niall Blair said a new MoU between SafeWork NSW and Local Land Services would promote the safer use of quad bikes in rural workplaces.
"Local Land Services is on the ground working hand-in-hand with landholders and they are best placed to help deliver strong safety messages to stop the tragedies when it comes to the use of quadbikes on the land," Mr Blair said.
Tocal College at Paterson in the Hunter Valley has also been awarded the contract to deliver 100 quad bike-training courses across NSW as part of the SafeWork NSW Quad Bike Safety Improvement Program.
The NSW rebate will be available until June 30, 2017.
Further information is available at www.safework.nsw.gov.au