THE Australian Competition and Consumer Commission says the safety of most new or imported second-hand quad bikes sold in Australia will be substantially improved from 11 October as a result of increased safety features and improved design standards.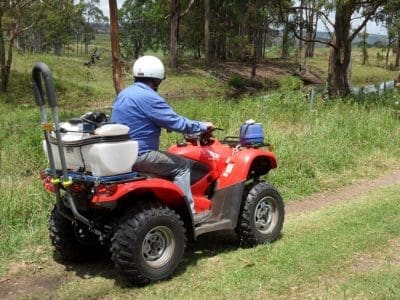 From that date (next Monday), new and second-hand imported general use quad bikes sold in Australia must meet the second stage requirements of the mandatory Quad Bike Safety Standard.
Stage two requires any new or imported second hand general use quad bikes to be fitted with operator protection devices and meet minimum stability requirements.
Six people have died in quad bike accidents so far this year, and 2020 had the highest annual death toll with 24 quad bike fatalities.
"Quad bike accidents are the leading cause of death and injury on Australian farms and the mandatory safety standard will be critical in saving lives," ACCC deputy chair Mick Keogh said.
"A high proportion of quad bike accidents are due to rollovers, and the additional safety requirements that are about to come into force include physical design changes to mitigate rollover risks."
Stage one of the safety standard was introduced on 11 October 2020, and the ACCC and state and territory consumer protection agencies have coordinated national surveillance on suppliers to determine their compliance with the first stage requirements. Inspectors surveyed 246 dealerships nationally and found that 84 per cent of quad bikes were compliant.
"Consumer law regulators will be conducting another round of surveillance to monitor compliance with the quad bike safety requirements," Mr Keogh said.
"Suppliers have had a two year transition period to prepare for the new requirements and those who are still not compliant risk enforcement action.
"When it comes to vehicle safety issues, there is no single solution and, of course, safe riding precautions remain extremely important. Quad bike owners should always wear helmets and the right safety gear, complete the necessary training, and never let children ride adult bikes."
Consumers and businesses can make a complaint to the ACCC if they believe they have seen a quad bike offered for sale or have been sold a quad bike that does not comply with the requirements of the safety standard.
Separately, all participants in the supply chain for consumer goods are required to report serious injuries associated with the goods within two days of becoming aware of a reportable incident.
More information is available on the Product Safety Australia website.
Background
In October 2019, the Federal Government accepted the ACCC's recommendation to introduce a new mandatory safety standard for quad bikes.
Stage 1 came into effect on 11 October 2020 and requires that:
All quad bikes must meet the specified requirements of either the US quad bike Standard, ANSI/SVIA 1-2017 or the EN 15997:2011 Standard.
All quad bikes must be tested for static stability using a tilt table test and display the angle at which it tips on to two wheels on a hang tag.
All quad bikes have a durable label affixed, visible and legible when the quad bike is in operation, alerting the operator to the risk of rollover and must include rollover safety information in the owner's manual.
Stage 2 comes into effect on 11 October 2021 and will require:
All general use model quad bikes must have an operator protection device (OPD) that is either:

fitted into the bike; or
integrated into its design.

All general use model quad bikes must meet the minimum stability requirements of:

lateral stability – a minimum tilt table ratio (TTR) of 0.55
front and rear longitudinal pitch stability – a minimum TTR of 0.8
Fines and penalties may apply for failure to comply with a mandatory safety or information standard.
Source: ACCC