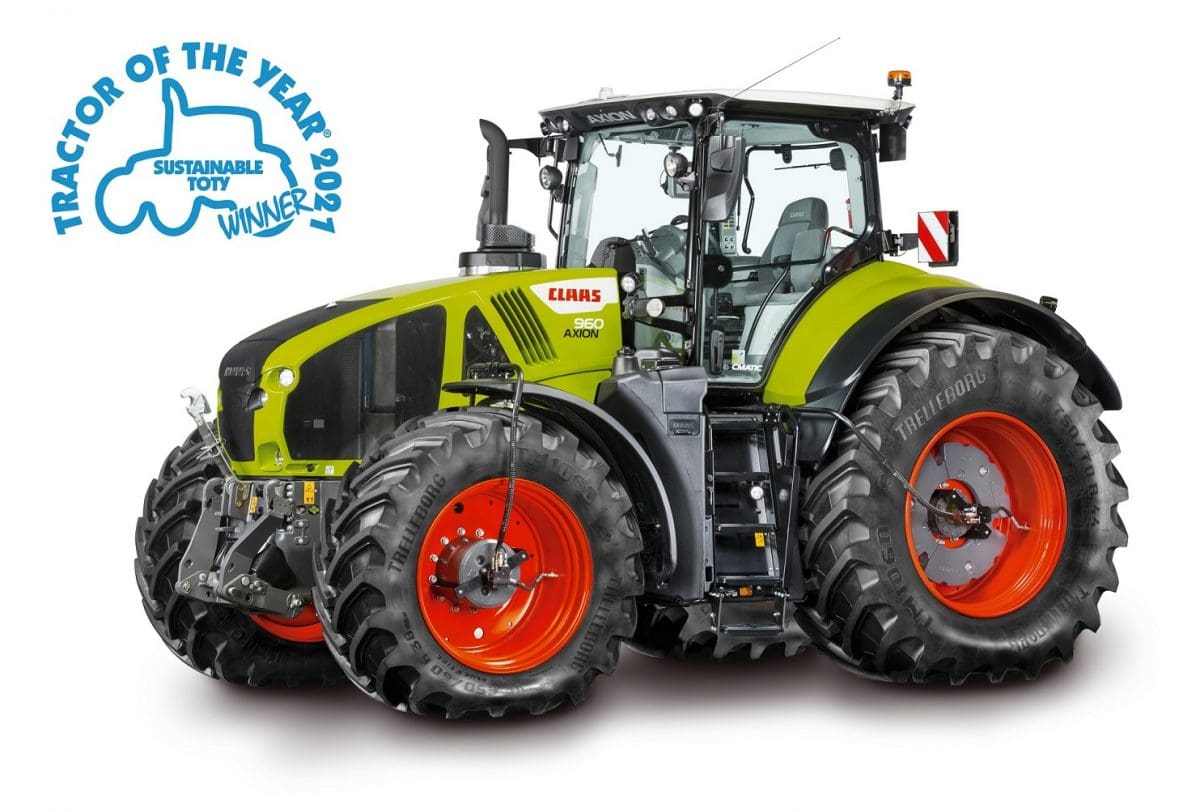 CLAAS' Axion 960 CEMOS advanced technology tractor has been recognised as the world's most sustainable tractor in the global Tractor of the Year awards.
Already boasting a 331kW (445hp) Stage V engine and CMATIC continuously variable transmission, the Axion 960 now features the award-winning CEMOS machine optimisation and CTIC automatic tyre inflation systems.
CEMOS automatically adjusts key machine settings for optimal fuel efficiency and productivity, while CTIC automatically adjusts the pressure of the front and rear tyres for optimal performance during work or transport.
The Tractor of the Year awards are determined by an expert panel of 26 agricultural journalists from 25 different countries.
Normally presented at either the EIMA or Agritechnica exhibitions in Europe each year, this year's award ceremony was streamed as a live broadcast just before Christmas.
The CLAAS Axion 960 CEMOS won the sustainable category ahead of 17 other finalists, with the judges particularly impressed by the ease of use of the CEMOS system.
CLAAS Harvest Centre product manager – tractors, Shane Barratt, said the system was based on a 'dialogue' with the driver.
"At the start of a job, the driver enters a range of information about operating conditions, such as soil humidity, soil type and working depth; machine data, such as tyre sizes and front and rear ballast; and implement data into the CEBIS touchscreen terminal," he said.
"The system then actively explores the potential for improvement and passes on suggestions to the driver.
"The driver can either confirm the suggestions or request alternative settings.
"The CTIC inflation system automatically adjusts the tyre pressure of the front and back wheels – and optionally, trailed implements – to reduce wheel slip, ground damage and fuel consumption during work or transport.
"This makes it possible to achieve intelligent dynamic internal tyre pressure adjustment in interaction with other parameters, such as ballast, and real-time performance data."
CLAAS claims the two systems can significantly improve efficiency and throughput compared to manual adjustment of tractor and implement settings.
Independent field tests conducted by a leading German research organisation found the two systems increased productivity by an average of 16.3 per cent and reduced fuel consumption by up to 16.8pc during cultivation.
"Even the most experienced operators can benefit from this technology," Mr Barratt said.
"The DLG field tests showed four out of every five operators were able to improve their productivity or fuel consumption using CEMOS.
"These features deliver important environmental benefits in reduced carbon dioxide emissions and soil compaction.
"The arrival of the much-anticipated Axion 960 Terra Trac half-track model later this year will take the concept of sustainability to a whole new level."
CEMOS is available on all new Axion 900/800 and Arion 600/500 tractors equipped with the CMATIC variable transmission, while the CTIC tyre inflation system is available for all models in both series.
Source: CLAAS