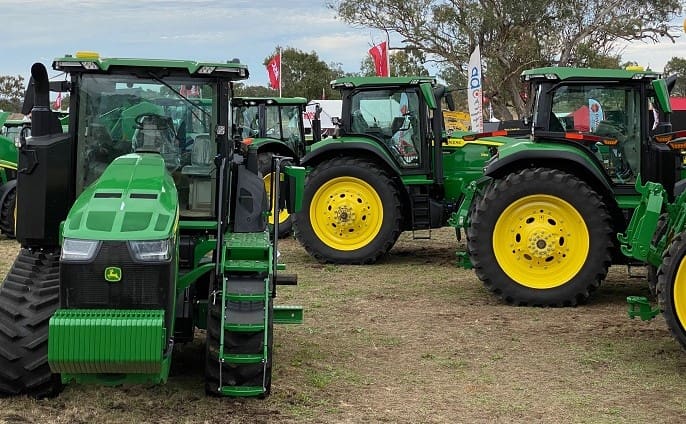 TRACTOR sales across Australia continued their strong run in May with an 18 per cent rise on the same month last year, according to the latest figures from the Tractor and Machinery Association (TMA).
More than 15,700 tractors have been sold over the past 12 months, which is 37pc ahead of the previous 12-month period.
A return to favourable seasonal conditions across much of the continent and the Federal Government's tax write off incentive have seen extraordinary levels of demand which has put the supply chain under pressure.
The global Covid 19 pandemic has held up componentry supplies to manufacturers and disrupted international freight.
Adding to the supply challenges have been bottlenecks at Australian ports.
There is now a long delay in filling orders as dealers who have cleared their floor stocks scramble to source new equipment.
Analysts will be watching the upcoming June/July period to see what impact it has on the market as the Federal Government's Instant Asset Write Off Scheme comes to an end, even though it is to be continued for a further two years in the form of a "Temporary Full Expensing" program.
Supply pressures
Speaking at this week's FarmFest Field Days on Queensland's Darling Downs, Case IH ANZ general manager, Pete McCann, said good rains, especially in the eastern states, had been the catalyst for strong sales over the past 12 months.
"The season has been the highlight. If we can get one or two good years under our belt it will be a good thing," he said.
"We have supply challenges like everyone in the industry. It is becoming a norm. Our customers are trying to plan a bit further forward, or have to choose whatever is available at the time.
"It has been a nice return to normality. Dealers are busy, the winter crop's in the ground, seeding went well, so it's a good time to be in the industry."
Vanderfield and RDO Group director, Bruce Vandersee, said the buoyant machinery market had put pressure on supplies throughout the John Deere network.
"We are experiencing a shortage of equipment. Part of the issue is that globally there is an increase in demand. The other part is that we are struggling with the availability of some electronic componentry. There are challenges with the rare earths (used in electronics). So, there are some really long delays," he said.
"That is not necessarily because of Covid. There is an incredible upswing in the United States and we are having an increase in demand here."
Looking ahead, Mr Vandersee said prospects for the current winter crop and forthcoming summer crop were looking very promising.
"The season is looking good and there is a lot more water stored than there was last summer. So, for next summer we are expecting record summer crops," he said.
"Given the length of the drought there is a lot of catchup to be done, but it is looking good for growers and dealers."
AGCO's Green Harvest regional sales manager for Queensland, Northern Territory, Western Australia and South Australia, Peter Marrinan, said the turnaround in the seasons over the past two years had been good for agriculture and driven demand for farm machinery across the board.
"There has been a reasonable number of high horsepower tractors sold right down to the smaller 40 and 50 horsepower. There is a delay for certain models. Different component factories have had Covid issues."
Demand across the board
The TMA says there were strong sales in May across all states with Victoria reporting an increase of 6pc on May last year, now sitting 32pc ahead for the year; Queensland was up 19pc to be 35pc up year-to-date and New South Wales was again up, 30pc on the same time last year and now 78pc for the YTD.
Western Australia sales picked up another 13pc to be 48pc ahead for the year; sales in South Australia reported a 34pc increase for the month; and Tasmania finished the month 5pc behind.
All performance reporting categories enjoyed rises again this month with the under 30kW (40hp) range up 22pc for the month to be 47pc ahead YTD.
The 30-75kW (40-100hp) range was again up strongly 28pc in the month (50pc YTD), the 75-150kW (100-200hp) category was up 5pc (29pc YTD).
The large 150kW plus (200hp) range had another strong rise up 21pc and is now 60pc ahead for the year.
Sales of combine harvesters are yet to get going, however dealers continue to report a healthy level of enquiry.
Baler sales dipped again for the month but are still up 33pc on an annualised basis and sales of out–front mowers were steady and remained 33pc ahead of the same time last year.
ACCC recommendations
TMA executive director, Gary Northover, said the Australian Competition and Consumer Commission (ACCC) had released its report on the agricultural machinery market which contained a number of key recommendations concerning warranties, right to repair and use of data.
"The TMA is yet to formally respond to these recommendations but will continue to work with all stakeholders to ensure that appropriate outcomes are achieved for the industry," he said.
ACCC deputy chairman, Mick Keogh, is scheduled to speak at the upcoming TMA Conference to be held in Melbourne at the Hyatt Essendon Fields on Tuesday, July 20.
Grain Central: Get our free cropping news straight to your inbox – Click here