STRONG tractor sales across Australia in August have continued the trend of record volumes for the past few months.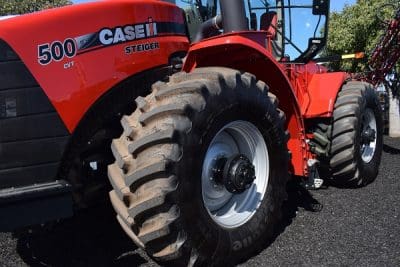 Sales for the month were up 12.7 per cent on what was a strong July and now sit 10.6pc up on a year to date basis.
Tractor and Machinery Association (TMA) executive director, Gary Northover, said in dollar terms, the industry was seeing another very strong result with sales tracking beyond the $1.2 billion mark for the year.
He said demand for tractors in all size ranges was strong right across the country with a recent down patch in Western Australia and South Australia being reversed with strong sales, WA up 17.4pc for the month and now less than 10pc down on last year.
SA had a particularly strong August, up 30pc for the month and 10pc on the same time last year.
Sales in Queensland were steady for the month and sit 12pc up on last year.
Victorian sales where again very strong, led by the under 30kW (40hp) category up 13pc on last month and 26pc up on last year.
NSW had a particularly strong month, 19pc up for the month and 4pc up on last year whilst activity in Tasmania has been very healthy, sitting nearly 30pc up on last year.
Sales in the Northern Territory are positioned up 18pc on last year.
Low horsepower market humming
Mr Northover said the strength of the under 30kW (40hp) or "leisure" market continued to be the stand out for tractor sales with an increase of 26pc on last month and now 16pc up on last year.
"Clearly, the markets appetite for this range of product has pleased many in the industry and is a clear representation of the high levels of confidence being felt by this market segment across the nation," he said.
The larger end of the market too remains strong with deliveries once again beating the previous month.
Big end sales increase
Sales in the 75kW to 150kW (100 to 200hp) range increased yet again and are now up 13pc on last year and the larger range above 150kw sits about 8pc ahead.
"The distribution of sales continues to reflect the move towards larger capacity tractors and with extensive competition in the market, buyers are capitalising on the opportunity to upgrade," Mr Northover said.
"There are some early signs that combine harvester sales may not meet expected levels this year with some challenges being forecast for this year's harvest.
Header market subdued
"Harvester sales tend to occur on the basis of around 50 per cent committed at the end of each harvest and around 50 per cent purchased from stock units that manufacturers import in anticipation of further sales. Sales of these stock units appear to be down on initial expectations so we will see a lower volume sold by years end.
"This of course augers well for cashed up buyers who are able to take advantage of the ready availability of stock."
Baler sales continue to slow, once again off last year's very high numbers due in part to the variable weather conditions and finally, sales of out front mowers, linked to the "leisure" market, dipped this month but remain ahead of last year's numbers.
Source: TMA