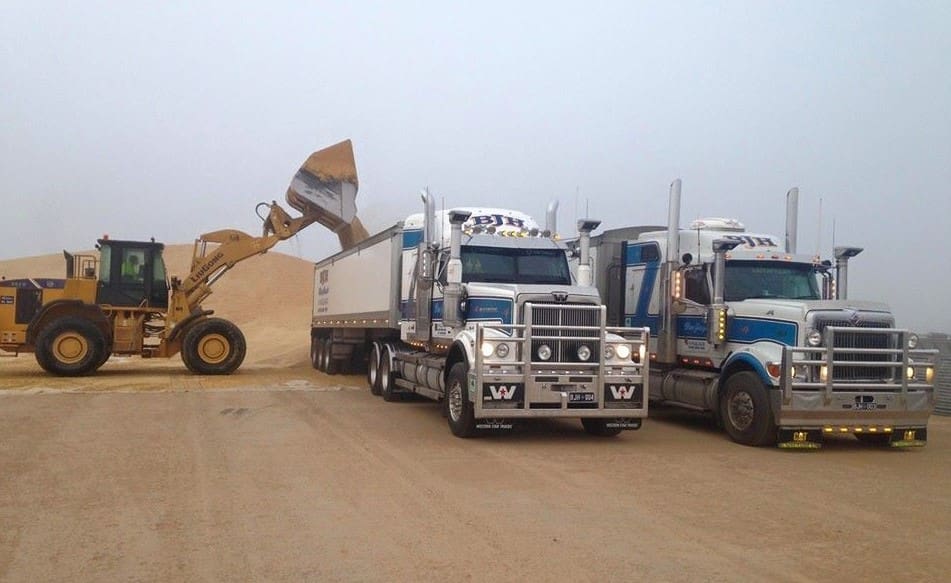 THE sale of 18 prime movers and 29 trailers at a Ritchie Bros auction in Geelong in April by South Australian-based grain and fertiliser cartage specialists, Bee Jays Haulage, marks a strategic restructuring of the business in response to shifting demand in a tough year.
The eastern seaboard drought and subsequent shortfall in grain production over the past 12 months have impacted on agricultural service industry businesses such as Bee Jays which rely on grain cartage as a core income stream.
Headquartered in Mt Barker and with additional depots in Adelaide and the Adelaide Hills in SA, and Truganina in Melbourne, Victoria, the business has gone through one of the toughest patches since it began 39 years ago.
Owners, Barry and Sue Jungfer, took the decision to sell off part of the fleet in April and restructure the operation to match the downturn in seasonal grain haulage.
"We decided to downsize because of the way the year ended up. It was a shocking year with not much grain about so we could see it was going to be a pretty hard time," Mr Jungfer said.
"We now have 17 prime movers and 11 sets of tippers, a couple of sets of torque liners, a couple of sets of flat tops."
Mr Jungfer said while the drought had depleted grain stocks and severely reduced transport demand, it had opened some opportunities to move feed grain to hard-hit areas where stock feed was in short supply.
"We haven't been involved in transporting grain from Western Australia but we are doing a lot from South Australia into New South Wales and Victorian feedlots at the moment," he said.
While Bee Jays Haulage started out carting meat under contracts with Coles nearly four decades ago, grain cartage has been at the heart of the business for over 20 years.
At a peak it had 36 trucks, with 24 of them assigned to grain haulage.
The company has worked with some of Australia's largest grain handling companies, including Viterra since their early ABB days, and has been the sole preferred provider for Viterra's Mallee region of South Australia/Victoria for a number of years.
"We have had good years and tough years. The biggest changes were moving into B-doubles and road trains. The opening up of more roads for them has made a big difference," Mr Jungfer said.