THE University of Western Australia (UWA) has entered a research and development partnership with Ausplow Farming Systems to improve crop yields and machine performance.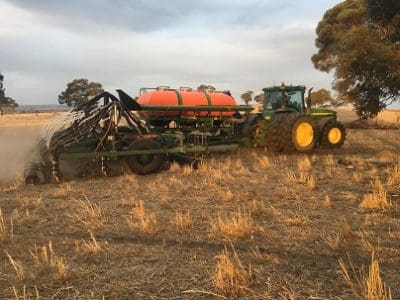 Ausplow will test various configurations of their DBS D260-36 matched to a 6000-litre drawbar-mounted airseeder for seeding in the wide-ranging landscapes at UWA's 1600-hectare farm near Pingelly, Ridgefield.
Dr Andrew Guzzomi from UWA's School of Mechanical & Chemical Engineering and Institute of Agriculture is leading the partnership with Ausplow Farming System's engineering manager, Carl Vance.
He said the partnership was a major step forward in the transformation of Ridgefield into a farm of the future, the mission of the UWA Future Farm 2050 Project.
"Some of the landscape at UWA Farm Ridgefield is challenging in terms of soil type, obstacles and paddock shape so working in partnership with Ausplow will help optimise seeding practices," Dr Guzzomi said.
"The move toward smaller, more flexible tractor-machine combinations will permit UWA Farm Ridgefield to crop landscapes that at present are inaccessible."
Professor Graeme Martin from UWA's School of Agriculture and Environment and Institute of Agriculture, who leads the Future Farm 2050 Project, said that as we headed toward 2050 and needed to feed 50 per cent more people than we do today, global food production would increasingly rely on cropping marginal lands.
"The combination of modern seeding practices and a massive program for bringing weeds under control is critical for our vision for the 'ecological cropping' enterprise of the Future Farm 2050 Project," Prof Martin said.
UWA Farm Ridgefield will in turn, provide detailed feedback to Ausplow Farming Systems on machine performance and crop yields.
Source: UWA