A TOP line-up of Australian and international speakers will be sharing their insights into markets and the altered global landscape in which they operate at the Australian Grains Industry Conference (AGIC) event on Thursday, July 30.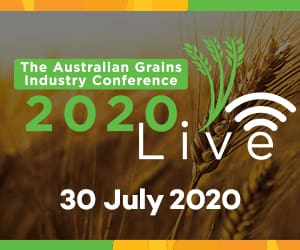 Hosted by Grain Trade Australia (GTA), Pulse Australia and the Australian Oilseeds' Federation, the event is being held on the AGIC 2020 LIVE virtual platform to enable it to go ahead amid COVID-19 limitations.
AGIC has cemented itself as Australia's premier grain-industry event. AGIC 2020 LIVE registrations at the special earlybird rate  close on Friday, July 3.
Under the theme of Resilience and Reinvention, AGIC 2020 LIVE will be opened by HFW Australia partner Stephen Thompson, GTA chair Andrew Goyder and Federal Minister for Agriculture David Littleproud.
CBH Group chair Simon Stead and ANZ chief economist Richard Yetsenga will then provide a global economic outlook looking at the role of resilience in these testing times.
A global commodity market update will be provided by GTA chief executive officer Pat O'Shannassy, Food and Agricultural Policy Research Institute, Missouri, associate director Seth Meyer, Lachstock Consulting CEO Nick Carracher and Soufflet trading division CEO Jean-Francois Lepy.
Soufflet is a French family-owned company and a major accumulator and processor of barley and wheat.
Outlook for Europe
Through the AGIC 2020 LIVE platform, Mr Lepy will give an insight into how Europe's grain industry has performed in response to the bodyblow of COVID-19.
"Domestic grain consumption — food and feed — was down overall and hasn't recovered yet, even if there are bright spots."
He said Europe's wheat market remained dynamic due to the end of the marketing season in the Black Sea, and availability being confined to France and Germany following record wheat exports from the EU of 34 million tonnes, including 13.6Mt from France alone.
Mr Lepy said barley remained fairly stable through the season.
"It became active due to the politics that you are facing regarding Australian barley exports to China."
Mr Lepy said Bulgaria, Denmark, France and the United Kingdom in Europe, as well as Ukraine, all have phytosanitary agreements with China.
"However, UK weed contamination issues make exports almost impossible, Denmark could do at best one panamax a year, and Bulgaria has a small barley crop in addition to its weed problem.
"That leaves France as the sole EU supplier to China."
Mr Lepy said Europe's cereal harvest has just started and, as expected, western Europe's yields are down on last year.
"Going east, it is better, with an average to good crop in the Black Sea.
"Ukraine wheat is standing at 26Mt and Russia at 78-80Mt pending Siberia getting timely rain.
Mr Lepy said European production including the UK was likely to be down about 15Mt on last year to 131Mt, including France which is expected to produce 33Mt.
Broad program
The AGIC 2020 LIVE program will also cover what businesses around the world are doing in response with regard to factors beyond COVID-19 including climate, technology, sustainability, and trade relations.
Others who will share their insights at the virtual event include:
Minister for Trade, Tourism and Investment Simon Birmingham,
CBH chief marketing and trading officer Jason Craig;
HFW global senior partner Richard Crump;
Former Foreign Affairs Minister and London High Commissioner Alexander Downer;
Shadow Minister for Agriculture Joel Fitzgibbon;
Grain Producers SA CEO Caroline Rhodes;
ASX manager energy and commodities Ian Waddell;
Coca-Cola Amatil group managing director Alison Watkins;
Adding a touch of sport to AGIC LIVE 2020 are sessions involving Hawthorn ruckman Ben McEvoy, Collingwood player Sharni Layton, and Sports Dietitian Australia president Simone Austin.
They will talk about grain in high-performance diets, and take questions about health, performance and life on the field.
AGIC 2020 LIVE registration includes access for 30 days to view sessions and download resources.
Organisers of the event have included interaction platforms and a virtual exhibition of trade displays to enable delegates to connect with individuals and companies taking part in AGIC 2020 LIVE.
Exhibitors taking part in AGIC 2020 LIVE will include:
Manufacturers of food, animal feed, biofuels and bio-based industrial products;
Suppliers of financial, logistics, marketing and communications services to the grain industry and its affiliates;
Freight and port businesses;
Technology and equipment providers and their servicers;
Trade groups, government agencies and researchers;
Industry consultants.