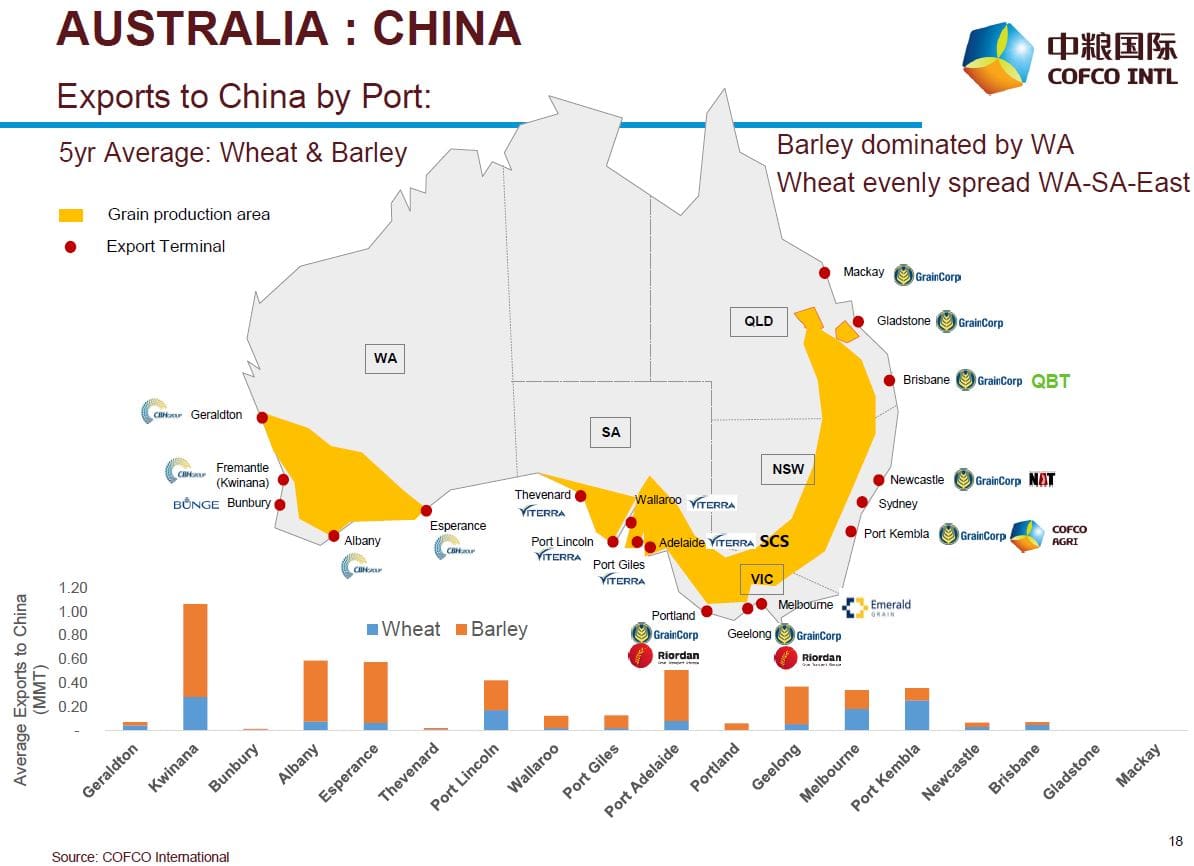 AUSTRALIAN barley's dominant position in the Chinese market is set to continue and Australia's substantial share of the Chinese wheat market also remains strong, although facing competition from North American suppliers.
That was the message COFCO International Australia chief executive officer, Yebin "Bruce" Li, presented to the Grain Industry Association of Western Australia (GIWA) forum in Perth last week.
Mr Li said Australian barley currently held a 66 per cent share of the Chinese market, averaging 4 million tonnes (Mt) from China's 6.5Mt total imports, and there was further growth potential in feed (animal protein) imports.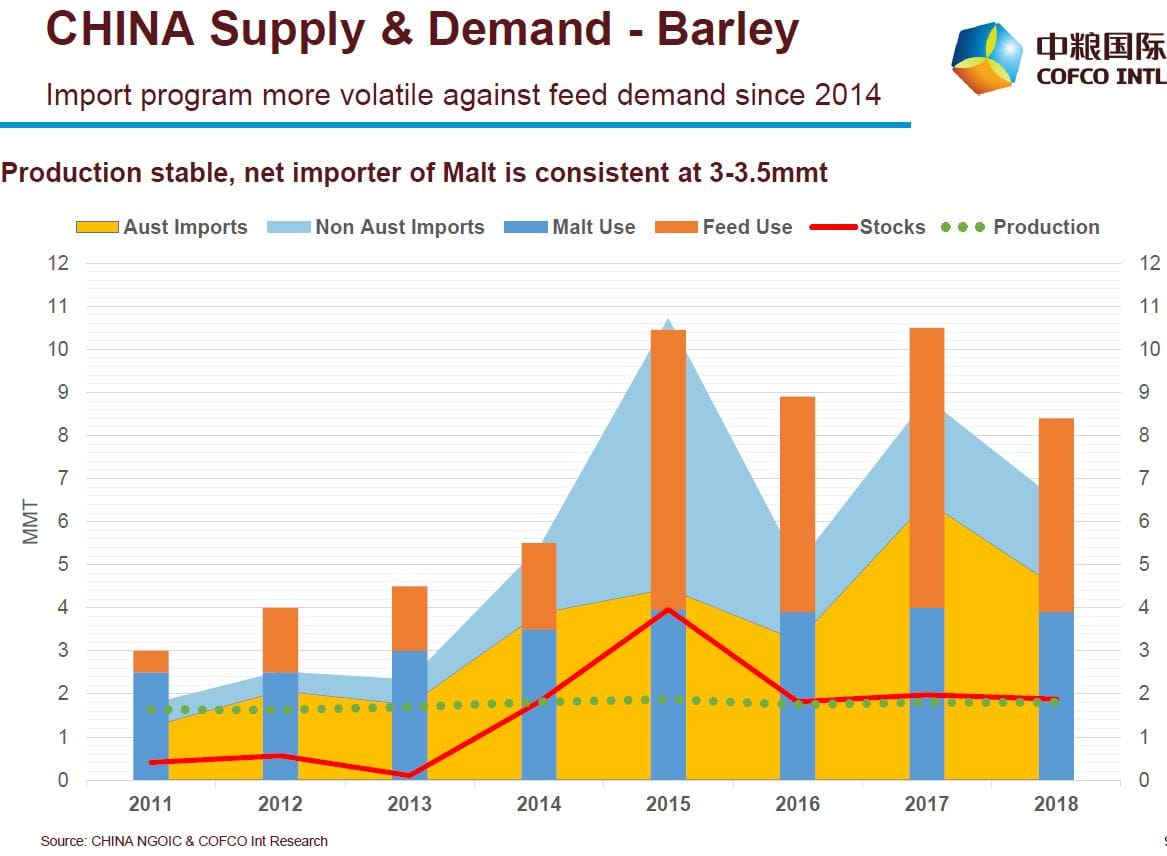 Mr Li said there was an inelastic base in the Chinese wheat market where Australia had a 25pc market share, contributing 1MT of China's 4Mt wheat imports.
However, the Australian product faced competition from the United States and Canada.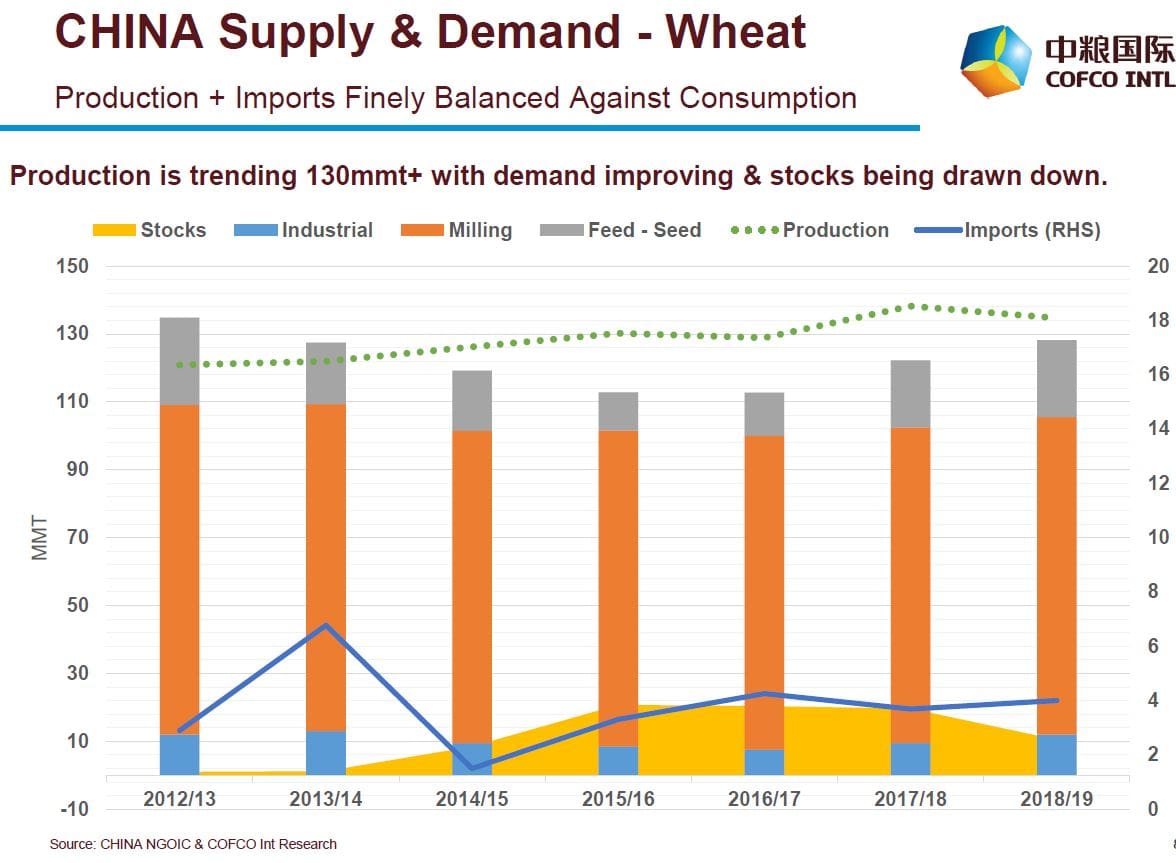 WA exports to China
Focussing on the future for WA grain exports to China, Mr Li said WA malt barley varieties had a strong reputation with Chinese maltsters.
"There is steady growth in demand for 'healthy foods' so Western Australian oats have a strong quality reputation and high consumer recognition," he said.
"The expected long term demand for Australian grain is positive, based on a good reputation for low moisture content and lack of contaminants; Australia needs to protect this reputation as a competitive edge."
Mr Li said the changing appetites of the Chinese "millennial middle class" showed increased preferences for high protein bread and pastries, beef, wine, high quality drinking water, health foods and non-GMO packaged oil.
Brand Australia
In a panel discussion moderated by Plum Grove executive chairman, Andrew Young, with CBH marketing and trading general manager, Jason Craig, and Burch Family Wines chief executive officer, Anthony Wilkes, discussion focused on opportunities for trade and investment between China and WA.
While "brand Australia" was identified in the commoditised grain industry, the majority of which was sourced from South Australia and WA, there was recognition that at the premium end of the food offer Chinese consumers were looking for niche brands which demonstrated traceability, trust and provenance.
…………………………..
About COFCO:
Owned by the Chinese government, COFCO is the largest food and agribusiness conglomerate in China, with processing, storage and port capacity and vertical distribution networks throughout China.
COFCO plays a key role in maintaining grain and oil market stability and food security for China's 1.4 billion population:
USD$78 billion total assets

145,000 employees

150 million tonnes annual turnover

90 million tonnes processing capacity

31 million tonnes global storage capacity

65 million tonnes port turnover
Through its integrated value chain approach to business, COFCO also has a retail brand strategy in China, with branded assets in consumer segments such as small packaged rice, flour, oil, sugar, alcohol, wine, beverages, meat and meat products, tea and tea derivatives, and dairy products.
…………………………..
Grain Central: Get our free daily cropping news straight to your inbox – Click here