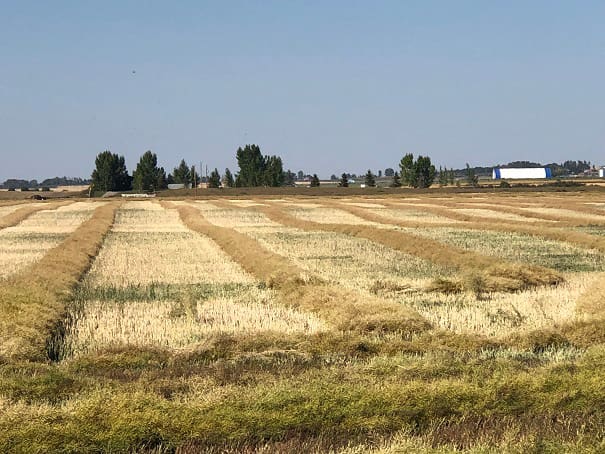 CANADIAN farmers produced the smallest canola crop in four years on the back of lower plantings and unusually wet autumn weather that left crops sitting in the paddock unharvested, the latest blow in a miserable year which started with the Chinese ban on canola imports.
Unlike Australia, where a dry season has decimated national grain production, in Canada the wet has made 2019 a year to forget. Not only has it severely hampered the winter crop harvest, summer crop farmers are calling it the ugly trifecta. Late planting, far too much rain and snow through harvest and high-moisture grain meaning substantial drying costs will be incurred to bring it down to a market acceptable level.
On top of the unharvested winter crop area, the adverse autumn weather has left many farmers facing unharvested corn paddocks into December and possibly beyond. Of all the issues the Canadian farmer has faced this year corn left standing in the paddock deep into the winter is perhaps the one they dread most.
The heavy snow and rain during harvest across the Canadian Prairies have left around 810,000 hectares of canola buried under snow until spring.
Crops that remain in the fields over the winter are subject to wildlife damage and moisture spoilage, but some of it can usually be salvaged and marketed at a discount in the spring. However, the need to harvest the previous crop once fields dry can seriously delay the commencement of the spring planting program in affected districts.
Statistics Canada released their Production of Principal Field Crops report last Friday the more than 700,000t was dropped off the country's 2019/20 canola production. Estimated production came in at 18.65 million tonnes (Mt), down 8.3 per cent on last season, and 2.9pc below the five-year average.
The total harvested area fell 8.8pc, to 8.34 million hectares but yields did rise by 0.5pc compared to the 2018/19 season to 2.24 tonnes per hectare (t/ha).
Canada is the world's biggest producer and exporter of canola, and the crop has long been regarded as the most profitable for the Canadian farmer. China, Japan and Mexico have traditionally been the key export destinations, with the seed primarily used for the production of cooking grade vegetable oil and canola meal for stockfeed rations.
In the absence of their largest export customer, demand has been falling, inventories have been rising, and prices have been lower as a result. Nonetheless, Canadian farmers are adjusting to the reality of life without China by working on cutting costs, improving efficiency and modifying crop rotations to decrease their reliance on canola.
As of November 24, Canadian canola exports had decreased by 9.5pc compared to a year earlier. But the decline is much less than many had feared and reflects the success in finding alternative consumers for the surplus export stocks. Several European countries are importing more Canadian canola for biofuel production and shipments to the Middle East have also picked up in recent months.
Wheat production higher
In terms of wheat, Statistics Canada estimated current season production at 32.3Mt, a minor reduction of 140,000t compared to their previous all wheat production forecast. This put production around 0.5pc higher than last season and 6.5pc above the five-year average.
While all wheat classes were revised lower compared to the September estimates, it was a year-on-year rebound in spring wheat production that drove wheat production higher overall.
Spring wheat production is forecast to rise by 7.2pc to 25.67Mt, the largest spring wheat crop in six years. The harvested area is estimated to be 6.5pc higher than last year, and the average yield of 3.48t/ha is slightly higher than the 2018 harvest.
Canada Western Red Spring wheat makes up 86.4pc of all spring wheat produced, up from 83.7pc in 2018/19, well above both the five and 10-year averages. Durum production was estimated to fall by 13.4pc to 4.98Mt, with a year-on-year increase in yield unable to offset a 22.6pc decline in the harvested area.
Barley stocks double
Barley estimates were revised higher compared to those released earlier in the northern hemisphere autumn. Statistics Canada put total production at 10.38Mt, an increase of 23.9pc over the 2018 number and 28.2pc above the five-year average. The increase was due to harvested area, up by 13.9pc, and yields, which rose by nearly 9pc to 3.81t/ha.
Oat winner, beans and corn down
Agriculture and Agri-Food Canada are suggesting that year-on-year barley stocks will double, quite a bearish scenario, particularly for the Canadian farmer. Up to the end of November total barley exports for the current marketing year sat just north of 600,000t, 4.4pc behind the 2018/19 pace. With the world well supplied for malting barley requirements, feed channels would appear to be the best hope of boosting exports.
Even the humble oat, now considered a 'superfood' in eateries across the globe, benefited from the swing away from canola with the crop 21pc up on last year, at 4.16Mt, and 23.7pc above the five-year average.
Statistics Canada revised both the soybean and corn numbers lower compared to their September estimates. Soybean production came in at 6.05Mt, down 18.5pc from 2018 and 11.7pc below the five-year average. The corn crop is forecast at 13.40Mt, down 3.5pc from 2018, just below the five-year average.
This article was written by Grain Brokers Australia
Grain Central: Get our free daily cropping news straight to your inbox – Click here