WESTERN Australian growers have delivered more than 10 million tonnes (Mt) of grain into the CBH network this harvest, following the receival of 2.6Mt in the week to Friday.
This surpasses last year's total receivals figure of 9.8Mt, with several weeks of harvest remaining.
CBH Group chief operations officer Ben Macnamara said while some growers, particularly in the Geraldton zone, were nearing the end of harvest, about 30 per cent of the WA crop was yet to be delivered across the grainbelt.
"The outlook for this year's harvest has improved significantly as growers have progressed through their programs, with many realising greater yields than anticipated," Mr Macnamara said.
"This is a really positive outcome following last year's below-average harvest, and we've been able to receive these large volumes faster than ever before.
"We expect deliveries to slowly drop-off in northern parts over the next couple of weeks, while harvest will continue in the Albany and Kwinana South zones over an extended period."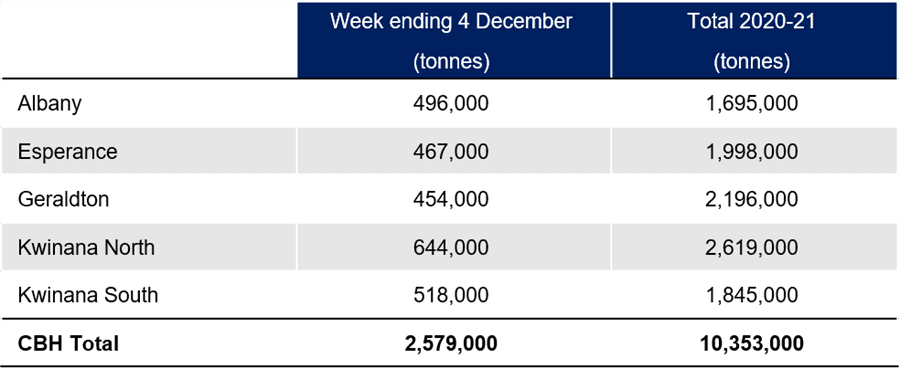 Wheat prices eased last week in line with weakening Chicago Board of Trade future, a strong Australian dollar and a larger-than-anticipated Australian crop.
New out Thursday that India could export up to 5Mt of wheat this year after winning business to Bangladesh at competitive values has had an impact.
As a result, grower prices for APW wheat fell by around $10 per tonne to $310-$312/t free in store (FIS) Kwinana, a reduction of about $45-$50/t in prices since the end of October.
At these levels, grower selling of wheat is limited as they look to other commodities.
Asian interest in Australia wheat prevails, with several flour mills looking to finalise their first-quarter 2021 requirements and move into buying for the second quarter.
Feed interest for ASW and lower grades has also been seen, as its values compete well against corn into Asia.
Barley prices also retreated over last week, with grower prices down $8-$10/t to $255-$260/t FIS Kwinana.
Growers have continued to sell barley straight off the harvester, with some players still having shorts to fill.
Australian feed barley has ongoing interest both from the Middle East and Asia at current prices, which is required to move the large Australian barley crop now expected to exceed 13Mt.
The canola market drifted lower this week to $635/t FIS Kwinana as the trade covered shorts, and with uncertainty surrounding future European demand continuing as COVID-19 potentially slows biodiesel demand.
WA growers appear well sold on canola, as attractive prices have encouraged them to forward sell throughout the season, with the remaining tonnes sold at harvest.
The WA canola harvest is almost complete.
Following is a summary of conditions by zone:
Geraldton Zone
Receivals flowed steadily in the Geraldton zone last week, with wheat making up the majority of grain delivered.
As with the previous week, quality has been good, with some higher proteins coming through and a trend away from ASW to APW.
Wheat deliveries with higher screenings are likely to enter the system over the next week or so as growers work towards the end of their harvest programs.
A number of growers within the zone have finished harvesting, and more are expected to wrap up their programs this week.
Kwinana North Zone
This zone has had another busy week, despite some growers receiving 1-3 millimetres of rain last Monday which slowed deliveries for half a day.
Wheat has made up the bulk of receivals, followed by barley.
Most growers are harvesting wheat, which has so far been of reasonably good quality.
The weather outlook for this week is positive, and another good week of deliveries is expected as the zone reaches the three-quarter mark of its receivals estimate.
Initial estimates will likely be exceeded.
​Kwinana South Zone
Heat-related harvest bans and rain disrupted deliveries in the Kwinana South Zone last week.
Wheat and barley have made up the majority of deliveries to Friday, and quality and yield has continued to exceed expectations.
Some growers in the north of the zone have finished harvesting, and large receivals are anticipated this week with fine weather forecast.
Albany Zone
Harvest stalled for several days last week in the Albany zone following rainfall of 3-15mm, but growers ramped up harvest activity towards the end of the week.
Barley has made up the bulk of receivals, and quality has been good, with about 40 per cent of barley making malt grade, and about 80 per cent of oat deliveries grading as OAT1.
Wheat quality has been holding up, but weather impacts on the crop will become clearer as more grain comes into the system.
Esperance Zone​
Unsettled weather interrupted harvest for growers in the Esperance zone in the week to Friday, with rain and strong winds slowing down progress on Saturday and Monday.
Wednesday was the zone's largest receivals day for the season so far, with more than 100,000t delivered to near the zone's all-time daily receival record.
Barley made up a large portion of receivals last week, particularly in the Lakes region, which is putting some pressure on storage availability.
Many growers are approaching the harvest finishing line, and fine weather forecast for this week will help progress.