CHINA has imposed an 80 per cent tariff on Australian barley which is to last for five years and is effective immediately, according to media reports out overnight.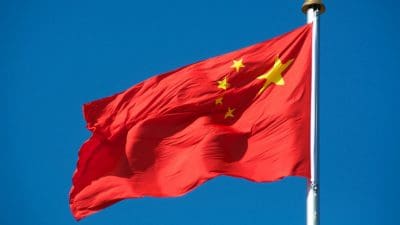 The Australian Broadcasting Corporation has said China's Ministry of Commerce (MOFCOM) made the announcement, saying China's "domestic industry had suffered substantial damage" caused by historic Australian barley sales.
The anti-dumping tariff is believed to be 73.6 per cent, while the anti-subsidy tariff would be 6.9pc.
Speaking on the 7news Sunrise program this morning, Australian Trade Minister Simon Birmingham said the decision to impose the tariff was made overnight in Beijing.
"We continue to reject any idea that Australian farmers are subsidised or dump their product on global markets and…we will defend their integrity as best we can," Mr Birmingham said.
"We will now work with them…to find alternate markets and to support them as this unfair duty is placed upon them."
"This Chinese decision is bad for Australian farmers, but it's also bad for Chinese breweries and other customers of Australian barley in China who will end up paying more for product or getting sub-standard product from around the world."
"We hope that China will reconsider this at some point, and we'll continue to work with them where we can."
The news has not come as a surprise, with MOFCOM on 9 May making a preliminary announcement saying it was considering imposing the tariffs.
Concern for cargoes
Grain Central understands two cargoes of Western Australian malting barley are already on their way to China, and a third is now loading in South Australia.
If Chinese importers are unable to get exemptions for these cargoes which total around 150,000 tonnes, they may be diverted into Saudi Arabia through one of its periodic optional-origin tenders.
WA and SA are Australia's two biggest barley-exporting states by far, and farmers in both states are believed to hold very little malting barley from the crop grown last year.
It means the Chinese tariff is likely to have the biggest impact in the short term on CBH Group as WA's dominant bulk handler and trader, and Glencore's Viterra as its SA equivalent.
This is because they have accumulated malting barley at its normal premium to feed, but may have to sell some or all of it into Saudi as feed, traditionally the floor in global barley values.
Growers wear new-crop risk
The Australian barley crop now being planted is forecast to produce roughly 9 million tonnes (Mt) and without the tariff, China could be expected to buy around half that.
Growers have forward sold very little new-crop, perhaps 10pc at most, and are therefore carrying the price risk in what could be an oversupplied global malting barley market.
Secondary markets for Australian malting barley like Japan and Vietnam now look to become even more important.
They may be sourcing more malting from Australia if other origins are pushing more into China, where the tariff on Australian barley can be expected to inflate prices.
Australian maltsters may also step up their acquisition and/or production to help absorb increased tonnages of barley available on the domestic market.
Industry responses:
CBH Group
CBH Group is Western Australia's biggest bulk handler and grain trader, and WA is Australia's biggest barley-producing and exporting state:
"As part of the Australian barley industry, CBH Group has received confirmation from MOFCOM that tariffs totalling more than 80 per cent will be imposed on Australian barley as a result of its ongoing anti-dumping and countervailing duties investigations.
"Over the past five years, China has accounted for between 50 and 80 per cent of Australian barley exports annually, making it our largest and highest value market for barley.
"Western Australia produces the majority of Australia's export barley, and the introduction of these tariffs will have major implications on our growers and the Western Australian barley industry.
"This has already become evident, with significant price drops in both malt and feed barley markets following this month's announcement that these tariffs would likely be implemented.
"As Australia's largest barley exporter, we are deeply disappointed that the long, valued and mutually beneficial relationship with our Chinese barley customers will be compromised as a result of these hefty tariffs.
"CBH will continue to develop and strengthen relationships with alternative markets to ensure maximum value is returned to Western Australian barley growers."
CBH chief marketing and trading officer Jason Craig
Western Australian Government
"While we have every confidence that Australian barley is neither being dumped nor subsidised, this final outcome is not surprising, given the Chinese Ministry of Commerce's conditional ruling less than two weeks ago.
It would appear Western Australian barley growers have been caught up in a much larger issue.
This decision could see a direct loss of up to $200 million to Western Australian farm incomes this year from reduced barley values and reduced wheat prices, as more farmers turn to wheat crops. This could have a multiplier effect in the regional economies of WA's grainbelt.
This underpins the importance of research and development into new grain varieties, products and markets, to help farmers adapt to ever-changing global trade conditions.
For example, the Western Australian Government-funded Australian Export Grains Innovation Centre has led considerable work on opportunities for Western Australian oats in the South Asian market, and is exploring opportunities for malting barley into India.
We will continue to work with industry to help Western Australia farmers overcome this challenge."
WA Minister for Agriculture Alannah MacTiernan
National Farmers' Federation
The National Farmers' Federation is frustrated and deeply concerned with China's decision to impose punitive tariffs on Australian barley effective immediately.
NFF chief executive officer Tony Mahar said the new duties would make exporting barley to China very difficult, to say the least.
"This is a massive blow to Australian grain growers, who are right now nearing the end of their winter planting.
"China is Australia's largest barley market, almost 50 per cent of our barely worth about $917 million is exported to China each year.
"The new tariffs will significantly curtail and, most likely stop, exports of Australian barley to China by artificially increasing the price, until the situation can be can resolved."
Mr Mahar said claims Australian growers were subsidised and that Australia had engaged in dumping were completely unsubstantiated and had been shown to be in detailed submissions to China's Ministry of Commerce (MOFCOM) by Australia's grain industry.
"Australian grain growers are amongst the least subsidised in the world. They operate in a free and competitive global market. The idea that Australian barley has been 'dumped' in China doesn't match the realities of Australian grain production.
"Export sales are made at prices above the purchase value offered to farmers, which in turn surpasses their cost of production.
"This issue has been under consideration for 18 months. Australia respected China's decision to launch the investigation and engaged in good faith with MOFCOM on the process.
"Organisations across the entire spectrum of Australia's supply chain made submissions that included detailed data around export and domestic sales programs, company ownership and operational structures.
"It's very disappointing that despite the details in the comprehensive submissions provided by Australia, China has decided to impose these punitive duties."
Mr Mahar said Australia must now dispute the issue at the World Trade Organisation to the 'fullest extent possible', a course of action that would unfortunately take many years before an outcome could be reached.
"In the interim it is absolutely crucial that the Australian Government continues to seek to address this issue through diplomatic channels with their Chinese counterparts.
"More than two thirds of Australia's agricultural production is exported, and up to 30pc of that goes to China.
"Our relationship with China has gone from strength to strength since the coming into force of ChAFTA in 2015. China is an important market for Australian wool, red meat, cotton, dairy, wine, horticulture and seafood. Australia's barley trade relationship with China goes back to the 1960s.
"It is the NFF's strong hope that a resolution that is satisfactory to both parties can be reached sooner rather than later, to avoid unnecessary detriment to Australian farmers and Chinese consumers – who value our barley," Mr Mahar said.
NFF chief executive officer Tony Mahar
NSW Farmers
"NSW Farmers is deeply disappointed with the announcement by China to place punitive tariffs on Australian barley exports to China.
China is Australia's largest barley export market and Australia is the largest supplier of barley to China. This disruption causes ongoing market uncertainty when growers are in the middle of planting, and will place significant downward pressure on barley prices offered to Australian growers.
80 per cent of barley exports to China are from Western Australia and while most of the NSW crop is consumed domestically, we remain concerned about the closure of a valuable international market and uncertainty for growers.
NSW Farmers calls on the Australian Government to support Australia's farmers and exporters by engaging with China to resolve the issue and to immediately pursue the WTO Dispute Settlement process to the fullest extent possible.
We very much hope a timely and amical resolution can be agreed including the removal of duties to enable trade to be re-established, for the benefit of industries in both countries."
NSW Farmers
WAFarmers
WAFarmers Grains president Mic Fels said the decision to impose duties on Australian barley exported to China was a huge blow for all barley growers in Western Australia.
"As the largest barley exporting state in the largest barley exporting nation, Western Australia has been hit very hard by the imposition of tariffs into the Chinese barley market.
"For most farmers it is now too late to reduce barley planting, so our focus now in the face of this week's decision  is to shift the focus to shoring up new premium paying markets for our grain, which is renowned as the highest quality barley anywhere in the world, both for malting and as feed grain.
"We have the highest quality standards; the most effective and compliant regulation system in the world; the lowest level of government intervention; and the most organised and efficient logistical supply chain from farmgate to port through our state-wide, farmer owned cooperative, Co-operative Bulk Handing (CBH).
"Western Australia and China have worked together over decades to develop strong and friendly relationships within the grains industry.
"It is hugely disappointing both for Western Australian grain growers, and for the Chinese buyers and consumers of our premium quality grain, to have political machinations prevent us from continuing what has been a mutually beneficial trade in premium malting and feed barley."
WAFarmers Grains president Mic Fels
Grain Central: Get our free daily cropping news straight to your inbox – Click here